Unlocking Modes: A Practice Strategy
Unlocking Modes: A Practice Strategy

Modes are useful tools for understanding harmony; they can be used to internalise the linear sound of chords and their extensions. Think of Miles Davis' So What written in the Dorian mode; based off the second degree of the major scale (Ionian scale). The natural sixth is the note which gives this scale its flavour, and it is often associated with the ii-min-7 chord in jazz. In examples 1, 2, and 3, I have circled the chord tones from the mode.
Dorian Mode

Within each diatonic scale, there are seven modes: Ionian, Dorian, Phrygian, Lydian, Mixolydian, Aeolian, Locrian.
The Seven Modes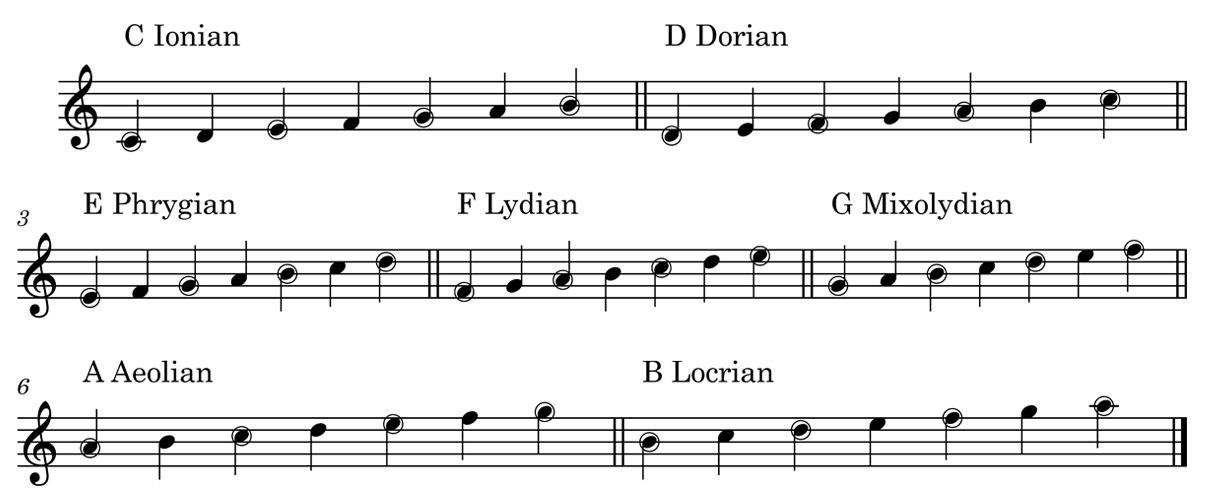 This table provides a visual representation of each mode and its relationship to the Ionian (Major scale) mode:
| | | | | | | |
| --- | --- | --- | --- | --- | --- | --- |
| IONIAN | DORIAN | PHRYGIAN | LYDIAN | MIXOLYDIAN | AEOLIAN | LOCRIAN |
| I | I | I | I | I | I | I |
| II | II | IIb | II | II | II | IIb |
| III | IIIb | IIIb | III | III | IIIb | IIIb |
| IV | IV | IV | IV# | IV | IV | IV |
| V | V | V | V | V | V | Vb |
| VI | VI | VIb | VI | VI | VIb | VIb |
| VII | VIIb | VIIb | VII | VIIb | VIIb | VIIb |
Written out with 'C' as the tonic, they look like this:
Diatonic Modes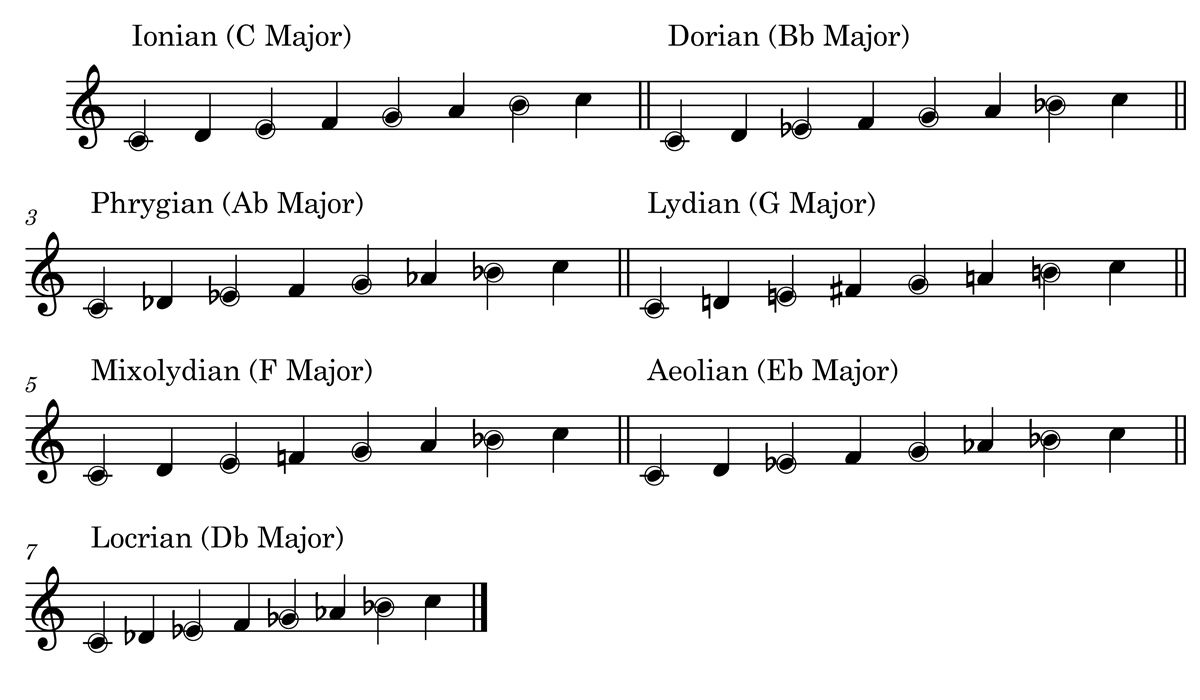 As you can see, the Ionian mode is the Major scale we commonly learn first, and the Aeolian scale is what we may call the 'natural minor' scale. The other modes look all a little jumbled, if it's the first time you've seen them.
One method of analysis is that each flat in Example 3, is indicative of the lowering of a degree in the Ionian mode – for example; the Phrygian mode in C has a Db (2nd), Eb (3rd), Ab (6th), and Bb (7th) – this makes it relative to Ab Ionian mode.
However, I find an easier way to practice these is by using the circle of fourths (or fifths, depending on your outlook on life).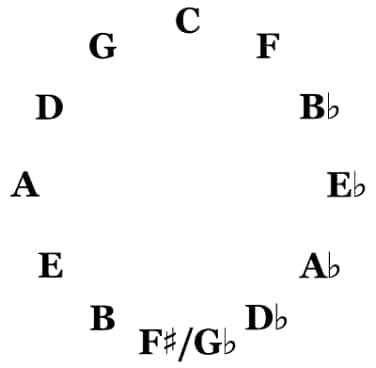 If we practice the circle of fourths (in this diagram, it runs clockwise) starting on 'C' each time, we get this outcome:
Circle of Fourths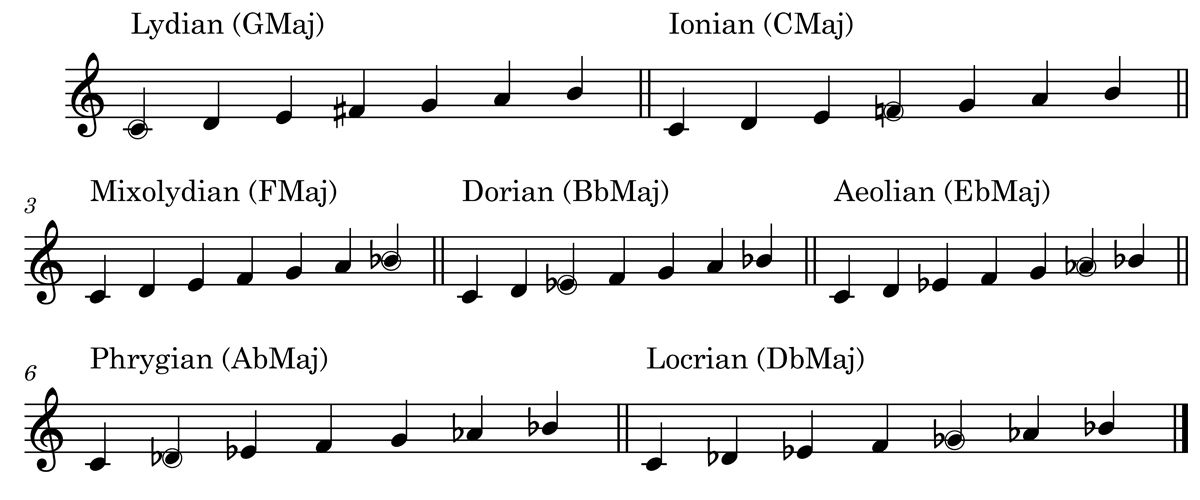 I have circled the note we are adding a 'flat' to each time we progress to the next mode (notice how these move in fourths as well). If we were to continue around the cycle to Gb Major, we would begin on Cb and we would be playing Cb Locrian. If we enharmonically respell Cb we get B, and thus we are now in the next cycle of modes starting at B Lydian. Not only is this a more fluid and easier way to learn modes, but it's a great way of practicing the cycle of fourths. Two tonic centres a semi-tone apart (in this case, C & B), guarantees that you will get through every key, and every 'mode' starting from two tonics.
If you can play through the modes this way in all 12 keys, you will have:
Played every mode 12 times
Played every diatonic key centre 7 times
If played as one-octave, up and down, you will have played 1,188 notes – not a bad start to a routine.
Combined with these 3 ways to Revitalising Exercises there are some fantastic ways of internalising and using these scales for practice and improvisation. Best of luck – keep practicing!
Unlocking Modes: A Practice Strategy