Yamaha Music Australia's Great Start Grant
---
The Yamaha Great Start Grant is targeted at Australian schools in need of a helping hand to get their music performance program off to a great start
---
About the Great Start Grant
The Great Start Grant is an annual, by-application award of musical instruments, equipment and training gifted to a school to get their music program off the ground.
In 2023, we are awarding one school in Australia the option of two choices of grant packages to suit their particular school. We are receiving applications focusing on establishing a) a Wind Band program, or b) a Contemporary Music program.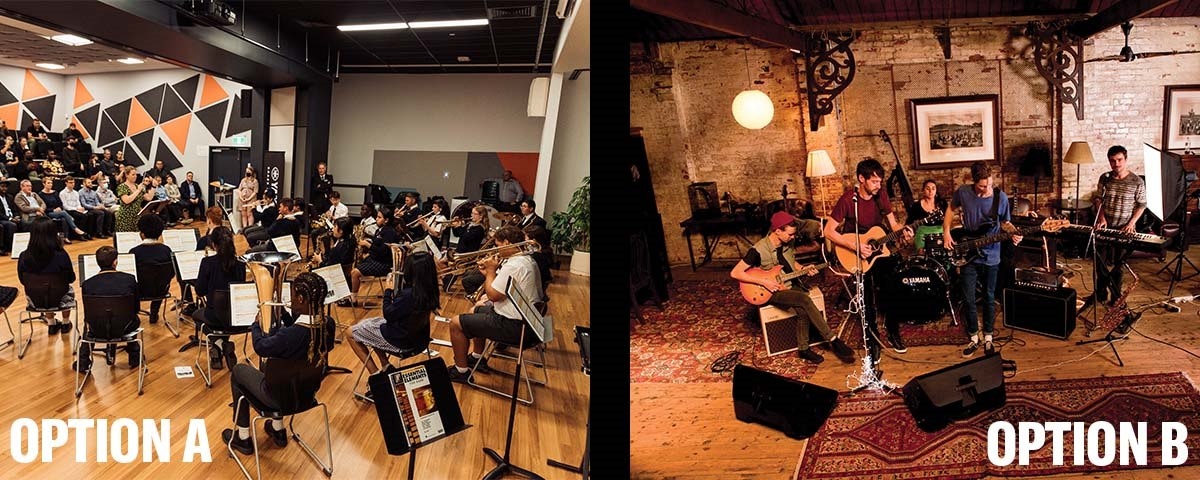 2023 GRANT RECIPIENT ANNOUNCED
In 2023 Northern Peninsula Area State College, QLD has been awarded the Great Start Grant consisting of $50,000 worth of Yamaha musical instruments.
Runners up, Freshwater Christian College (QLD) and Frederickton Public School (NSW) have also been awarded $2,000 to help support their music programs.
Why does Yamaha Music Australia award the grant?
Music is widely accepted as a valuable and meaningful part of a child's education. Unfortunately, in Australia, not every school offers continuous, sequential education in music.
By creating a national conversation around music programs, Yamaha's goal is to get the essential stakeholders within a school talking about how they can practically begin or expand their music offering. In highlighting the journey of one school, a pathway is laid to inspire other schools.
With group music events proven to boost happiness levels, the Great Start Grant has the opportunity to foster positivity and social connections in a collaborative setting. As the largest instrument manufacturer globally, Yamaha can lead a conversation around the value of making music.
How Your School Can Benefit From The Great Start Grant
"Playing a musical instrument is a rich and complex experience that involves integrating information from the senses of vision, hearing, and touch, as well as fine movements, and learning to do so can induce long-lasting extremely beneficial changes in the brain.
It is believed that students who spend school time in music classes, rather than in further developing their skills in math, science and English classes, will underperform in those disciplines. Our research suggests that, in fact, the more they study music, the better they do in those subjects"
[Journal of Educational Pyschology, 112(2)]
Who is it for?
The grant is targeted at Australian schools in need of a helping hand to get their Music Performance Program off the ground.
Each year, Yamaha looks for a school with the passion and drive to promote quality music education but lacks the equipment to get off to a great start.
Yamaha Music Australia's Great Start Grant