Culture in a Music Program
Culture in a Music Program

A common feature of outstanding school music programs is a strong sense of collective, positive culture that surrounds and supports the musical activities of the program. One aspect of these strong cultures is the strong sense of belonging, commitment, and fulfillment experienced by those participating in the program. Senior high school students Campbell and Atharv generously provided powerful insights to these components in their schools' music cultures.
Campbell McKinnon, Year 12, Eltham High School
I began learning trumpet at my primary school after a few years of keyboard lessons. My uncle has played the cornet in a local brass band for many years and, after being introduced to the instrument at a family gathering, I was set on it. My primary school did not really have a music program, but I was lucky enough to become involved in the music program at Eltham High School while still in primary school. This allowed me to develop both individual and ensemble playing skills from a young age, and being part of a collective group of musicians was what really drew me to the program initially. When it came time to choose which high school to attend, the choice was obvious. The music program at Eltham High School had already provided me with many opportunities and friendships, and I wanted to continue down that path.
Being a part of the music program undoubtedly changed my life in many ways. There was never really one thing that I enjoyed most about it; but the sense of belonging and shared purpose with my peers that it provided was something I really valued.
There was a holistic approach to ensemble playing, in that the end goal was always to make music. No matter the level of technical ability or musicianship, having a musical outcome was at the core of what made the music program so special. It seems simple, but having the opportunity to make music with a large group of people was one of the best parts of the program. Seeing many months of hard work pay off in performances was always satisfying, and a great sense of shared achievement came from this.
Throughout my time in the music program, I was able to form strong friendships with staff and was provided with examples of great people who are also great musicians. Over the years, my music teachers have been some of the first people I have gone to when seeking advice, or just needing someone to talk to. It is because of the strong examples they set that I am the person and musician I am today. Being part of a music program also exposed me different forms of learning, in that often my instrumental or ensemble teachers were primarily musicians. I always loved talking to my trumpet teachers about different trumpet players we liked or new recordings we had found; and being able to see their appreciation for music first-hand was inspiring.
The music program has always been seen as a pillar of Eltham High School. It encapsulates all of the great things about the school, and sets an example for what can be achieved with consistent work and persistence. It is also clear to everyone that being part of the music program requires a lot of organisation and the ability to set priorities. Throughout my time in high school, most if not all of my classroom teachers were fully supportive of my involvement in the program, and I think this is because of the benefits they could see in it.
One of my favourite music program memories is from Generations in Jazz 2019. That trip was my fourth time attending the festival, but my first performing in Division 1. The whole band had put in so much work, and being able to perform and show off that work on the main stage was such a satisfying feeling. We did well, coming fourth overall; but to us the result didn't matter because we were all just so proud of each other and the collective effort we had all put in to get there.
What I value most from my time in the music program is the person it has helped me become. It taught me that through hard work and perseverance, I can overcome not just musical challenges, but also personal challenges. Many life lessons can be learnt through being a part of a music program, and it is always the first thing I recommend to people considering attending the school. I will carry the things I have learnt and the experiences I have had with me for the rest of my life.
Atharv Joshi, Year 11, Christian College Geelong
The art of music distinguishes itself from any other mode of communication. It reaches deep into the human mind, far deeper than words are capable of, and provides it with another lens to see the world through – a world that is filled with much more beauty, passion and exuberance than words can hope to convey. Music not only challenges the mind in this manner, but also reaches deep into the human soul, and seduces her into feeling whatever the performer wants her to feel, while at the same time creating an intimate space where everyone can take a step back from the rat race of life, and simply feel. This form of art, which transcends human language, allows us to connect on the most intimate level – our emotions – regardless of our differences. This expression of human brilliance is why I fell in love with music.
Prior to music at Christian College, I was taking private piano lessons. I found this to be mildly fun, but it felt like I was working towards nothing, as if it was just a fun skill to pass the time. Going through school, however, many different opportunities to be involved in the program presented themselves – bands, concerts and music as an elective, which gave off homely communal vibes. At a time in my life when I wanted something richer, deeper and more eternal out of life, music seemed to be the best place to seek refuge. I am also forever grateful to my friends who urged me to join the program, a choice that would subsequently change my life.
The Christian College music program continuously exposes me to many different forms of music, constantly challenging my capacity as a musician; and it deepens my understanding of not only music, but also the themes and ideas that the music is conveying. Sharing the experience of exploring these themes with fellow musicians through our school's different ensembles creates a unique, indescribable bond among us that only forms through playing music together. The same can be said of our mentors who help guide us through the vast world of music through their expertise and experience. Compared to the rest of the school, the Music Department feels like its own special family filled with passionate and like-minded yet unique individuals who are all dedicated to their crafts – traits that can be hard to find in others.
My most memorable moment of being a part of the music program was when I had got to school early to practise for a performance later that day. Then, halfway through rehearsing I realised I had prepared enough, and left early. On my walk to my next class, I realised I was no longer stressing out as I had for the past couple of weeks, but instead felt content. I had this tingling feeling and I realised I was completely ready – and after receiving that reassurance of being ready, the stress completely disappeared, and only child-like excitement remained. This was when I realised that I needed music in my life, and that this feeling was worth chasing. This was the moment I decided to keep pursuing music after high school, and suddenly the world seemed a little bit more colourful.
From the above heartfelt words, it is clear that developing and nurturing a good culture as an all-encompassing aspect of a school music program not only makes for optimum impact on those involved, but also reinforces the valuable role music plays in educational institutions. Creating and maintaining strong and ongoing culture can take some time but it is very important and well worth the effort!
Campbell McKinnon, Year 12, Eltham High School
Campbell McKinnon, Year 12, Eltham High School
Campbell began learning trumpet at the age of 9 and completed Year 12 in 2021 including VCE Music Performance. Through the Eltham High School Music Program, he has been fortunate enough to work with Mat Jodrell, Ross Irwin and Nicholas Williams as well as many other musicians, conductors, and educators. Campbell has attended festivals and competitions such as Generations in Jazz and the Royal South Street Eisteddfod numerous times. In 2022, he plans on attending the University of Melbourne to complete a Bachelor of Music.
Atharv Joshi, Year 11, Christian College Geelong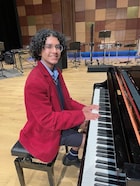 Atharv Joshi, Year 11, Christian College Geelong
Atharv Joshi is a Year 11 Student at Christian College Geelong, currently completing Unit 3 / 4 VCE Music Performance – Solo Piano. As a multi-instrumentalist, Atharv plays in various school ensembles on cello, piano and percussion. In 2022 he will be studying Music Investigation and wishes to study Jazz Piano Performance techniques for his area of focus. He aspires to study tertiary music and follow his passion.
Culture in a Music Program