Greg Spence Demystifies Trumpet Myths at Midwest Clinic
Greg Spence Demystifies Trumpet Myths at Midwest Clinic

After lecturing and performing in schools and Universities throughout the UAE, UK, Europe and the USA for 4 months in 2015, one would be forgiven for thinking 'how could it possibly get any better?'
My Mystery to Mastery presentations as a whole were received, with a couple of expected exceptions in the USA, with enthusiasm and praise. It still overwhelms me how widely exposed and appreciated the website is.
One particular Professor at a University (of extremely high repute I might add) was less than impressed with my presentation; that is another story for another time! He scolded the student who facilitated the presentation and encouraged the graduate students to ignore everything I had to say.
Go forward six months, legendary principle trumpeter from the New York Philharmonic, Phil Smith, spoke at the same University if front of the same professor. After tearing up, telling the students of his battle with overcoming Focal Dystonia, Mr Smith said, "Have you guys heard of Greg Spence and the Mystery to Mastery website?"
He then proceeded to implore that the students go through and follow all of the steps that I demonstrate at the site, all of which I demonstrated and spoke about my presentation. The people who got scolded said to me, "How is that for some serious vindication?"
Well, it was vindicating for them I guess, but not really for me. I am not interested in appealing to close minded professors. I want to help students work on efficiency in a way that this particular professor can't; hence his protectionist attitude.
On the back of this Phil Smith recommendation, I was encouraged to apply to present at the 2016 Midwest Clinic in Chicago. This is one of the world's biggest music education conferences and presenting there is apparently quite a big deal; turns out it is!
Thanks to my wonderful friends at Yamaha Music Australia, it was back to the USA to -20C Chicago in December 2016. Upon walking in to the massive convention centre, the words "what the hell have you got yourself into Spence?" went through my mind, several times, and LOUDLY!
I set up a Mystery to Mastery booth as an exhibitor for 4 days and an interesting thing happened as I was unpacking. I was facing away from the aisle and hear two voices say, "oh cool, Mystery to Mastery" so I stood up and turned around. I swear these two university students almost had a heart attack when they saw me. I am not in to the whole celebrity thing but like several times in Europe, these wide eyed guys could not talk for a couple of moments; the power of YouTube I guess. They were great kids and their Professor had told them that they must attend my clinic. I suddenly felt worthy of being there.
You must take advantage of these opportunities and I wanted to get noticed and make an impact, so I named my presentation "Dispelling Brass Playing Myths". That certainly created some interest.
I am not sure of numbers but maybe 400 or 500 band directors, educators and performers turned up and I don't remember having so much fun on a "gig". Having a huge audience yelling "Many Lemon", blowing at tissues and blowing up balloons was a blast and I actually took some video footage and photos as I presented.
Apparently a really well known instructor of band directors began her presentation later in the day, saying to a huge audience about band rehearsals, "once you have done your Mystery to Mastery warm up....." referring to a couple of I exercises I had demonstrated.
After months of preparation and two dry runs of my presentation, one in Melbourne and one in Denver (SO nervous in front of friends!) I could not have been more relaxed and confident or hoped for a better outcome; the standing ovation at the end is a career highlight.
Rex Richardson (an outstanding trumpeter and clinician), came up to me on the closing night of the conference and said how he had been conflicted with a lot of trumpet information over the years and that I "hit out of the ballpark" all of the issues he had been questioning. He then offered to help me out with promotion next time I head over.
All in all, a very valuable experience and thanks to all involved that made it possible, especially Yamaha for their generous sponsorship and a special shout out to the cranky Professor!
Blog Post by Greg Spence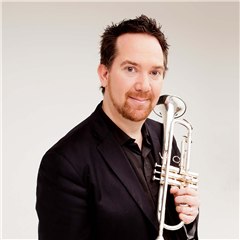 Blog Post by Greg Spence
Greg Spence Demystifies Trumpet Myths at Midwest Clinic