MIDI & VSTi: A guide to computer music terminology
MIDI & VSTi: A guide to computer music terminology

What is MIDI?
MIDI or Musical Instrument Digital Interface is a technology dating back to the 1980s however is still used in modern music production to this very day. MIDI is basically the ability to digitally transmit notes/data from a MIDI enabled device or instrument into any other MIDI enabled device or recording software on a computer. Many piano keyboards or internal computer soundcards are equipped with what is commonly known as a 'General MIDI' synthesizer which contains 128 different sounds ranging from pianos, pad synthesizers to guitars, brass and percussion. These sounds can be split over 16 available channels simultaneously and used during real-time playback and recording of MIDI data. Using general MIDI, a user of a MIDI enabled piano keyboard can record musical parts they play live into DAW software, such as Cubase, and then instantly playback the MIDI data and further edit the pitch, duration, timing (quantization) and even change the instrument sound of each part!
Furthermore MIDI data can be easily transformed into a traditional score format, further edited and then printed as sheet music within Cubase or also software like Steinberg's Dorico which is a program designed specifically for this very purpose.
Because MIDI is essentially data only (it does not record actual SOUNDS, it's just used to trigger existing sounds and other parameters in a synthesizer). This is a reason a standard MIDI file will only require maybe as much disk space as a word document!
The World of Virtual Instruments
It's commonly known that General MIDI synthesizers produce sounds that leave much to the imagination. However, the world of MIDI gets really exciting when combined with the power of VSTis (virtual studio technology instruments) which can be a soft synth (software analogue synthesizer) or sample libraries capable of reproducing ultrarealistic real world instruments and other sounds.
They work by accessing huge sample libraries of instruments recorded note by note in a professional studio environment. In many cases recorded to extreme details such as, different articulations on a violin to hitting snare drums with different sticks at different velocities etc. These samples are then triggered by MIDI note data and then played back through the DAW software audio engine. VSTi sounds can be used in place of the General MIDI synthesizer sounds found on most computer soundcards thus offering composers and producers rich realistic renditions of their composed MIDI data! Furthermore the VSTi audio can be mixed an altered virtually the same as a normally recorded instrument!
There's a plethora of VSTi sample libraries that are available on the market at the moment. The results from using VSTis can give extremely realistic sounding MIDI compositions which are often used in film scores to TV commercials in cases where particular instruments, like that of a full Orchestra or a live drum kit may not be affordable for the production budget available. Learning to compose using MIDI and VSTis will only enhance the experience of any student entering the world of music composition and production!
Blog Post by Andrew Bishop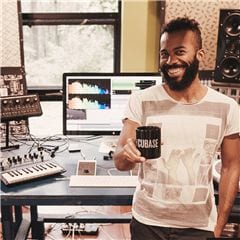 Blog Post by Andrew Bishop
From a relatively young age, Andrew has spent most of his musical time dabbling around the Melbourne music scene performing in various bands, engineering both live and in the studio mixing/mastering for various musical acts both locally and from afar. In addition, Andrew's long time experience in this area has seen him often sort after for audio tech support from many musical performers and producers as well as running educational training in selected schools around Victoria, Australia. Using predominantly Steinberg Software such as Cubase, Andrew is credited to producing and engineering records that has led him on to take part in large tours over Australia and Europe with various bands such as hard rock outfit COPIA as well as working with worldwide established artists such as Australian renowned beatbox performer DubFX. When not on the touring road Andrew composes and produce's music and sound design for feature films and worldwide TV commercials which has included the halftime for the US super bowl NFL as well as the AFL finals in Australia.
MIDI & VSTi: A guide to computer music terminology