Biography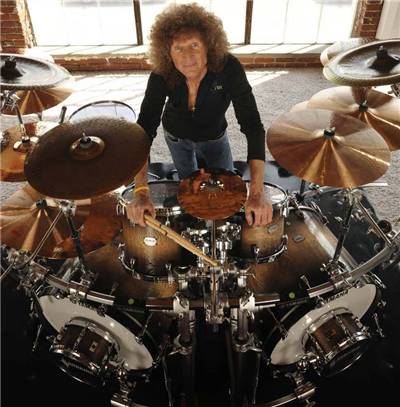 Tommy's signature style is a rare combination of power, technique, and feel. His performing and recording credits include Black Oak Arkansas, Pat Travers, Vinnie More, Gary Moore, Ozzy Osbourne, and Whitesnake. In 1988, he was voted best rock drummer in the Modern Drummer Reader's Poll.
Tommy remains very active as a clinician discussing everything from the basic fundamentals of rock drumming to the double bass fills and solos that made him famous.
"Rock Drum Soloing and Double Bass Workout" is Tommy's first instructional video. He is currently working on his second instructional video and a method book on double bass drumming.
With his hard-hitting style, flair, and showmanship, Tommy continues to be a major influence in hard rock and heavy metal drumming.
Tommy Aldridge's relationship with Yamaha began in the early 1980s when he collaborated in the development of Yamaha's Super Rack System, a type of system that was popular at the time in the rock drumming world, after which he supported a large-scale promotion activity for the Yamaha Drum Power V series. Continuing to perform on the Maple Custom, PHX series and other drums kits as well as carrying out various activities including hosting drum clinics worldwide, he has played a major role in the development of these high-end, professional models by providing Yamaha with a wealth of valuable advice and feedback from a drummer's point of view.