Biography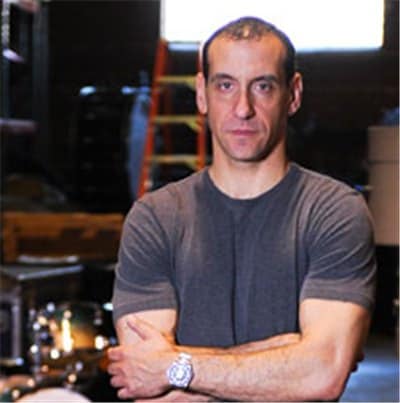 Michael Shapiro, drummer, percussionist, and producer, is a prolific man of invention. He shows up everywhere on the music genre radar, performing with famous Brazilian artists and doing everything from jazz to rock to pop. He has worked with some of the most important people of our time and continues to re-invent himself.
Shapiro, a Washington D.C. native, is a self-taught musician who considers himself a "student of the streets."
His professional career began with Airto and Flora Purim in 1986. Within the next two years, they toured the world and recorded several albums.
In 1988 he met Sergio Mendes. This started a long musical friendship that continues today. They have toured and recorded many albums together including 1993's Grammy-winning "Brasileiro" and 2006's Latin Grammy-winning "Timeless."
While working with Airto and Sergio, his reputation grew among the most important Brazilian musicians in the world. He has played and recorded with Dori Caymmi, Milton Nascimento, Oscar Castro-Neves, Caetano Veloso, Ivan Lins, Toninho Horta, Nana Caymmi and Eliane Elias.
In 1994 and 1995 he toured with these artists as part of the "Brazil Project" featuring Toots Theilemans, "Tribute to Jobim," featuring Sting. He also recorded John Patitucci's Mistura Fina album, featuring Joao Bosco, Ivan Lins and Dori Caymmi.
From late 1996 until mid 2007, Mike taught at the L.A. Music Academy. He also served as the company's Vice President, Director of Education and Dean of Students.
In 1997 he toured the United States and Europe with singer Al Jarreau. He did drum clinics and played with guitarist Andy Summers of The Police.
In 2000, he worked with Bobby Caldwell and his big band. He also met Earth, Wind and Fire guitarist Al McKay. For 5 years, he played with Al as part of the Al McKay All-Stars.
In 2004, through his association with Sergio Mendes, Mike began working with producer and member of The Black Eyed Peas will.i.am. To present, Mike has worked with Will as a multi-instrumentalist and songwriter on Macy Gray's "Big" cd, Justin Timberlake's "Future Sex, Love Sounds" cd, plus tracks from soundtracks for "Freedom Writers," "Shrek The 3rd" featuring Fergie, and CBS's Movies Rock. Also, Mike has worked on new projects with Nicole Scherzinger of the Pussycat Dolls and Fergie.
In 2006, he toured with Natalie Cole, playing music from her vast book of standards.
To date, Mike is doing a project with the legendary Herb Alpert and wife and singer Lani Hall. They will be touring the country in 2008. He also continues to record and tour with Sergio Mendes. They will be touring the world this year in support of Sergio's new album, "Encanto."
Mike as also recorded and toured with Frank Gambale, Yellowjackets, Kevyn Lettau, Brian Bromberg, Bill Cantos, Arnold McCuller, Armando Manzanero, Sadao Watanabe, Bud Shank, Charlie Byrd, Laurindo Almeida, Jane Monheit, Maureen McGovern, Michael Ruff, Ettore Strada, Jorge Calandrelli, Kuni Murai, Randy Travis, Derek Sherinian, Lorraine Feather, Ricardo Silveira, Pat Kelly, Yutaka, Kleber Jorge, Christopher Cross and many more.