Biography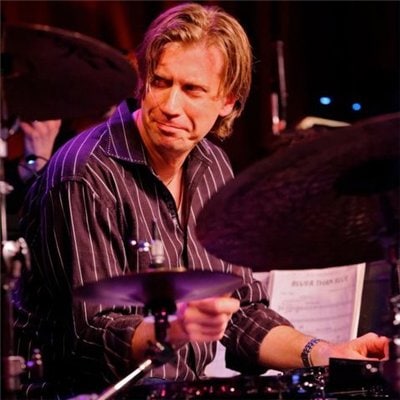 Tommy Igoe is one of todays most successful and diverse drummers. He was born in New Jersey into a musical family and has been drumming since before he was 2 years old; it was clear early on that music would be Tommy's passion. "He had to be dragged away from the drums", said his father, Sonny. During his early years, he also studied classical and jazz piano for over 15 years which, he credits for having a huge role in crafting his unique career.
Tommy captured just about every Junior and Senior High School drumming award offered on the east coast and went on his first world tour at 18 years old with the Glenn Miller Band. In 1986, his career took off when he became active in the New York recording scene, and simultaneously joined the band, Blood, Sweat and Tears as their touring drummer. Through the years that followed, he quickly moved on to other great bands and artists like The New York Voices, Stanley Jordan, Art Garfunkel and Dave Grusin. This continued until 1997 when he was asked to help create the drumset book for what would become a legendary production, The Lion King on Broadway. His book, which integrates the modern drumset with traditional African percussion, established a new benchmark for the drumset voice within music theatre and is currently being performed worldwide by many official companies.
His latest and most exciting project, The Birdland Big Band, is currently the hottest weekly music event in New York. The band plays every week at the legendary Birdland Jazz Club and is sold-out every show. "The reaction to this band has been overwhelming", say Tommy. "We're dedicated to bringing large-ensemble jazz to a new 21st century audience and it's obvious that music lovers have been waiting for a band like this. The fans are blown away and they can't get enough." The Birdland Big Band will be recording an all-new studio CD this year.
Education plays a huge part in Tommy's musical genome, "My father was one of the most respected drum teachers of any era, so I think it's in my blood." In 2004, Tommy created what has since become a legendary fixture in any serious drummers collection, Groove Essentials™. This ground breaking work has been credited with influencing more teachers and educators than any educational publication of the last 50 years. It has gone on to become required method work at many universities and is being used to introduce young players to new styles they may not discover on their own. There are currently over a quarter million Groove Essentials products in use around the world.
Tommy has long been known for his technical facility on the drumset so there was high-demand for a technique DVD which would give him an opportunity to spotlight all his many influences like Drum Corps, concert percussion and hand percussion. The DVD, Great Hands for a Lifetime, is currently the drum world's number one selling educational product. "I'm a hybrid of all these wonderful experiences and I was taught a great rudimental routine to keep my hands in shape that I wanted to share with drummers around the world. The Lifetime Warmup™ is what I credit with keeping my chops healthy and strong over three decades of drumming and now everyone can benefit from it, too.
The new DVD and book, Fillosophy™, will be the third installment in the Groove Essentials series and will bring Tommy's unique focus and insight into the oft-confusing world of fills and solos. "This work, I think, could be very important to drummers since so many students I've met believe that their fills and solos are consistently weak, boring or just plain bad. A real opportunity exists to offer an alternative approach to mastering fills and solos using the Groove Essentials methodology."
You can learn more about Tommy, view his itinerary and purchase products at his website, www.tommyigoe.com.
Tommy exclusively plays and endorses the highest quality instruments: Yamaha Drums and Hardware, Vic Firth Sticks, Evans Drumheads, Zildjian Cymbals, Latin Percussion and Rhythm Tech.