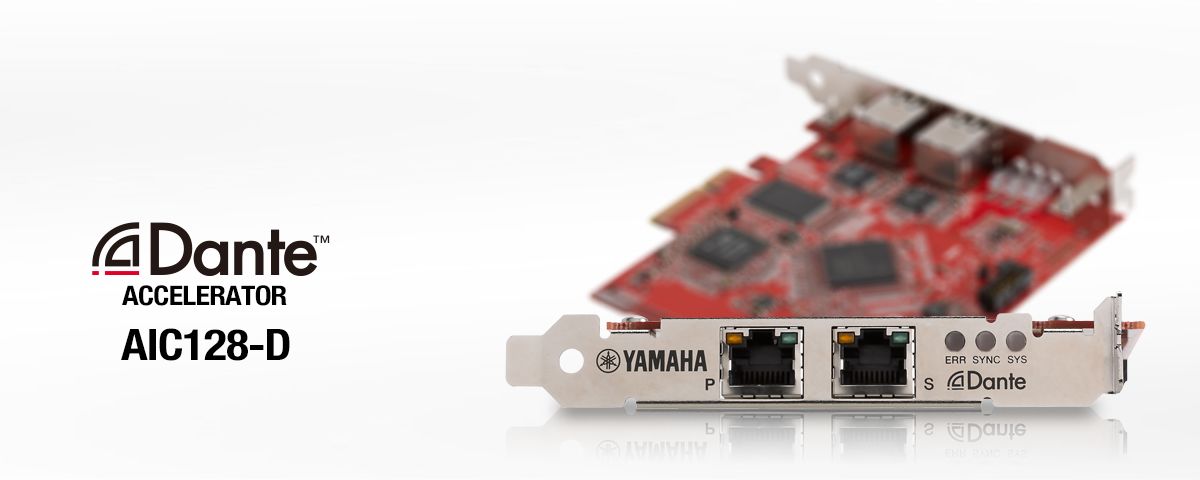 Ultra-low latency and solid reliability with high channel counts
The Dante Accelerator audio interface card can be installed in a computer to provide extra low-latency transfer of as many as 128 simultaneous channels of audio data, for a distinct performance advantage when communicating with Dante devices. The Dante Accelerator card also features a secondary port that can be used to provide redundant connections for failsafe reliability.
General Specifications
PCI Express card
Compatible with PCI Express x4 slots v1.0 and above
Audio Interface
ASIO, Core Audio
Audio channels
256 channels (128 in/128 out @ 96 kHz or less)
128 channels (64 in/64 out @ 176.4 kHz or more)
Supported Sample Rates
44.1, 48, 88.2, 96, 176.4, and 192kHz
Pull-up/Pull-down
+4.1667, +0.1, -0.1, and - 4.0 %
Sample bit-depth
24 bit
Dante Network interface
Gigabit (1000Mbps; 1Gbps) Ethernet RJ45 port x2
System Requirement
Win
Mac
OS
Windows 10/8.1/7 SP1 (64-bit)
Mac OS X 10.9.5/ 10.10.5/ 10.11.x/ macOS 10.12.x/ 10.13.x
PC
Intel Core i5 / Intel Core i7 (2nd Generation "Sandy Bridge" Core i7 or later recommended)
Mac Pro (Early 2009) or later*1
Memory
8GB
6GB
HDD
64M Cache (recommended) 7200rpm
PCIe SLOT
x4 lane or above
x4 lane or above*2
Thunderbolt Expansion Box
-
Magma ExpressBox 1T/3T, Sonnet Echo Express SE II/ Echo Express III-D/ xMac Pro Server
*1 MacBook, MacBook Air, MacBook Pro, iMac, iMac Pro, and Mac mini are NOT supported.
*2 The Dante Accelerator must be installed in slot 2(directly above the graphic card)
The colours and finishes shown may vary from those on the actual products.