Yamaha Wind Orchestra Inspires Again
Yamaha Wind Orchestra Inspires Again
The Yamaha Wind Orchestra Professional Development Project was back in 2022 bigger than ever. After making a tremendous impact in 2018 and 2019, the project was able to return this year, with 55 instrumental music educators from 7 states and territories around the nation coming together for two weekends of intensive professional development.
Conceptualised by Yamaha Education Outreach Clinician Dr. Rob McWilliams, the Yamaha Wind Orchestra affords music educators hands on professional development, providing an opportunity to rehearse and perform in a high-level ensemble with their colleagues. In addition to this, the participants all received invaluable professional development sessions by Dr. McWilliams centred around conducting & rehearsal techniques, score preparation, and more. Australian composer, Edward Fairlie, and Yamaha Percussion Artist, Steve Falk also led eye-opening sessions about the compositional journey, and the role of percussion in a wind band. Four participants also had the opportunity to workshop by conducting their peers and receiving helpful feedback from Dr. McWilliams and the ensemble.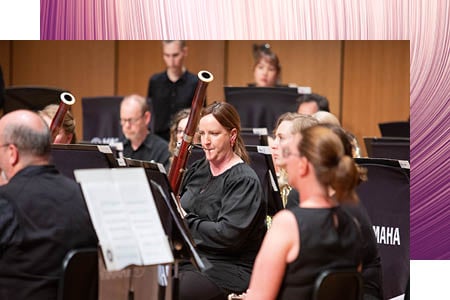 "I was honoured to be a part of Yamaha Winds this year. To play such a high level of music alongside some incredible musicians who I now can call colleagues was an experience I will never forget. Dr Rob is a genius and his insights throughout the two weekends have already changed the way I approach my ensembles."
Marta Preston, Bassoonist and Woodwind Teacher in Brisbane, QLD.
The project culminated in an exhilarating concert on the 13th of November, opened by the Yamaha Wind Orchestra Trombone and Euphonium Section performing Provence by Jeremy Dibb, followed by the first public performance of the 2021 recipients of Yamaha's Great Start Grant, the newly formed Sunshine College Concert Band conducted by their director, Susie Kelly, who also performed bassoon in the Yamaha Wind Orchestra!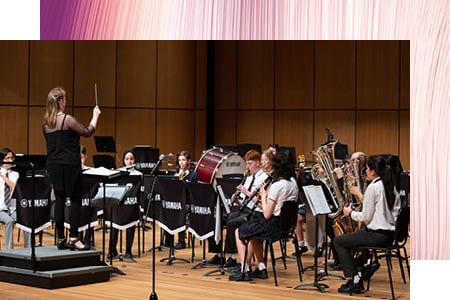 "It was wonderful to see their amazed faces as they walked on the stage for the first time! It will be something they remember for a long time to come. When we were first interviewed for the grant, you mentioned that you wanted a school to partner with, not just give instruments to, and you really meant it! I am hugely grateful for all the support you have given us at Sunshine College over the last 18 months to make it all happen. It would have been a much harder journey to this point without all the help, advice and encouragement that you all have provided."
Susie Kelly, Director of the Sunshine College Concert Band.
After a short interval, Dr. McWilliams and the Yamaha Wind Orchestra were welcomed to the stage to perform a diverse program of repertoire by Cindy McTee, Yukiko Nishimura, Steve Danyew, Randol Bass, Jan van der Roost, Edward Fairlie, and the Australian Premiere of the first movement of Adam Silverman's Marimba Concerto "Carbon Paper & Nitrogen Ink" featuring Yamaha Performing Artist, Steve Falk on marimba.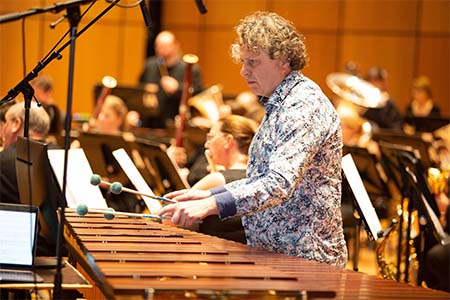 Yamaha Music Australia is incredibly grateful to have the support of Brass Music Specialists, Fine Music, Barratts Music, Ozwinds, Presto Musical Repairs, Wesley College and Presbyterian Ladies' College throughout this Professional Development opportunity and we look forward to an equally fantastic and successful Yamaha Wind Orchestra, 2023.
To register your interest for the Yamaha Wind Orchestra Professional Development Project next year, sign up here to be the first to know!
Sign Up for Next Year
Sunshine College One Year On
---
After launching their new band program in 2022, we returned to Sunshine College to enjoy their first term's concert with special guests, Yamaha artists Horns of Leroy
Great Start Grant 2022 Recipient Announced
---
Yamaha's Great Start Grant 2022 has been awarded to Greenvale Secondary College.
Yamaha Wind Orchestra Inspires Again