Build It And They Will Come
Build It And They Will Come
Build It And They Will Come

How to overhaul a lacklustre music program
It is inevitable that at one point in your career you will find yourself presented with a "fixer upper" music program. That is, a program with few students, high attrition and a difficult demographic. These are actually the kinds of programs that deserve the very best teaching and people skills. If we believe that all students deserve the chance to access quality instrumental music education, then it is our responsibility to make these programs functional. And it can be done! Dr. Heather McWilliams shares some the strategies you can apply to help turn a music program around.
Persistence, patience and planning
Have a plan of attack and set long-term goals. Then break that down into shorter-term/smaller targets to aim for. For your own sanity, recognise and celebrate your successes, even though they may seem inconsequential to an outsider.
Bigger isn't always best
A program does not need to be large, and students do not need to be playing high-level music for participants to realise many of the benefits of participating in instrumental music. The vast majority of schools should be able to run a functional instrumental music program which provides quality music education for the participating students, as well as providing music for school and community events (ANZAC Day, graduation). In some schools that may mean something as small as a well-balanced, 20-piece band performing level 1.5 music (even at the high school level). As unambitious as that sounds, even to get to this point may be a multi-year project in some schools.
Set realistic goals
A realistic long-term goal is getting at least five per cent of the student body to participate in instrumental music. I recently took a school program from about two per cent to six-and-a-half per cent participation over three years. It doesn't sound like much, but I started with 18 students who had little concept of playing together and ended up with about 65 students playing in two bands (junior and senior) and a jazz band. These ensembles played at school events as well as in the broader community, and became a source of pride for the school.
Tips on how to recruit and advocate
1. Hit the classroom
A good starting point for recruitment is to go classroom to classroom, and ask who has ever played in band, and who would like to join band. Look for students who might be learning piano as they can be immediately useful on percussion and keyboard bass (their music reading skills will also make it quicker to get them playing in an ensemble on a wind instrument). You can also start beginners, even at the high school level, as older students often progress faster than primary school children. Initially, you are aiming for numbers, but you also work towards a balanced ensemble, so actively switch students to instruments you need.
2. Target friends of the current instrumental music students
There is nothing quite like that time in the morning or afternoon when students drop off/pick up their instrument at the music building, as they often have their friends you can engage with: "What's your name? If you're friends with x you might as well be in the band also." It's amazing how often this tactic works.
3. Be relentless
Look for recruits everywhere. I once struck up a conversation with a girl in the playground and told her she looked like a euphonium player. She probably thought I was crazy, but I subsequently signed her up to play euphonium!
4. Stay positive
All schools have good students with families who want the best for their children. It might take a while, but sooner or later they will gravitate to your program if it's something positive happening in a school that might not have a lot else on offer. Parents are always receptive to information regarding the benefits of music education, so don't be shy about spreading the word.
Show up and be consistent
A school with a marginal program might not be your favourite day of the week, but stick with it. The students need to know that band and lessons are on no matter what. I tell my students: "If I'm not dead, band is on, and you had better be there!" And always start on time; stragglers will get the message that it's not cool to be late.
Build a team
Not only do you, the teacher, need to be there, but emphasise the need for each student to be a good team member — this is critical in tiny programs. In all schools there will be that group of students who want to be in a band and that you can build a culture with. Peer pressure can work to your advantage.
Be kind and realistic
It takes time to turn a ship around. If students haven't been used to practising regularly, you will have a transition period. Expect them to show up, have a go, and show you that they have done some work at home. Small steps in the right direction and a demonstrated sincere effort is all that's expected.
Be explicit when teaching
Where there may not be anyone in the home with experience of learning a musical instrument (in the formal sense) then explicit teaching is particularly important. You need to make sure students leave every lesson with clear direction regarding what they are supposed to work on at home. Make sure you also communicate to parents that the most important thing for them to do is to be encouraging, and that they shouldn't be concerned if they don't have a musical background. Just sitting with a student while they practise and providing positive feedback can really help.
Be practical and problem solve
Carefully consider what you attempt to do in terms of performances. In my first year at a school I was told it was almost impossible to get students to show up to events outside of school time. Our performances that year included: playing at a music festival during the school day; a couple of lunchtime concerts at a school amphitheatre; performing at an awards night (the instrumental students were the ones getting awards so they attended that event); playing at the school fete (this performance was straight after school).
Similarly, we had success for the first time in years getting parents to a recruitment event by holding the meeting at 2:30 p.m. on a school day. Through problem solving we had realised that lots of the parents would be at school to collect their children around that time of day. They wouldn't attend an evening meeting, but they came when it wasn't out of their way.
Aim for quality
Perform good quality repertoire and don't dumb things down – this is a great experience for students who aren't getting a lot of cultural capital at home. There are plenty of great pieces (originals and transcriptions) that work with less-than-ideal instrumentation and are accessible to students. There are also plenty of pieces at level 0.5 – 1.5 that don't sound "baby-ish" and so can be used successfully with fledgling high school bands.
In 2018 one of my high school bands performed the following pieces:
Advance Australia Fair
Mike Butcher's arrangement
Level 1.5 (Thorp Music)
Beethoven's Ninth
Paul Lavender's arrangement
Level 0.5 (Hal Leonard)
With Flags Unfurled
Ralph Hultgren
Level 1 (Brolga)
Bunyip Blues
Brian West
Level 1 (Brolga)
Mozart Serenade and Dance
John O'Reilly's arrangement
Level 1.5 (Alfred)
Sunset Serenade
Brian Hogg
Level 1 (Brolga)
Make a difference
As frustrating as they can be, it's programs like these that have kept me working in the public system. Students in challenging schools deserve quality music education and teachers who are willing to "dig in." If nothing else, I would encourage all teachers who find themselves in a challenging school to adopt a motto I have heard used describing how one should behave when visiting a National Park: "Leave it better than you found it." Isn't that so much more positive than "run the other way and leave the mess for someone else to fix"?
Do it with support
The only reason I wouldn't take on the task of improving an instrumental music program is if the school administration is not supportive. Without their support it is almost impossible to turn things around and you will have to deal with unnecessary hurdles along the way. You need an administration that will sing your praises and help steer good students towards you. A good administration will also support you with resources (limited though they may be in some schools). Be a change agent, not a martyr.
Build it and they will come
There is a reason that phrases such as "build it and they will come" exist. One determined teacher can make a huge difference in the lives of students. If you find yourself in a school with a marginal program, don't switch off. Grit your teeth, dig in and make a difference in the lives of students who might not otherwise get the opportunity to experience the joys of instrumental music.
WORDS BY: Dr. Heather McWilliams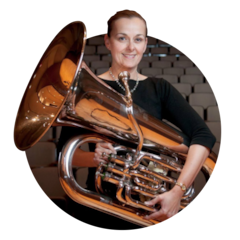 WORDS BY: Dr. Heather McWilliams
Heather McWilliams earned a Ph. D. in Curriculum & Instruction (Music Education) from the University of Wisconsin — Madison in 2003, before teaching tuba, euphonium, band, and music education courses at American universities for more than a decade. She has taught instrumental music in Queensland and Western Australia. Heather currently works for Education Queensland. She is also a freelance conductor and clinician.
Build It And They Will Come