The Future of Wind Bands is Looking Bright
The Future of Wind Bands is Looking Bright

An interview with Associate Professor Dr. Nicholas Williams by Cameron Tait
The Melbourne Conservatorium of Music (MCM) has made substantial positive changes to its wind band music offering. Yamaha interviewed MCM's brand new Associate Professor of Music (Wind Symphony and Conducting) DR. Nicholas Williams to find out more about Melbourne's latest wind band evangelist, and his big plans for the next generation of musicians.
Nick, you joined MCM in July 2019 after 16 years teaching at the University of North Texas. How did you come to be here in Australia?
That is actually a pretty interesting question! The job was posted around the world and a friend of mine, John Lynch (Conductor of the University of Sydney Wind Symphony), who's also from America, told me about it. So I started asking questions, and what I heard was that this is the first time that a full-time wind band conductor has been part of the staff at the Conservatorium.
When I talked to John in Sydney, I remember he said: "Moving to Australia has been one of the greatest things that I've done." Before that, he was at some pretty major music schools in the USA, like the University of Georgia and the University of Kansas. I remember when he left the USA to come here, it shocked everyone. We were just like, "why would you move to Australia to do band? Or … anything!?" And as far as the music scene goes, we just had no idea. So John takes the job – this is four or five years ago – and then at the next Midwest Clinic in Chicago, we all see him and say: "OK, tell us everything!" Everything he said was super positive and great.
He explained just how great of a musical experience he's had since he's been here, how supportive staff administration have been, and he talked about how there's been this longing to have positions like this one (the one that I have now) here for a really long time. And so, for me, it was about the opportunity to do something that, in my mind, was just a little bit more important – a little bit more fulfilling, far-reaching and long-lasting – than maybe doing a similar job in the USA, where there are hundreds of people who do what I do.
Can you explain what your role is?
I'm Associate Professor of Music (Wind Symphony and Conducting) and I conduct the Wind Symphony and the Concert Band.
I'm also working now to start a wind conducting graduate program. I want to start a Masters program, and a doctoral program – PhD or DMA – and I want to do it in a way that is sustainable and makes sense for the community and the profession.
The third aspect that's really important to me is making a strong connection with the music teachers in Victoria. I don't want to just be the university conductor person that no one ever sees, except in rehearsals or in performances, or on the website or posters. I want to be a part of the fabric of music education in Victoria. That's one of the main reasons that I'm here.
The Wind band tradition in the USA and Australia are part of the same musical culture, but operate in different environments, especially when it comes to institutions. What observations do you have of the differences?
It's different! It's not like if I were to move from Texas to another state in the USA, where you just learn the new things in that one particular institution; there are just so many things that are new here, including the new building! I'm starting to understand how different ensembles work here in the school setting versus in the USA, where ensembles are curricular (elective) and you have band every day for 45-90 minutes, depending on your school schedule. Whereas here, you might only have band for 45-60 minutes a week. How do you teach those students in one rehearsal a week? Yet, on the other hand, there are some fine bands in Australia that create these amazing performances.
I would still like to be able to convince whoever needs to be convinced that once a week for ensemble is not enough. But the fact that there is strong music happening, from little kids all the way through to Year 12 and uni … obviously there are a lot of things going right in Australia.
How do you see the MCM environment (new building/facilities) working for music and musicians?
Obviously it's a beautiful building in a great location, being in the Arts District. The amenities and the space are big attractors to a lot of students coming in. For the current students, the thing they talk about with the new building is that now they have nearly enough practice spaces!
One of the cool things about this building is, the varying levels of sound isolation. Other than the three main performance venues, which have nearly complete sound isolation, the designers and architects wanted there to be a little bit of sound bleed to happen in the hallways, just so that when you're walking around you hear what people are doing, but not so much that the sound bleeds into the offices or the studios. So when you go around Floors 4 through 8, you hear music all the time, which is really cool. And there have been a couple of times where someone's been working on something, and I just kind of knock on the door and ask: "Do you need help with that one measure?"
Clearly this building is now iconic, as a part of this Arts District, and I think it shows current and future students that the university has a pretty strong commitment to the music making and the teaching and learning that happens.
From the podium, what are the important messages you like to convey to musicians?
That "we" really are a "we". It's all about us – listening and musical teamwork. The students come in with really strong individual musicianship skills, and their ensemble awareness is not at the same level as their individual musicianship, which makes sense, considering how they got here. They have private lessons; they do their music classes – I'm still learning about this VCE thing! They have all of those things, but they only have ensembles once a week, so they're not as strong in an ensemble as they are individually.
What I've noticed with the students here is that although some of the concepts that I say might be new to them, once they understand what I'm talking about and how it fits in the context of whatever we're doing, it sticks. So what's been really great to see and hear is the progress that they've made in the 10 weeks that we were together this semester, from the first rehearsal to the last performance. Their ability to make music together, to understand how to listen to each other, what to listen to and how to put their own musical parts with other parts has just grown tremendously. And I haven't seen that happen as quickly anywhere in my career. So that makes me smile!
Finally, you have to expose your musical soul. I've probably said this one thousand times since I got here. So often the students (around the world) will do a fine job of playing what is on the page. As performers, we have to be brave enough to be expressive, confident enough to be artistic, and poised enough when the opportunity arises, to allow your training and musicianship to reveal your musical soul. We ensemble teacher-conductors have to encourage, expect, and allow our performers to do so!
What's the future of wind banding in Australia?
Some of the things that I've learnt since I've been here is that there is a really strong desire for wind bands to continue, and also to perform at higher levels. And, importantly, I've seen some really strong teachers since I've been here. Kids everywhere around the world are going to do what they're inspired to do, so you have the desire. You've also got the people who are capable and willing to do the teaching, and those are definitely the most important aspects of how to make change and achieve growth – to have that desire, along with talented people who are willing to share their talents and knowledge with others.
How would you describe yourself?
That was one of the questions that I was asked when I was interviewing the first time for the job here – how I would describe myself as a music educator. The answer that I gave was this.
I see myself as a music teacher of music teachers.
About Nicholas Williams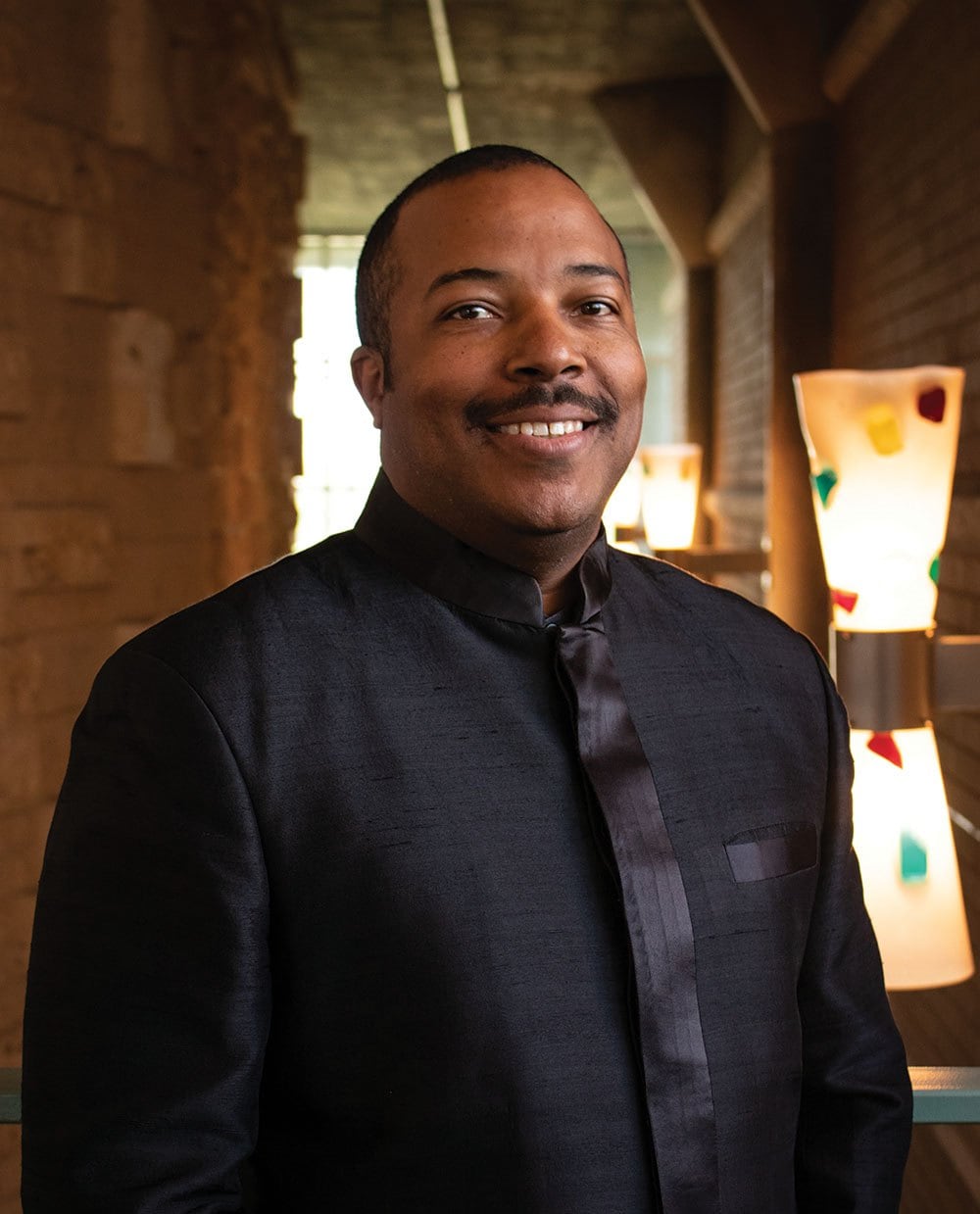 One of Australia's newest international conductors, Dr. Nicholas Enrico Williams is an Associate Professor of Music as well as the conductor of the Wind Symphony and Concert Band at the Melbourne Conservatorium. Prior to his appointment in Melbourne, Nicholas flourished for sixteen years as the Assistant Director of Wind Studies, the Conductor of the Wind Ensemble and Concert Band, and the Director of Athletic Bands at the University of North Texas, one of the most significant academic institutions for wind band activity. He is the former conductor of the Greater Dallas Youth Orchestra Wind Symphony, and is still a frequent guest conductor of the Dallas Winds (formerly Dallas Wind Symphony).
Dr. Williams is in demand around the globe as a conductor, clinician, adjudicator, consultant, and arranger; his arrangements and transcriptions are performed by outstanding organisations throughout the world. Nicholas is a sought-after recording session producer and conductor. In addition to his work in the recording arts, he has written several conductor study guides that are published in the Teaching Music Through Performance in Band series.
The Future of Wind Bands is Looking Bright