Get to know Yamaha's new electronic acoustic drum system
It's not often that a new piece of equipment comes along that can completely change the way you interact with your instrument, but that is exactly what Yamaha have achieved with their new EAD10 electronic acoustic drum system. Whether you are a drum student, teacher, hobbyist, or professional this system makes practicing, teaching, performing and recording your acoustic drum kit inspiring and fun.
What is it?
The EAD10 is made of two separate components, which work together to transform your acoustic drum kit into a powerful digital/electronic hybrid that uses sampled sounds and a suite of studio quality digital effects.
The "Sensor Unit" houses both a stereo condenser microphone array and a unique bass drum trigger, in a rugged metal chassis. It mounts directly on the top bass drum hoop on the player's side to capture sound from the entire drum kit, including the cymbals.
This connects to the "Main Unit" with two supplied stereo instrument cables. The Main Unit is a new type of electronic drum trigger module, with built in tone generator and FX processor that also acts as an audio mixer and audio/MIDI interface. Inside there are more than 750 high-quality drum and percussion voices, 11 Reverbs and 21 DSP effects, that can all be adjusted and mixed using the control knobs on the front panel.
Set the scene
Combinations of the effects, reverbs and trigger sounds are saved directly into the module for future use as "Scenes". The EAD10 contains 50 pre-set "Scenes" that cover almost every style of music, and you can also create and edit a further 200 of your own that are recalled by using the [-] or [+] value buttons, or the large scene knob on the front panel.
Practice made easy
Plug in your favourite headphones or in-ear monitors and you are ready to play - and the high-quality studio sounds will make playing a truly enjoyable experience! An audio device can easily be plugged into the auxiliary input for play-along, with separate control of the track against the kit sound. Improve your time-keeping with a powerful, inbuilt metronome that allows for detailed sub-division of the beat. A tap tempo feature also makes it possible to set the tempo by playing the bass drum at the speed you wish to play.

The live experience
With no need for additional mic-ing, the EAD10 lets you take charge of your entire live drum sound from behind the kit, like never before. In this setting you can use the Trigger knob to blend one of the 136 internal bass drum samples against your acoustic bass drum sound to make an 18" kick sound like a 24" or add classic, digital kick tone for your dance set. The internal trigger voices also include twelve "Kick Assist" voices, which recreate the elements of a good bass drum tone that may be missing in different performance situations. Three additional inputs in the main unit also allow for a combination of additional DTX pads or acoustic triggers for even more sonic possibilities.
The recording experience
The ability to record an acoustic drum kit is incredibly useful, but often challenging. The EAD10 makes it simple to record high quality audio to the module, USB flash drive, or computer, so you can collaborate with band mates, listen back to practice sessions, or provide feedback to students and parents.
Record and share
The Rec'N'Share iOS app developed for the EAD10 allows you to shoot, edit and upload videos of your drum performances. Pick a song from your music library and the app's tempo detection lets you add a click, change the tempo, and select sections to repeat in practice. When you are ready, you can then shoot, mix, edit, and upload your original music videos directly from the free app.
The total package
Regardless of age, experience or musical style every drummer will find a use for the EAD10. With its unique ability to enhance the way you practice, record, perform and share your drumming the EAD10 is a genuine breakthrough product that will simply make your drums do more.
WORDS BY: Jamie Goff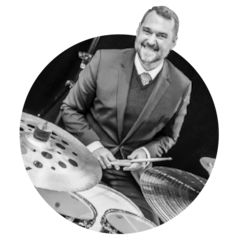 WORDS BY: Jamie Goff
Jamie Goff has worked extensively as a professional drummer and drum teacher and is currently the product manager for Yamaha Drums and Paiste Cymbals in Australia.