Choosing cymbals for your first kit
Never before have consumers had so much choice. But without the right information, choosing the best product can be a daunting task. This is very much the situation many beginning drummers find themselves in when choosing their cymbals. To help navigate the selection process as painlessly as possible, here we look at the options available from the premium European cymbal manufacturer Paiste.
Your first cymbals are going to need to be able to stand up to some serious punishment - let's face it, there is nothing quite like the feeling of playing the big drum fill leading into a huge chorus, and that kind of excitement can get the best of us all! We also need them to sound good without costing more than the entire set of drums.
Paiste make this possible with their PST3 series. They sound great, are tough enough to stand up to some seriously loud playing, and are surprisingly affordable. To achieve this, Paiste make PST3 cymbals in their high-tech German facility from brass alloy. These are truly some of the best value cymbals in the world.
If you do have a few extra dollars to play with Paiste's PST5 series adds extra depth and complexity in their sound while retaining their durability. They make this possible by using a bronze alloy that Paiste has made famous with their professional 2002 Series.
Between Paiste PST3 and PST5 series cymbals, every new drummer now has a great sounding and durable cymbal set available to get them started the right way.

Stepping up
For experienced drummers who might be seeking a more specific cymbal tone, Paiste offer the PST7 and PST8 series. Like the PST5s, both of these are made from their famous "2002 Bronze", but these cymbals are hand-lathed in Paiste's Swiss factory to give us a wider selection of tones, with more musical depth.
The main consideration when deciding between PST7 and PST8 cymbals is the style of music you'll be playing. Drummers playing more traditional music styles will often prefer classic cymbal sounds, for which the PST7 series is the way to go. They are available in three different weights to allow for a diverse range of playing situations - from swing to rock - and have the classic sound for which Paiste is best known. Alternatively, if you prefer your music on the modern side and do some playing in heavier, louder bands, PST8 cymbals are the best choice. PST8 cymbals are hand hammeteal and hand lathed like their PST7 siblings but are slightly heavier in weight, which adds more potential for volume and projection. They also feature a distinctive highly polished, mirror-like finish that Paiste calls "Reflector". Aside from looking great, this adds clarity and sparkle to their sound.
In each of these PST cymbal series, Paiste offer a range of individual cymbals to allow drummers to choose the specific sizes and models to suit their musical tastes. However, we all need a good place to start and to make that simple, Paiste have combined the most popular and recommended cymbals every drummer needs in convenient box sets.
Each contains a pair of 14" hi - hats, a 20" ride cymbal and a 16" crash — the perfect foundation for every drum kit.
WORDS BY: Jamie Goff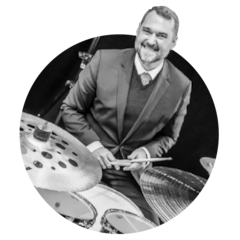 WORDS BY: Jamie Goff
Jamie Goff has worked extensively as a professional drummer and drum teacher and is currently the product manager for Yamaha Drums and Paiste Cymbals in Australia.