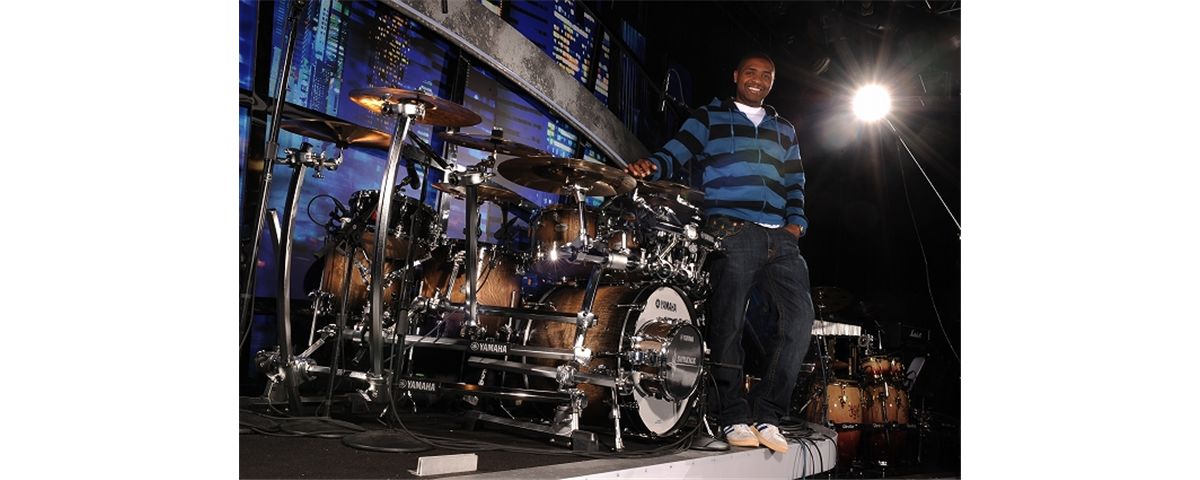 Biography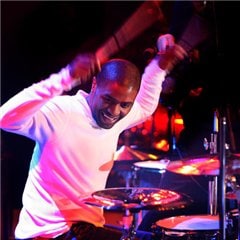 During much of the year, drummer extraordinaire Teddy Campbell can be seen by millions on the FOX smash hit show American Idol. He is a member of the live house band that plays a pivotal role in making Idol one of the most entertaining and most watched programs in TV history. Each week Teddy accompanies the music star hopefuls with his Yamaha Absolute Birch Nouveau drums on the show that has now become a cultural phenomenon.
Long before he debuted on national network TV, Teddy discovered his love of drumming by banging on his mom's pots and pans at the age of three. The drummer grew up in the Gospel music scene of Chicago, Illinois, where he played in church for the first time at the age of four, and hasn't looked back since.
Relocating to California almost nine years ago, Campbell, now 30, has become one of the hardest-working drummers in the business. His resume is so impressive that even he sometimes has a hard time believing how truly blessed he's been.
Teddy has served as musical director and drummer for pop stars 98 Degrees and Britney Spears (while both were at the peak of their careers). A few of his other musical director credits include Deborah Cox, Kelly Price, Mary Mary, and Ann Nesby (formally of Sounds Of Blackness). Teddy has also recorded with Stevie Wonder, Herbie Hancock, Rod Stewart, Al Jarreau, Kirk Whalum, and Kelly Clarkson.
No stranger to life on the road, Teddy has toured with The Backstreet Boys, Christina Aguilera, Maze featuring Frankie Beverly, LSG (Gerald Levert, Keith Sweat, Johnny Gill), Queen Latifah, and Bette Midler.
Teddy has also been the in-house drummer for The Image Awards, The Essence Awards, The Billboard Awards, BET Awards, BET's Celebration Of Gospel (hosted by Steve Harvey), VH1 Disco Ball, VH1 Diva's Concert, and the VH1 Save The Music Concert.
Despite all of that work, Campbell still finds the time to stay true to his roots, fronting his own Gospel group, The Soul Seekers. "I'm the lead singer in the group, and Eric Seats is the drummer," Teddy explains. "I played drums on two of the studio tracks, "What Would You Do?" and "He'll Make A Way." We did most of the record live at drummer/producer Nisan Stewart's dad's church. Nissan is in the group as well, 'though he doesn't play, he sings.'" The Soul Seekers won a 2006 Stellar Award for Quartet Group of the Year, the highest achievement you can receive in Gospel music.
Drummer, Musical Director, Singer… Teddy wears many hats, and there is no limit to what this talented musician can do.
MUSIC DIRECTOR EXPERIENCE
Britney Spears
98 Degrees
Mary Mary
Deborah Cox
Kelly Price
Ann Nesby, (formerly of Sounds of Blackness)
Michael Mathews Gospel Stage Play Sneaky starring Ali Woodson ( formerly of
The Temptations )
Howard Hewitt Fake Friends starring Shirley Murdock.
TOUR EXPERIENCE
The Backstreet Boys
Christina Aguilera
98 Degrees
Maze featuring Frankie Beverly
LSG (Gerald Levert, Keith Sweat, Johnny Gill)
Dakota Moon
Britney Spears
Bette Midler
Queen Latifah
ALBUM CREDITS
Al Jarreau - All I Got
Rod Stewart - If We're Alone Tonight
Track: When I Need You - Produced by Jimmy Jam & Terry Lewis
VH1 Divas Live 2002
Sisqo - Return of Dragon
Mary Mary - Incredible
Stuart Little 2 - Put a Little Love In Your Heart
Deborah Cox - The Morning After
Kirk Whalum - Unconditional
Paul Jackson Jr. - Still Small Voice
Euge Groove - Play Date
Kelly Clarkson - Thankful
Stevie Wonder - A Time to Love
Herbie Hancock - Possibilities
George Duke - Duke
All-Star Tribute to Luther Vandross - So Amazing
Mary Mary - Mary Mary
Stacie Orrico - Stacie Orrico
TELEVISION PERFORMANCES
The Tonight Show with Jay Leno: The Backstreet Boys, Christina Aguilera,
Michael Bolton, Yolanda Adams, Shaquille O'Neal, Heather Headley, Ashanti,
P-Diddy
Late Night with David Letterman: Christina Aguilera, The Backstreet Boys
Saturday Night Live 2003: Christina Aguilera
MTV TRL 2000: 98 Degrees
The View: The Backstreet Boys
The Today Show: 98 Degrees, The Backstreet Boys
The Image Awards, 2002-2003: House Band
The Essence Awards 2003: House Band
The American Music Awards, 2000-2001: Christina Aguilera (2000), Yolanda
Adams (2001)
Soul Train Lady of Soul 2001: Mary Mary
FOX presents Ali 50th Birthday Bash, 2001: Mariah Carey, Natalie Cole
The Kennedy Center Honors, 2002: The Quincy Jones Quartet - Stevie Wonder &
Ray Charles
BET Walk of Fame Honoring Luther Vandross: Patti LaBelle, Luther Vandross,
Chaka Khan
VH1 Disco Ball 2003: House Band
2001 Billboard Awards: All Star Performance "What's Goin On" N'sync, Gwen
Stefani of (No Doubt), Nelly, Destiny's Child, Mary J Blige
2002 Billboard Awards: Tribute to Run DMC (w/ Steven Tyler/Joe Perry of
Aerosmith) JaRule, Nelly, Busta Rhymes, Naughty By Nature, Queen Latifah
Rosie O'Donnell, 1998, 2000-2001: Dakota Moon, Christina Aguilera, Mary Mary
CBS, Home for The Holidays 2000-2001-2002: Josh Groban, Charlotte Church,
Faith Hill, Destiny's Child, Kirk Franklin, Usher, Billy Gilman, Melissa Etheridge
VH1 Divas Live, 2002: Celine Dion, Cher, Shakira, The Dixie Chicks, Mary J. Blige,
Anastacia
VH1 Diva Duets 2003: Celine Dion, Whitney Houston, Chaka Khan, Beyonce,
Ashanti, Mary J. Blige, Jewel, Lisa Marie Presley, Shania Twain, Stevie Wonder
FOX's American Idol
NBC's America's Got Talent
2006 GRAMMY Awards with Herbie Hancock and Christina Aguilera
The Ellen DeGeneres Show, 2006: Jamie Foxx
Tonight Show with Jay Leno, 2006: Jamie Foxx
Be on the lookout for Teddy on the upcoming FOX's "Celebrity Duets" show