Biography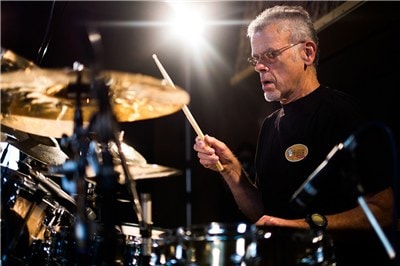 Born and raised in the San Francisco bay area, David began playing drums in elementary school at the age of ten. At age seventeen, he started his professional career, and in 1966 joined the United States Air Force where he became a member of the 724th USAF band stationed at McChord Air Force Base in Tacoma, Washington.
Upon leaving the military in 1969, he returned to the bay area and in July of 1970 joined the legendary Tower of Power. It was in this setting that David became one of the most influential drummers of his generation and became known as an innovator in funk drumming.
As a writer and performer David has worked with such artists as Patti Austin, Natalie Cole, Mickey Hart's Planet Drum, Boz Scaggs, The BBC Orchestra, Gino Vannelli, Talking Drums, The Buddy Rich Orchestra, Ray Obiedo, Wishful Thinking, and many others.
Currently, David is once again performing and recording with the Tower of Power. In 1998, after an eighteen year "break", he rejoined the group for some "unfinished business".
Amongst David's many achievements:
· Modern Drummer Magazine - readers Poll Winner "R&B/Funk" category six times. Five consecutive years from 1980-1985, and again in 2003. His name now permanently resides in that polls honor roll category for his lasting contributions to the percussive arts.
· DRUM! Magazine - Readers Poll winner - 1998 Best Percussion Video, "David Garibaldi featuring Talking Drums".
· 1982-1989 percussion faculty at the Dick Grove School of Music in Los Angeles, California.
· International clinician since 1980.
· Columnist for Modern Drummer Magazine for many years, as well as many other international drum publications.
· Drum Loop CD: "Tower of Funk Classic Funk and R&B Drum Loops"
· Three educational videos:
"Tower of Groove, Part 1"
"Tower of Groove, Part 2"
"David Garibaldi Featuring Talking Drums"
· Four drum set instruction books:
"Future Sounds"
"The Funky Beat"
"TimbaFunk" (Talking Drums)
"Tiempo" (Talking Drums)
· David's first book, "Future Sounds", was rated one of the 10 greatest drum books by Modern Drummer Magazine (August 1993)
· Slagwerkkrant Magazine (The Netherlands) - Readers Poll winner 1997 Drum Book of The Year, "The Funky Beat".