Biography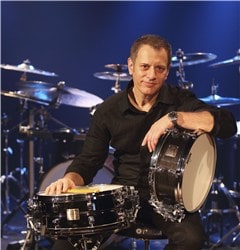 For the last 20 years, Dave Weckl has maintained a reputation amongst his fans and peers as one of the very finest musicians on the contemporary music scene today.
Born in St. Louis Missouri, January 8th, 1960, to a mother who loved music and a father who played the piano as a hobby, Dave started playing drums around the age of 8. During his high school years he received many awards from the NAJE (National Association of Jazz Educators) for his outstanding performances in his high school's competition winning jazz band, and was involved with numerous local groups from a very early age while studying with St. Louis area teachers Bob Matheny and Joe Buerger. At age 16 he began to work professionally with local pop and jazz groups. After his 19th birthday, he moved to the east coast in 1979 to study music at the University of Bridgeport in Connecticut. While playing the club scene in New York City with a band named Nite Sprite, Dave started to receive accolades from established studio musicians such as Steve Kahn, Michael Brecker, and especially drumming great Peter Erskine. It was Peter who recommended Dave for his first 'big gig' in town with a group called French Toast, forerunner to the Michel Camilo band, which has been recorded quite extensively over the years. From this group, legendary bassist Anthony Jackson recommended Dave for the prestigious Simon and Garfunkel reunion tour in 1983. After this tour it was not long before he was regularly being called for radio and TV jingles, sound track sessions, and top recording dates with such artists as George Benson, Peabo Bryson, Diana Ross and Robert Plant, to name a few.
In 1985 Michael Brecker suggested that Chick Corea check out this new young guy in town, Dave Weckl, for his new 'Elektric Band' he was forming. That was the beginning of a 7 year relationship with both the 'Elektric' and 'Akoustic' Bands, where 9 recordings and 3 videos were produced, including a Grammy for the initial Akoustic Band release. The Elektric Band showcased Dave's spectacular drumming and innovative use of combining electric and acoustic drums bringing him world-wide recognition. The Elektric Band, after a 10 year hiatus, has recorded a new CD to be released in mid 2004, with tours expected as well.
As a solo artist, Dave has recorded and produced nine of his own recordings to date; Masterplan, Heads Up, and Hardwired, available on GRP/MCA records, and most recently with the Dave Weckl Band, Perpetual Motion, Transition, The Zone, Synergy, Rhythm Of The Soul, and a brand new LIVE recording released in October of 2003, The Dave Weckl Band LIVE (and very plugged in), all on Stretch/Concord Records. His own band has kept him very busy the last few years, but still enjoys sideman work, most recenty with guitar great Mike Stern. When off the road he keeps busy with a bit of session work, record dates, and even mixing a few projects here and there, all in his place of residence, Los Angeles, CA.
Besides his busy playing career, Dave is also very involved with the teaching aspect, conducting many seminars, clinics and classes all over the world. He says "It is my goal to inspire as many young (and not so young) people as possible to want to play music, whether it be drums or another instrument. With all the negatives of the world today, I feel this is my way of contributing a positive action towards spiritual happiness, which music can be a big part of, if you let it. So parents, if your child has a talent for music, please allow them the opportunity to develop that talent!". Dave does accept students for consultation type lessons when he is off the road at his home in LA, so if interested send an e-mail to Weckman1@aol.com. He also has many instructional video/DVDs and play-along packages on the market – his older releases, still available and very popular on DCI/Warner Bros. Music, and his latest 3 videos/DVDs/- Book/CD, A Natural Evolution, is available through Carl Fischer Publishing at your favorite music store world wide. He also is on faculty and has classes available now on line at the Virtual Drummer School (www.virtualdrummerschool.com).
Daves sound is a signature aspect of his career. He has created products bearing his own name with Yamaha Drums, Sabian Cymbals, Vic Firth Sticks, and Remo products. (See Signature Snare Drums at the Yamaha Drums homepage for details). Dave's other endorser companies are: Shure microphones and In Ear Monitor system, May bass drum mounting system, XL Specialty Cases; LP products.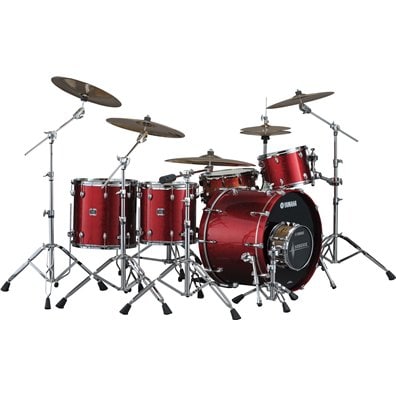 The recent introduction of the Oak Custom by Yamaha sent a shudder through the drum industry. For low end that shakes the floors, crisp highs that penetrate, and mids that ring through the mix, insist on the power of oak.

Other Colours Available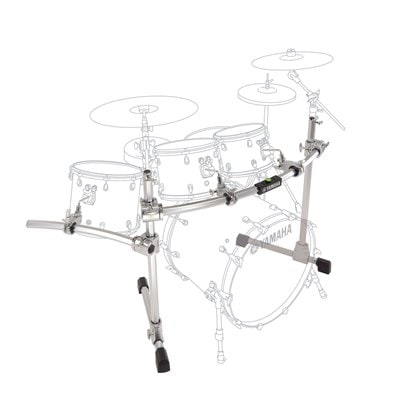 The HXR2L is suitable for 5 piece drum set configuration including a floating floor tom.