Biography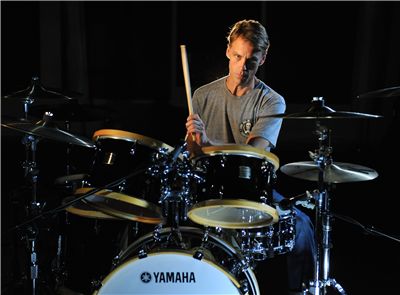 Matt Cameron started playing drums professionally at age 14 in various cover bands in San Diego. He took private lessons from ages 17-19 with Jon Szanto from the San Diego Symphony. Matt moved to Seattle at age 20 (1983). He played in a variety of bands, and instantly found the creative local music scene very inspiring. While in Seattle, Matt met lots of creative people, including neighbor Kim Thayill. Kim's new band, Soundgarden, needed a new drummer,so Matt joined Soundgarden and played with them from 1986-1997. They toured the world many times over, met lots of great people and won two GRAMMYs. Soon after the band broke up, Matt was asked to join Pearl Jam in 1998, and he has been with them ever since. Given any Pearl Jam downtime, Matt takes pride in his various side project bands(Hater, Wellwater Conspiracy) and studio work (Tony Iommi, Eleven, Geddy Lee).
Matt Cameron had been a part of 'Seattle Sound' until its eventual demise in mid-1990s. His tasteful and inventive playing has turned many heads, including those of many bands that would help pave Cameron's interesting history. After playing in the Buddy Rich memorial benefit concert, Cameron was seen as not only a powerful, yet graceful rock drummer, but also a player with obvious competencies in jazz drumming. His playing was quite well received by the Buddy Rich big band, as well as most of the audience at the concert. Cameron continues to dazzle and satisfy his fans, while at the same time making new ones.
Cameron's musical career pretty much started out when with a vocal part on the song "Puberty Love," which was on the soundtrack for Attack of the Killer Tomatoes. Then he moved to Seattle in the early 1980s. He played briefly in a band called Feedback, then in 1985, he joined Skin Yard. Daniel House (future owner of C/Z Records) and Jack Endino, who were the original members, were soon joined by Cameron, who thought up the name. Later that year, singer Ben McMillan joined the fold and the original full lineup was created. The band played their first show in June of 1985, in which they were the warm-up act in a U-Men show. The band continued to record their first album in the remaining part 1985 and 1986. It was released on C/Z records in January of 1987, but Cameron had left the band prior to the record's release.
Also around this time, Soundgarden (named after a sculpture in Seattle's Sandpoint) was in need of a new drummer when their original drummer, Scott Sundquist, left to pursue a normal family life. Following the remaining members' (Chris Cornell, Hiro Yamamoto, Kim Thayil) search, they enlisted Cameron into their band in June of 1986.
Soon after Cameron's joining Soundgarden, the band began recording their first ever recording, Screaming Life, which was released as an EP on Subpop records in 1987. Their second studio effort, Fopp, was relased in 1988, also on Subpop records. The next logical step for the band was to record a full length LP. In 1988, the band released Ultramega OK on SST, which was nominated for a Grammy Award.
In early 1997, the band toured briefly in New Zealand and Australia before annoucing the breakup on April 7, 1997. The members decided to go their own ways and focus on their other projects.
For Cameron, his music career was no where near finished. He immediately started to get calls from bands ranging from The Indigo Girls to The Smashing Pumpkins. But, Cameron decided to take it easy for a while and lay low. Then, in the summer of 1998, Eddie Vedder (singer of Pearl Jam), asked him if he'd be interested on going on tour with the band. The original drummer, Jack Irons, had to bail out because of serious, health-related problems. Cameron didn't have anything planned, so he joined Pearl Jam on their US tour and made his first appearance with the band on The Late Show with David Letterman, and played "Wishlist."
The band toured extensively and eventually released a live album, Live On Two Legs, in late 1998. Not long after the release of that album, Cameron went to work with John McBain, along with a handful of other guest musicians to work on the new Wellwater Conspiracy album, Brotherhod Of Electric: Operational Directive(s), which was released on Time Bomb records in early 1999. The album features Cameron playing drums, guitar, bass, keyboard and singing. Pearl Jam's annual holiday single was re-issued for the public to support Kosovar refugees in the mid-spring of 1999 and that album featured Cameron's drumming on both tracks.