---
I love Yamaha gear, as it is a fantastic, quality brand that has excellent craftsmanship on all their instruments to back up their name. I have used Yamaha products for all of areas of my work, including, acoustic and electric guitars, Pianos, Keyboards, P.A. Systems and many more… I stand by Yamaha as a brand I can trust as I know it will never let me down and it will always shine through as a step above the rest in all applications. I am privileged to be a part of the Yamaha family
---
Biography

Liam was born in Camden, and it wasn't till the age of 11 and a few thousand spins of The Killers record Hot Fuss, that he fell in love with playing Drums. He was taught by Kosta Theodosis (Amy Meredith/Miami Horror/The Kite String Tangle) for many years before playing shows and festivals all around Australia and the World with artists such as Odette, Gordi, Asta and Mickey Kojack.
Playing locally for many years, Liam can't believe how lucky he is to tick things off the bucket list by playing Splendour In The Grass, Falls Festival, SXSW (US), The Great Escape (UK) support tours with Sam Smith, Ellie Goulding and more. As well as touring all over the US and Europe. Liam has performed on TV and Radio performing on Triple J's Like a Version and Live at the Wireless with Odette and Gordi in 2018/19, and ABC's "The Set".
He is very grateful for the opportunities that have come his way, and thanks the friends he's made and those who continually support him.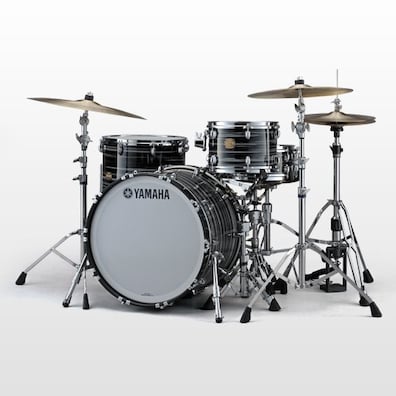 Our flagship PHX series drums radically changed drum design using a special blend of newfound Asian woods to deliver an amazing tone that has gained great acclaim from drummers around the globe. The major component in the mix and the wood that gives these ultra highend drums their characteristic warmth, is a wood called Kapur.The sound of Kapur is now available in a brand new series of drums— the new Club Custom.Made from 100% Kapur the Club Custom drums provide musicians with a new tonality for creating great music. Warm and dry they play well with a wide variety of musical styles. Sound balance is great making them perfect for use in the recording studio, and they have a soft, mild character that lays down exceptionally well behind vocals. Besides sounding great, Club Custom drums look great too with three special "Swirl" finishes and two "Matte Wood" finishes to choose from. Club Custom drums offer a fresh, unique sound that opens up a whole new range of tonal possibilities for the drummer.

Other Colours Available