Biography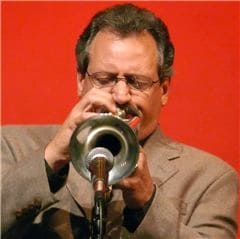 Jeff is the Director of Jazz Studies at the Bob Cole Conservatory at California State University Long Beach and the co-owner of Kendor Music, Inc., the first educational music publisher to provide jazz charts written especially for students. The Kendor catalog includes such names as Sammy Nestico, Thad Jones, Toshiko Akiyoshi, Don Sebesky, Maria Schneider, Bob Mintzer, Buddy Rich, Mel Lewis, John LaBarbera, and many more.
As a younger player, Jeff's background was primarily in classical music. He won a scholarship to Valley Forge Military Academy, where he performed several times for President Richard Nixon, General William Westmoreland, Mamie Eisenhower, Princess Anne of Great Britain, and many other prominent figures. At the age of sixteen, Jeff performed on a CBS recording of Tschaikowsky's 1812 Overture, as performed by the Valley Forge Military Academy Band, the Philadelphia Orchestra (under the direction of Eugene Ormandy), and the Mormon Tabernacle Choir.
Jeff's early career as a studio trumpeter in Philadelphia, Nashville, Los Angeles, and Denver encompasses over 100 albums for such names as Lou Rawls, MFSB, The O'Jays, Teddy Pendergrass, Spanky & Our Gang, Archie Bell & The Drells, Melba Moore, Michael Jackson, Spirit, Lou Rawls, Melissa Manchester, Crystal Gayle, Ronnie Milsap, Harold Melvin & The Bluenotes, and Jean Carne.
Jarvis' career as a solo recording artist began with two contemporary jazz releases for the Optimism label in Los Angeles, namely When It Rains and Golden Palm. Jeff then signed with Positive Music Records in Baltimore for two mainstream releases, A Better Place and Contents Under Pressure, both of which reached the top ten of the Gavin airplay charts. Amherst Records has released two of Jeff's contemporary jazz recordings, the first being, Following Footsteps. It features such names as Bob Mintzer, Ernie Watts, Ndugu Chancler, "Ready" Freddie Washington, Grant Geissman, Shelly Berg, and Matt Harris. Morning Drive is Jeff's latest release as a leader and was produced by contemporary jazz great Brian Culbertson. It features the talents of Brian Bromberg, Lenny Castro, Steve Cole, Oscar Seaton, Jr., Paul Jackson, Jr., Larry Kimpel, and Donnell Spencer, Jr.
Jeff's live performance credits include Dizzy Gillespie, Louie Bellson, Joe Williams, Henry Mancini, John Hendricks, Slide Hampton, Kevin Mahogany, Joe Lovano, Jimmy Heath, Grady Tate, Doc Severinsen, Mel Lewis, Eddie Daniels, Bruce Johnstone, Bob Mintzer, Dave Koz, Barbara Mason, Frankie Valli & The Four Seasons, Johnny Mathis, Chuck Mangione, The Smothers Brothers, The Four Tops, Don Rickles, John Denver, Jerry Vale, Bob Hope, Glenn Campbell, Rich Little, and Kathy Lee Gifford. He performs regularly with the Gap Mangione Big Band. He has performed with numerous Latino artists including Tito Rodriguez, Lefty Perez, Yolanda Rivera, and more.
He is frequently commissioned to compose for school, military and professional musical groups. He has over 150 published jazz works to his credit, ranging from educational to professional level. Jeff is a contributing editor for The Instrumentalist, in addition to writing for other music trade journals such as Flute Talk, Band & Orchestra Product News, and Jazz Educators Journal. Jeff has written articles on educational music publishing, composing and arranging music for big bands, jazz improvisation, big band rehearsal techniques, and more. He has co-authored The Jazz Educators Handbook with Doug Beach, which assists band directors who wish to improve their skills in the jazz idiom. Jeff also co-authored a jazz piano book with Matt Harris entitled The Chord Voicing Handbook, which is designed to help novice jazz pianists.
A Yamaha trumpet artist, Jeff has performed throughout the United States, Canada, Europe, Australia and Indonesia. He has most recently been featured with the USAF Airmen of Note, Syracuse Symphony Orchestra, Dallas Jazz Orchestra, US Army Jazz Ambassadors, Jazz Knights of the United States Military Academy Band at West Point, Riverside Jazz Orchestra, Oslo Big Band (Norway), Army Blues, Buffalo Philharmonic Orchestra, Frank Mantooth Jazz Orchestra, Denver Symphony Orchestra, USAF Shades of Blue and more.
Jeff Jarvis is the Music Director Emeritus of the Central New York Jazz Orchestra, a not-for-profit regional jazz orchestra that annually presents a guest artist series, a cabaret series, youth concert series, and sponsors jam sessions for young musicians. Jeff is a past Vice-President of the International Association for Jazz Education and has been cited by this organization on many occasions for his service to jazz education. Among his accomplishments was developing a pilot program and curricula for the IAJE Teacher Training Institutes, a series of three-day workshops for jazz educators. Jeff is listed in the reference volumes, Who's Who In Entertainment, Who's Who Among Rising Young Americans, Who's Who In American Business, Who's Who in Executives and Businesses and the International Book Of Honor.
Other Brass & Woodwind Artists