---
My Yamaha 62 Tenor gives the perfect voice to my musical expression and lets me perform at my best
---
Biography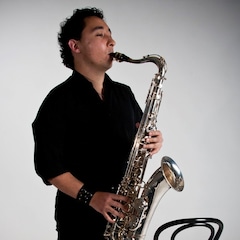 Classical Saxophonist Peter Leung performs regularly in Europe and Australia, as both soloist and chamber musician and made his American debut in 2017, with his Asia debut occurring in 2018 at the 2018 Kaohsiung Saxophone festival, where he is appearing as faculty. He is a founding member of the international Tenor Saxophone Collective, along with notable saxophonists, including Arno Bornkamp and Niels Bijl, which gave its premiere concert at Saxopen 2015 in Strassbourg, France. Leung is a member of the Music Box Project, an ensemble which performs and promotes an eclectic approach to contemporary music and engages young, upcoming Australian composers and which has worked alongside performers including yMusic (USA), Splash Percussion (Australia) and Ashley Bathgate (USA). He also performs in the Sydney Saxophone Collective, promoting the entire gamut of saxophone music, with an Australian focus. Leung has also collaborated with international artists including Ties Mellema, Niels Bijl, Claude Delangle, Fernando Ramos, Mario Marzi and Andy Scott. Festival appearances include: Université Européenne de Saxophone (Gap, France), Amsterdam Saxophone Week, Estivo Summer Music Festival (Verona, Italy), Musicfest 2005 (Aberystwyth, Wales), among others.
Embracing the diverse capabilities of each of the different saxophones, Leung is at home performing different genres and styles, ranging from wind orchestras, symphony orchestras, contemporary music groups, and baroque ensembles. During his residence in the Netherlands, Leung performed with F.C. Jongebloed in the concert series ster. zwart gat. rood hondje, premiering new works for the ensemble. He also performed a number of solo recitals and radio broadcasts with the Fonty's Conservtorium Saxophone Ensemble. Leung has a keen interest in Barouqe music, having studied with saxophonist Ties Millema, who was a student in Baroque performance of renowned cellist, Anner Bylsma.
Other experiences of note include performances of Berstein's Mass at the Sydney Opera House, and Kurt Weill's A Little Threepenny Music as part of the Musica Viva Festival 2013 in Australia. He toured Italy with the Fracture Saxophone Quartet in 2014, performing at the Estivo Summer Music Festival, and premiered works in recital at the Sydney Saxophone and Clarinet Conference (2013), including his own composition: Duo (2011) for soprano and tenor saxophones, and Three Letters to Anaktoria (2013) by American composer Noonan, for voice and tenor saxophone, which was written specifically for Leung.
Dr Leung holds a Doctor of Musical Arts (DMA) from the Sydney Conservatorium of Music, a Masters of Music degree from Fontys Conservatorium in Tilburg, Netherlands and a Bachelor Of Music (Honours) degree from the Sydney conservatorium of music. His primary mentors include James Nightingale (Continuum Saxophone Quartet), Michael Duke (Nexas Saxophone Quartet), Ties Mellema (Amstel Saxophone Quartet) and Niels Bijl (Aurelia Saxophone Quartet).
Other Brass & Woodwind Artists