---
My Yamaha is my best friend, my confidant, my inspiration.
---
Biography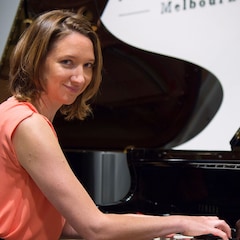 Gemma Turvey is a pianist, composer, and educator, well known for bridging across musical traditions and championing improvisation. She has performed nationally and internationally as a pianist, ensemble leader and creative collaborator.
In 2011, Gemma established and was a founding Director of the New Palm Court Orchestra (NPCO), an innovative cross-genre chamber ensemble bringing together some of Melbourne's brightest improvising and chamber musicians. Gemma led the NPCO as Artistic Director in repeat standout performances at the Melbourne Recital Centre, Sydney Opera House, and Federation Square. Under Gemma's leadership NPCO collaborated with artists including multi Grammy-Award winning cellist Eugene Friesen and premiere vocal ensemble The Consort of Melbourne, and event partners including Virgin Australia Melbourne Fashion Festival and MPavilion. After eight successful years of operation the NPCO decided to close in July 2019.
Gemma is currently pianist and arranger for singer Gorgi Coghlan and has worked as pianist with singers Kristin Berardi, Kate Miller-Heidke and Tina Arena.
Gemma is passionate about Australian music education and established an annual program of composition and improvisation tuition for students at Buninyong Primary in regional Victoria with inspiring results. She has also worked as mentor with The Song Room in schools across metropolitan Melbourne.
Gemma received the Melbourne-Boston Sister Cities Hugh Rogers' Fellowship for Arts & Culture, and is now a MBSCA ambassador. She has been Artist in Residence at Bundanon (NSW), Fabrica Institute (Italy) and in 2018 was awarded the prestigious Prelude Composer in Residence at Gallop House, Perth: a six-month artist residency supported and administered by Bundanon Trust and the National Trust of WA. Here she completed her first concerto for piano and improvising chamber orchestra, and an orchestration of award-winning children's picture-book The Flying Orchestra.
Gemma is currently undertaking a Research Masters of Classical Improvisation at UWA, where she is also a FABLE Teaching Fellow.
Gemma is a proud Yamaha Artist.
"Perfect…like musical chocolate. Close your eyes and be transported to a place of serenity and great beauty." – Qantas Entertainment