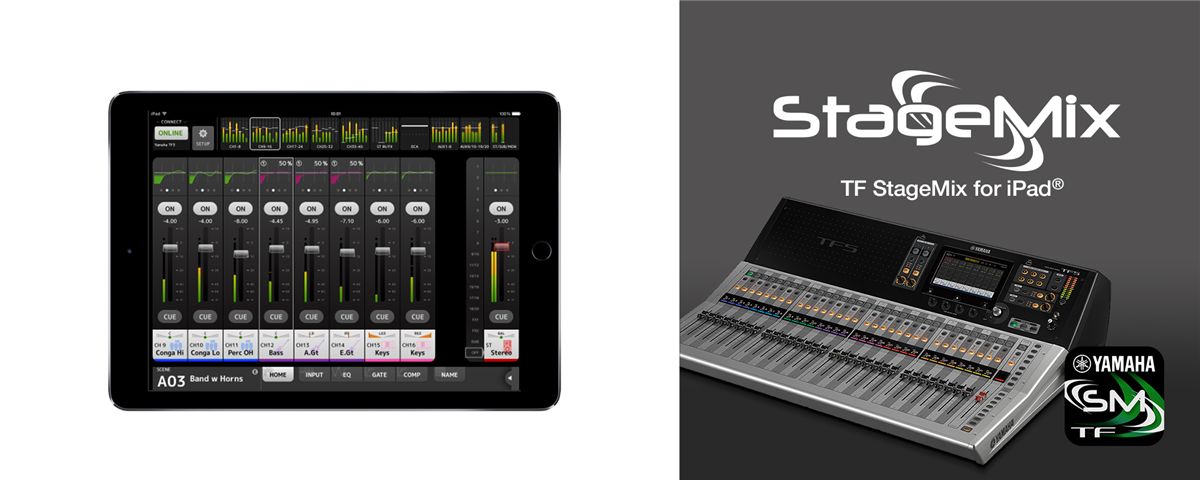 TF StageMix™ for Wireless Mixing
TF StageMix is an iPad application that provides wireless control of TF series consoles, allowing remote mixing from audience seating, in front of floor monitors, or any other listening position. It can also be used at the console as an extension of the console's own interface. The TF StageMix interface is designed for similar operation and flow to the console display, making it easier than ever to refine the mix from any location.

Price : Free
Please visit App Store from the following link for details on OS and device requirements.
Yamaha TF series digital mixing console
Wi-Fi access point (preferably with 802.11n or 802.11ac, 5GHz capability, though 2.4GHz and 802.11g will also work)
CAT5 cable (to connect the console to a Wi-Fi access point)
Notice
If the IGMP Snooping function of your Wifi router is on, the signal meters on StageMix may not operate properly. In that case, please turn off the IGMP Snooping function.
* Apple, iPhone, iPod touch and iPad are trademarks of Apple Inc. registered in the U.S. and other countries. App Store is a service mark of Apple. Inc.
The colours and finishes shown may vary from those on the actual products.