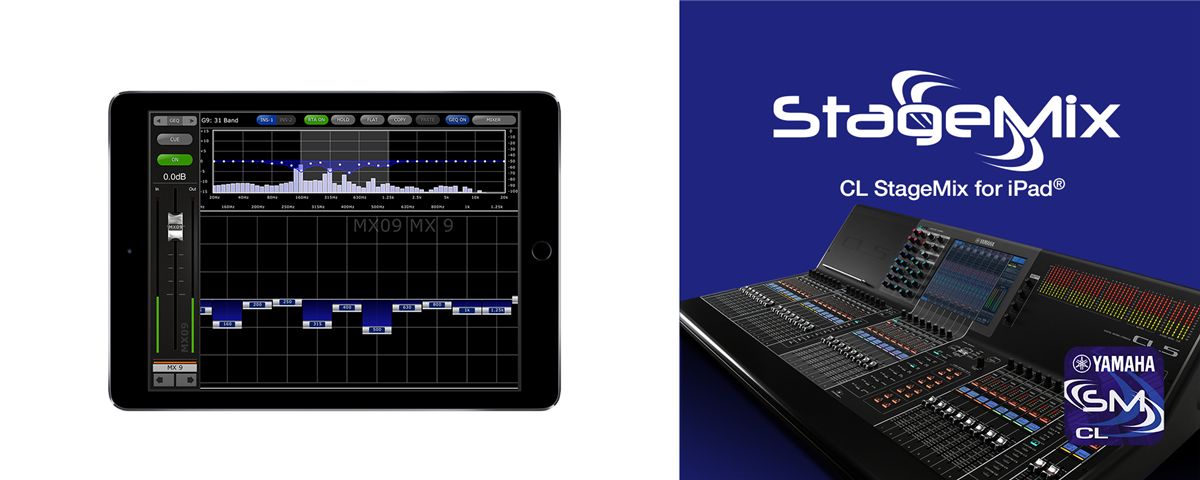 CL StageMix provides remote control of CL series functions
CL StageMix provides remote control of CL series functions via a simple, intuitive graphical interface from anywhere within wireless range. The software has been specifically designed to allow engineers to adjust monitor mixes from the performers' positions on stage, directly controlling mix parameters via the iPad rather than having to rely on verbal directions to a second engineer.
The result is better mixes in less time: a huge advantage during high-pressure pre-show setup. StageMix does not provide remote control of all CL series parameters, but is focused on the requirements for adjusting monitor mixes on stage.

Price : Free
Please visit App Store from the following link for details on OS and device requirements.
Yamaha CL series digital mixing console firmware V4.0 or later
Wi-Fi access point (preferably with 802.11n or 802.11ac, 5GHz capability, though 2.4GHz and 802.11g will also work)
CAT5 cable (to connect the console to a Wi-Fi access point)
* Please read privacy policy carefully before downloading and installing the StageMix.
* Apple, iPhone, iPod touch and iPad are trademarks of Apple Inc. registered in the U.S. and other countries. App Store is a service mark of Apple. Inc.
Features you can depend on for unsurpassed control and reliability, plus sound that delivers every show with maximum sonic impact.
The colours and finishes shown may vary from those on the actual products.