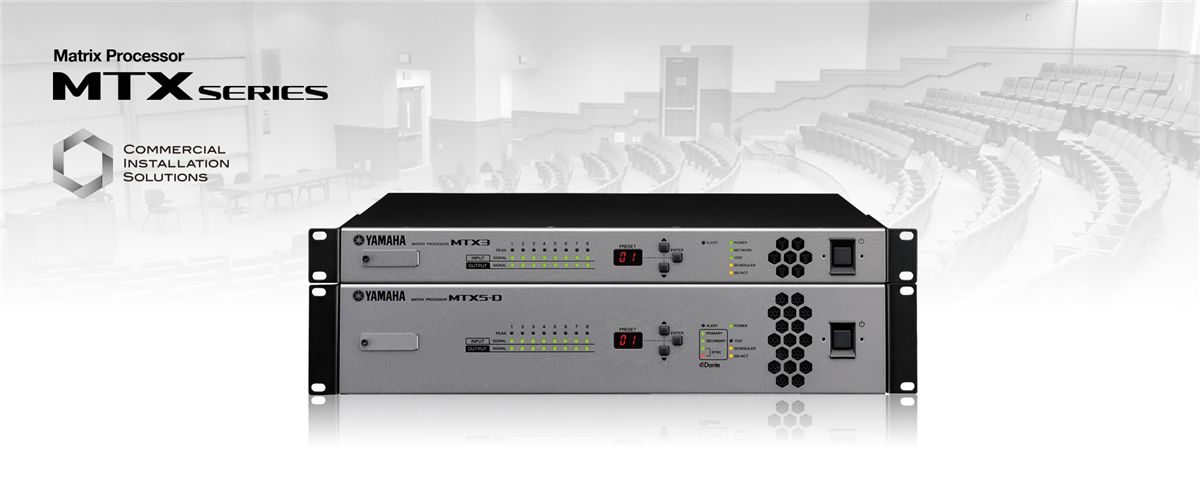 Ample I/O and Expansion Capability
Versatile Input/Output configuration
The MTX Series feature a combination of analogue and digital. Dante and YDIF connections meaning there should always be sufficient inputs & outputs for the scale of your installation.

Overview: I/O
A closer look at the inputs and outputs of the MTX and MRX processors and provide an overview of the processing available in each one.
SD Memory Card Slot for playback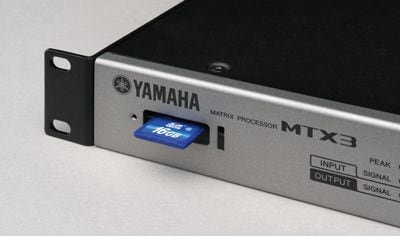 The MTX Series feature an input/output configuration that is ideal for a wide range of applications: 8 mono inputs (mic/line), 2 stereo inputs (line) and 16 digital inputs via YDIF. The output side consists of 8 line-level mono outputs and 16 digital outputs via YDIF. MTX processors also feature an SD Card Slot for playback of MP3/WAV files stored on an SD Memory Card. The Event Scheduler function allows you to play back these files as music, announcements or chimes—or even trigger external devices with a GPI output—at scheduled times, as well as recall presets stored within the MTX.
Easily increase system inputs and outputs.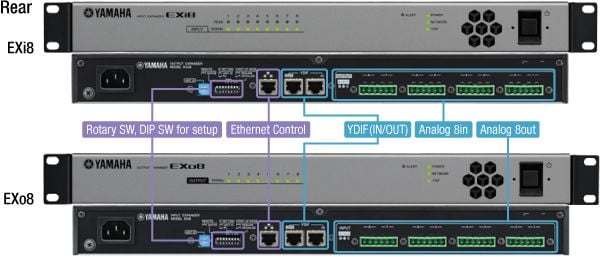 The EXi8/Exo8 are input/output expanders for the MTX/MRX Series. EXi8 converts the analog mic/line signal to digital and transmits to the MTX via Yamaha's proprietry YDIF connection. The preamps for EXi8 can be remotely controlled from an MTX/MRX Editor.
EXo8 also connects to the system via YDIF and features 8ch of DA converters that convert the digital output to high quality analog signal.
MTX Digital Network System
Using two types of networking in MTX systems can significantly reduce installation cost and time. The combination of YDIF for shorter system connections and DANTE for larger installations can considerably improve design flexibility.
Audio Network for MTX System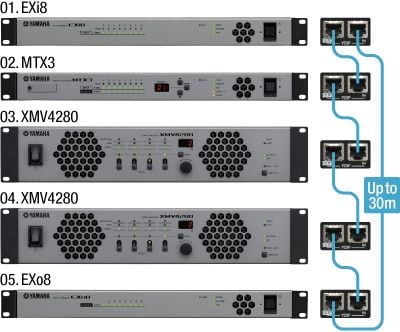 MTX processors feature the newly developed YDIF digital transmission format; a unique proprietary Yamaha technology that delivers 16ch audio and word clock transmission via standard CAT5 Ethernet cable. YDIF can be used for cascading multiple MTX Series or for feeding audio signal to XMV Series power amplifiers with very simple cabling up to 30 metres.
Distribution Mode
- Max. 16ch of audio can be flowed from upper stream device to lower stream device.
Cascade Mode
- Can be used as 8ch cascade buses specifically for MTX.
- Communication can be between multiple MTX.
Dante for MTX (MTX5-D, XMV-D only)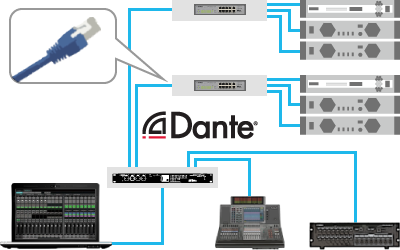 The MTX5-D is equipped with dual Dante ports that allow 16 channels of inputs and outputs @44.1kHZ/48kHz to be run on a redundant network. Both simple and larger, sophisticated Dante network systems can be created using MTX5-D and the Dante enabled XMV-D amplifiers.
Audinate's Dante Network Audio Protocol has been adopted, not only in Processors and Power Amplifiers, but also in many other types of digital audio equipment such as Yamaha Digital Mixing Consoles. In Ver 3.2 and later, supports the HA control of the I/O rack "Rio series"and "Tio 1608-D". This makes it the perfect backbone for larger networked audio systems particularly as connections are not limited to a 30m maximum as with YDIF, but can carry audio up to 100m over CAT5e cable.
A Dante digital network handles all the audio and control data making system alterations and expansion easy. New devices can be added to the network via a single CAT5e cable and quickly configured using the MTX-MRX Editor. Dante networking provides superior system flexibility as well as plenty of capacity for future expansion.
Daisy Chain Network

When building a simple system with a small number of devices. It is recommended to use Daisy Chain.
Since Dante can transfer both control and audio signals with one cable, no network switches are required for Daisy Chain mode.
Star Network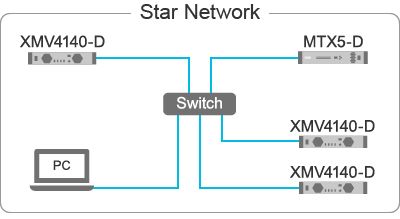 In a star network, each device is connected to a central hub. Using a GbE-compatible network switch enables you to configure a wide-band, large-scale network.
Redundant Network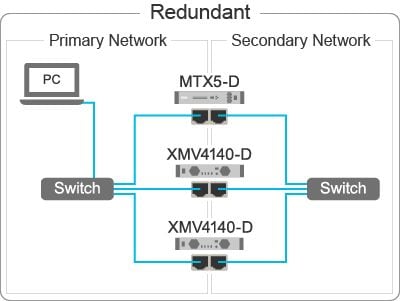 If it is necessary for higher resiliency against unexpected network problems, it is recommended to use redundant network.
Support for Dante Domain Manager, AES67 and Dante Device Lock
Supports the "Dante Domain Manager" audio network interconnectivity standard (update to version 3.31). Audinate Corporation's "Dante Domain Manager" is now supported. Audinate Corporation's "Dante Domain Manager" is network administration software that provides user authentication and role-based security settings. Now you can construct a safe and scalable sound system based on Dante infrastructure.

Dante-enabled model of the MTX5-D signal processor now support the AES67 audio network interconnection standard. This allows connection via AES67 to audio networks such as Ravenna, Q-LAN, or Livewire, increasing the expandability of the system.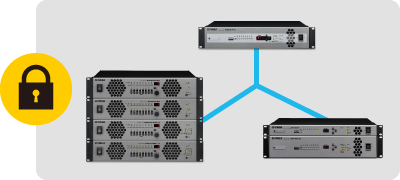 Also supported is Dante Device Lock, which prevents a third party from modifying Dante settings. This can increase system security in environments such as concert halls where an outside operator is expected to operate the system or bring in equipment.
Smart, Flexible Paging System for Large Commercial Spaces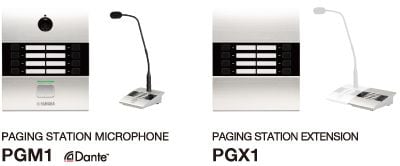 The PGM1 paging station and PGX1 paging expander are designed to work specifically with MRX7-D or MTX5-D. They work using PoE and connect to the network via Dante. Each PGM1 can be expanded with up to two PGX1 units and up to 4 units of PGM1 can be connected to a single system.
PGM1, PGX1
Yamaha's PGM1/PGX1 are paging stations that can be used with the MTX5-D or MRX7-D. It can be networked via a Dante Network and using Power Ethernet or PoE. This video will show you how to set up the paging station to the system.
Multi-purpose hall
Room A and Room B in the system example are normally used independently for meetings, parties, or other events, and are therefore equipped with audio systems that can be operated separately. The Yamaha MTX3 is a convenient matrix processor that can accept input from multiple audio sources and microphones and route that audio to specified speaker systems. The EXi8 is handy when you want to increase the number of available microphone inputs, for example. DCP4V4S control panels installed in each room can be set up to allow remote control of microphone level and on/off switching.
When the partition is removed and the rooms are combined to form one larger space, an appropriate setup that has been pre-programmed using the MTX-MRX Editor software can be recalled via a single button, instantly setting up the system for central control.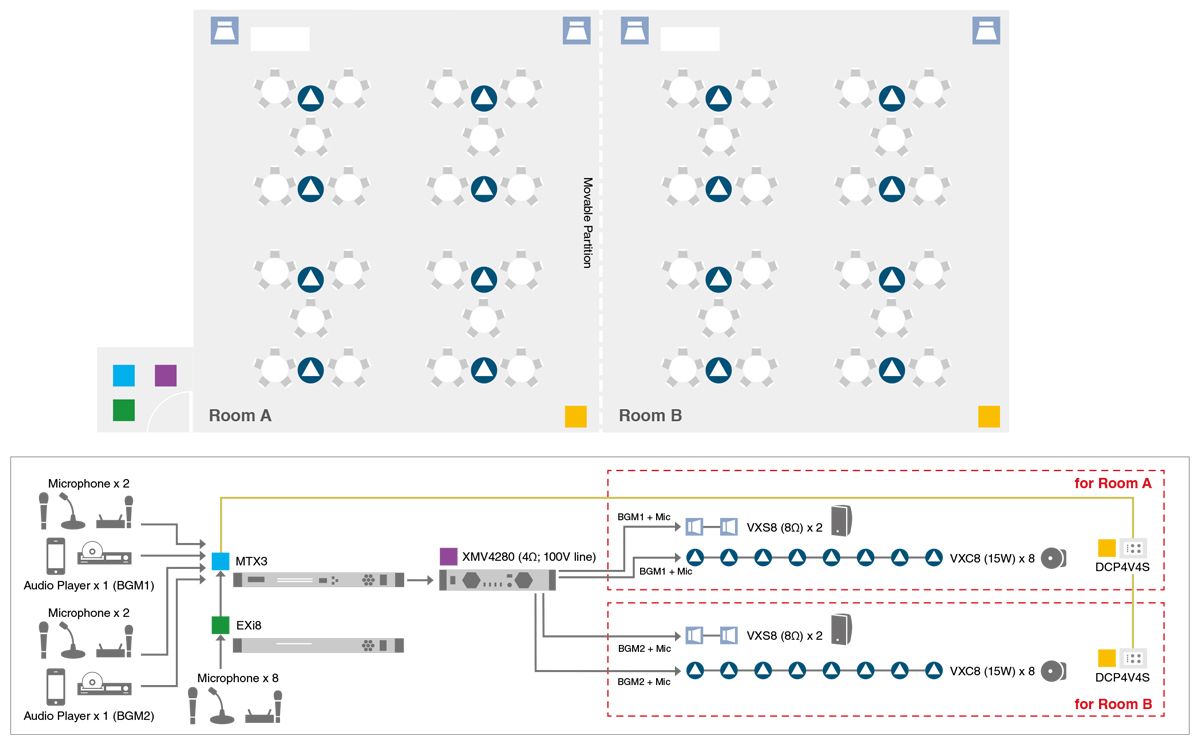 Simple Presentation using the Dugan Auto Mixer.
Using the four Dugan channels of the MTX3 and FBS makes it possible to have a simple presentation system that does not require an operator.
When the Dugan automixer is used, the input gain on microphones being used is automatically increased, while the gain on mics not used is decreased in order to reduce ambient noise leakage. This enhances the clarity of the sound. No specialized technical knowledge or skill is required—the mic gains are adjusted automatically.