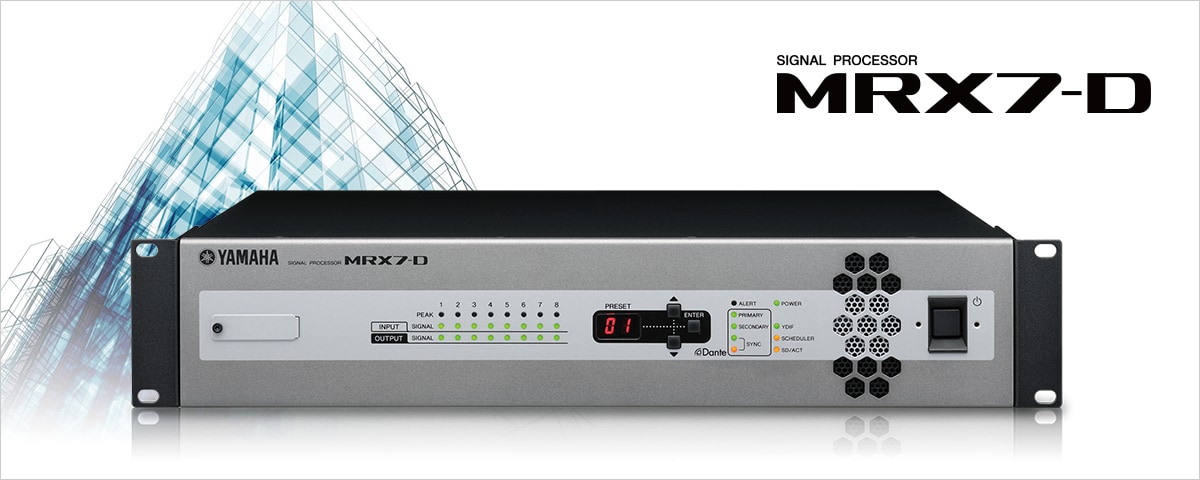 Control external devices including other companies' devices
With "External Events" function, you can issue UDP or TCP commands from the yamaha processors MTX3, MTX5-D, and MRX7-D. This function makes it possible to control external devices including other companies' devices by GPI, DCP, MCP1, Wireless DCP, and Preset Recall. For example, you can turn on the projector, close the curtain, turn off the lights, with the control devices.

Flexible Design and a variety of Custom Control Panels
Yamaha provides a versatile range of remote control options to suit the various installation types as well as the customer's unique requirements. These range from simple wall panel remotes to fully customizable software based control for either iOS or Windows based platforms.
| | ProVisionaire Control | ProVisionaire Control KIOSK | ProVisionaire Touch | ProVisionaire Touch KIOSK | MCP1 | DCP | Wireless DCP |
| --- | --- | --- | --- | --- | --- | --- | --- |
| UI Design | | | | | | | |
| Control | | | | | | | |
| Device Monitoring | | | | | | | |
| Signal Processor MTX, MRX series | | | | | | | |
| Nexo Powered TD Controller NXAMPMK2 | | | | | | | |
| Power AMP (XMV series, PC-D/PC-DI series) | | | | | | | |
| Power AMP MA/PA series | | | | | | | |
| Digital Mixer CL, QL, TF series | | | | | | | |
| I/O device Exi/o, R series (ADDA), Tio | | | | | | | |
| Speaker system (VXL series "P model", DZR-D/DXS XLF-D series) | | | | | | | |
| MusicCast | | | | | | | |
| Yamaha AV Receiver & Blu-ray Disk Player | | | | | | | |
| Disklavier | | | | | | | |
| IDK Video Switcher (MSD-50x, MSD-70x, MSD62x) | | | | | | | |
| Support OS | Windows | Windows | iPad | iPad | Hardware | Hardware | iPhone, iPod touch, iPad, Android |
Intuitive and simple approach to design flexible controllers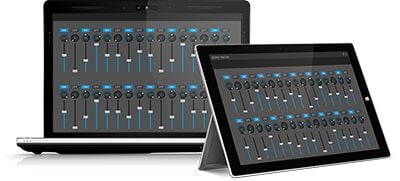 ProVisionaire series provide an easy, intuitive way to create original controllers that are ideally configured for the target installation. Multiple design pages are available so that different control panels can be provided for different audio zones and/or users, with presets and parameter settings optimized for each.
No specialized programming skills are required. An intuitive interface makes it easy to create faders for volume control and switches for source selection.
ProVisionaire Control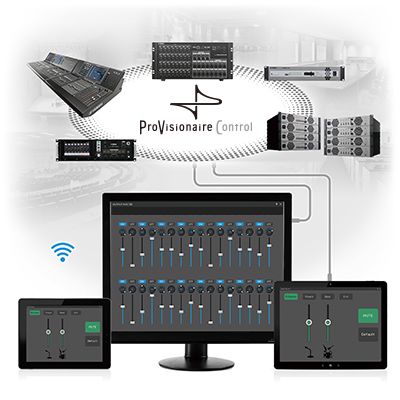 By simply dragging and dropping widgets such as faders and switches onto a screen, you can create an ideal original control panel dedicated to the applications and functions required for an installation project. No programming know-how or experience is necessary.ProVisionaire Control can control a wide range of Yamaha PA equipment and NXAMPmk2 NEXO powered TD controller. It also provides compatibility with IDK video switchers for comprehensive, convenient control of audio and video systems. In addition, Provisionaire Control has an unified monitoring functionality for Yamaha pro audio equipment, allowing in-depth management via audio networks. ProVisionaire Control stands as a unified platform solution that offers outstanding convenience and reliability for a wide range of applications.
ProVisionaire Control basic procedure: setup to operation

Step 1: Controller Design
Create a layout with widgets that perform the functions of faders and switches, and assign them to the required control devices.
By using the controller function of ProVisionaire Control, use it as an actual controller to check the appearance and usability.
Once the system is online, all compatible devices can be controlled. The tablet device can be mounted on a wall or other fixed surface, or used handheld for maximum remote control freedom and convenience.
ProVisionaire Touch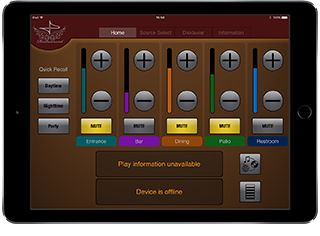 This handy iPad application allows MTX/MRX system control via a Wi-Fi network. A variety of control widgets can be arranged as required to create custom control panel layouts that are ideally configured for individual systems.
* ProVisionaire Touch can be downloaded from Apple's App Store at no charge.(Apple, iPad are trademarks of Apple Inc., registered in the U.S and other countries. App Store is a service mark of Apple Inc. ).
Versatile control over a wide range of music and video content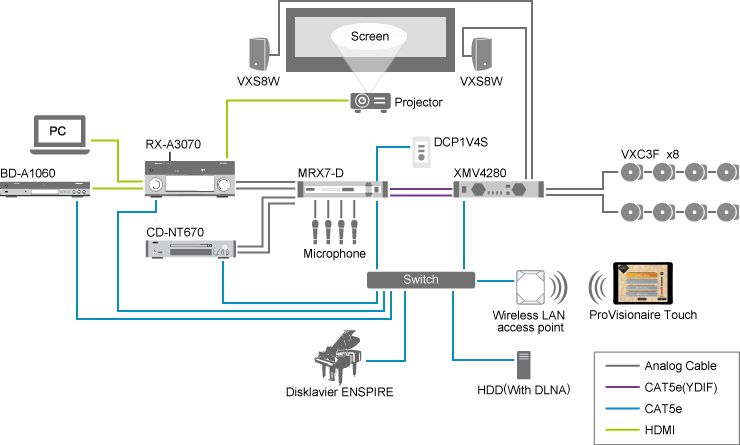 A single iPad can be used to control a comprehensive range of music sources: CD players, NAS storage, mobile devices, Internet radio, and even piano. In addition Yamaha Blu-ray Disc Players and AV receivers. Switching videos and music sources according to the events at restaurants/banquet halls, collectively controlling the volume adjustment of the microphone and video switching at the conference room, it is possible to provide a smooth management system by using a single iPad.
Broad Support for External Controllers
MRX7-D is compatible with a wide range of external controllers, enabling simple volume adjustment and complicated control.

Digital Control Panel - DCP Series

DCP controllers provide flexible external control of several functions such as preset recall, levels, and SD card playback. The series comprises of three different models that feature various configurations of switches and volume knobs. DCP controllers are connected to MTX/MRX series by using a daisy-chain connection up to eight control panels. All three models are available in either US or EU standardized sizes, built to meet the specifications of most regions around the globe.
Digital Control Panel - DCP Series
Digital Control Panel (DCP) is a simple solution to control all the sophisticated programming of MTX/MRX processor. Let's take a closer look at the features and learn how to setup the DCPs with the MTX-MRX Editor.
Digital Controller Hub - DCH8
DCH8 divides the control line from host devices such as the Yamaha MTX/MRX series into up to 8 lines. It allows for a flexible system structure, with a combination of star connections and daisy chain connections as a repeater between the host device and the control panels.
DCP Series / DCH8 Connection Distance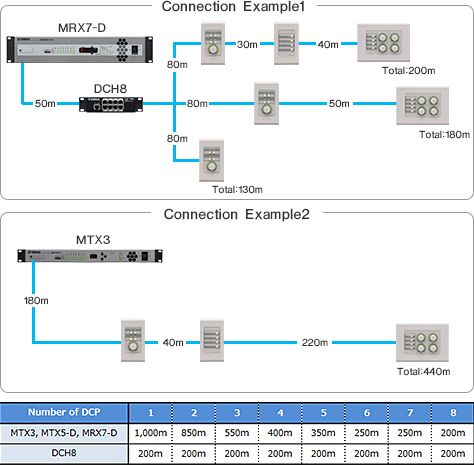 It is possible to connect up to eight units of DCP controller by using daisy chain connections of up to 200m. And, it is possible to extend the connection distance by reducing the number of DCP series that are installed as below. When using 2 or 3 DCP controllers in a commercial space which has a wide floor, a simple daisy chain connection is effective. When using more than 4 DCP controllers in a wide commercial space over more that one floor, a flexible topology (combining Daisy chain and Star connections) can help to extend the "total" cable length by combining a DCP series with DCH8.
Digital Controller Hub - DCH8
DCH8 extends the flexibility of the DCP's configurations. Take a closer look to the device and learn how to connect the DCPs together with DCH8.
Wireless DCP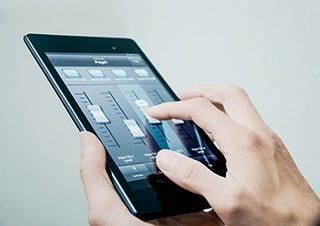 The Wireless DCP app for iPhone or Android devices allows you to remote control the MTX/MRX series. Since the Wireless DCP has the same function as the DCP series, you can control the MTX/MRX series via your smart device at any place in the restaurants, banquet halls and so on.
* Wireless DCP can be downloaded from Apple's App Store and Google Play at no charge.(Apple, iPhone and iPod are trademarks of Apple Inc., registered in the U.S and other countries. App Store is a service mark of Apple Inc. Android and Google Play are trademarks of Google Inc.)
Wireless DCP
Wireless DCP extends the flexibility with the use of smart devices. It provides the same functions of DCP while no cabling is required. This video will explain how to setup the Wireless DCP.
Wall mount control panel MCP1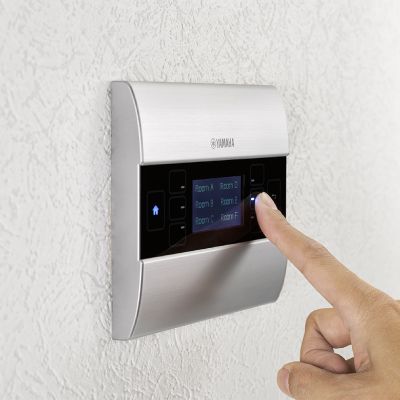 The Yamaha MCP1 is an advanced wall-mount control panel for controlling MTX and MRX systems. Its dot-matrix display and universal character support facilitates dynamic labelling in many languages including Japanese, Chinese and Arabic. Up to 36 parameters can be assigned to either the main Home page or any of the six sub pages. Any of these pages can be secured from unauthorized access by using a programmable PIN code. Up to 16 units of MCP1 can be added to an MTX/MRX system.
Wall-Mount Controller MCP1
The Yamaha MCP1 is an advanced wall-mount controller for controlling an MTX or MRX System. It allows the user to control their system remotely with more functions than a DCP and with a higher security level. This video will show you how to set up the MCP1 to the system.
AMX / CRESTRON

The MRX7-D includes RS232C and Ethernet connectors that facilitate connection to a variety of external controllers such as those manufactured by AMX and CRESTRON.