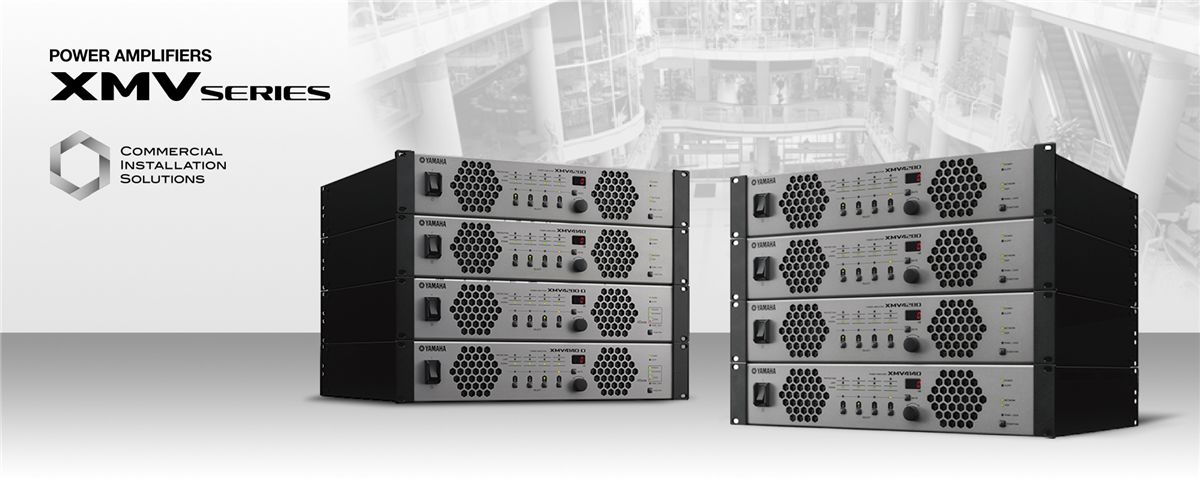 XMV Series
Power Amplifiers
High impedance and low impedance … or both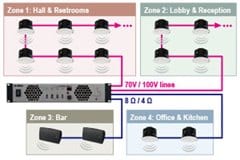 Installed sound applications often demand both high and low impedance connectivity in the same venue, requiring separate, dedicated amplifiers or an external transformer. XMV power amplifiers, however, can operate in both high-impedance (70V/100V line) or low-impedance (4Ω/8Ω) modes simultaneously, eliminating the need for additional equipment, as well as streamlining the installation process. XMV power amplifiers also enable both 70V and 100V operation for every pair of channels by simply selecting the preferred mode using the dip switches on the rear panel. High impedance operation often requires the use of two combined channels in bridge mode, but with XMV amplifiers, 70V or 100V mode can be assigned to every pair of channels without affecting the number of available output channels.
New "Double Power Mode"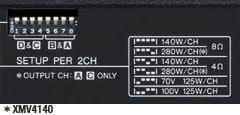 The newly developed Double Power Mode function effectively doubles the output power of selected channels in order to drive speakers with higher output power. This means that speakers with varying output capacities can be powered simultaneously by the same amplifier, adding flexibility to system design and configuration.*The number of channels that can be used will be reduced to half
Selectable input formats for a wider range of applications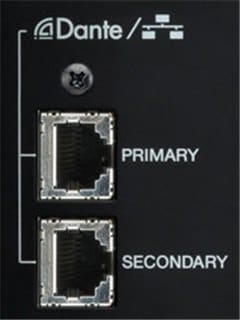 XMV amplifiers come equipped with either the newly developed YDIF digital audio format, or Audinate's digital audio network Dante. YDIF allows easy setup with the use of Ethernet cables while Dante models can be used for larger venues where long distant cabling is required.
Support for Dante Domain Manager, AES67 and Dante Device Lock
Supports the "Dante Domain Manager" audio network interconnectivity standard (update to version 3.31). Audinate Corporation's "Dante Domain Manager" is now supported. Audinate Corporation's "Dante Domain Manager" is network administration software that provides user authentication and role-based security settings. Now you can construct a safe and scalable sound system based on Dante infrastructure.

Dante-enabled model of the XMV series power amplifire now support the AES67 audio network interconnection standard. This allows connection via AES67 to audio networks such as Ravenna, Q-LAN, or Livewire, increasing the expandability of the system.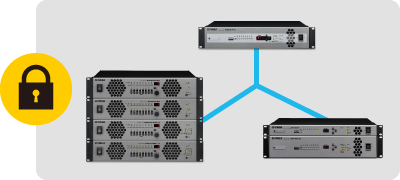 Also supported is Dante Device Lock, which prevents a third party from modifying Dante settings. This can increase system security in environments such as concert halls where an outside operator is expected to operate the system or bring in equipment.
A perfect match for the MTX Series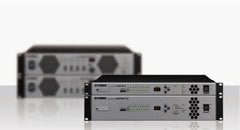 When XMV power amplifiers are used in systems with MTX/MRX series processors, settings such as the mute on/off or attenuator changes can be set via computer using the MTX-MRX Editor software application. YDIF and Dante ports make system configuration simple and fast with instant connectivity and flexible parameter control.
Best installation amp ever?
XMV amplifiers feature an innovative, new, patent pending circuit that improves the already highly efficient Class D circuit topology, bringing the efficiency level of the amplifier's output stage up to over 90%. This is achieved by automatically switching the circuit to match the corresponding output voltage. In high-impedance connections, both 70V and 100V operation can be achieved since the circuit is already capable of operating in high voltages. However, using the same circuit in lowimpedance operation can mean excessive energy loss, so by automatically switching to a lower voltage drive, efficiency is improved significantly without sacrificing crucial aspects of the amp's performance such as keeping the distortion levels to a minimum.XMV power amplifiers also feature a new switching power supply equipped with Power Factor Correction, which ensures harmonic control and decreases the amount of current draw dramatically, yet still maintains the same output power. This makes circuit breakers less prone to shutting down, as well as eliminating the need for thicker, heavier cables or a larger, more powerful system.
Protection features for more reliable operation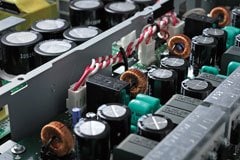 Automatic protection functions are an essential part of the XMV Series' design, ensuring peak performance and reliable operation in less than ideal situations. Low load impedance, overcurrent, and overheating can all damage vital amplifier components and threaten their ability to function effectively. To combat these hazards, XMV Series power amps feature powerful, intelligent protection functions that can deliver the assurance of long product life and consistent performance.
External control via Ethernet
The XMV Series is equipped with a Network port that allows direct control from controllers such as AMX/Crestron.
Source Select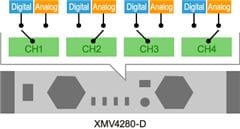 Originally, the input source of the XMV series was common to all channels. From Version3.1, it is now possible to individually select input sources for each channel. It is possible to mix digital connections and analog connections for each input channel of an XMV.
Redundant functions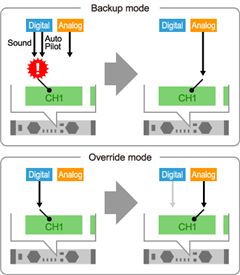 The XMV series has two types of redundant functions, "Backup Mode" and "Override Mode" to match the situation.
- Backup Mode
XMV can detect an incoming pilot tone from the digital input and automatically switch to the analog input when the pilot tone is interrupted due to a problem from the input device. In addition, if and when the original input source is recovered, it will be able to return automatically to the digital input.
- Override Mode
When voice input from the analog input is detected, it is possible to switch input sources for a channel without interrupting to the sound. This is ideal for providing a back-up signal for applications such as emergency broadcasts and announcements.