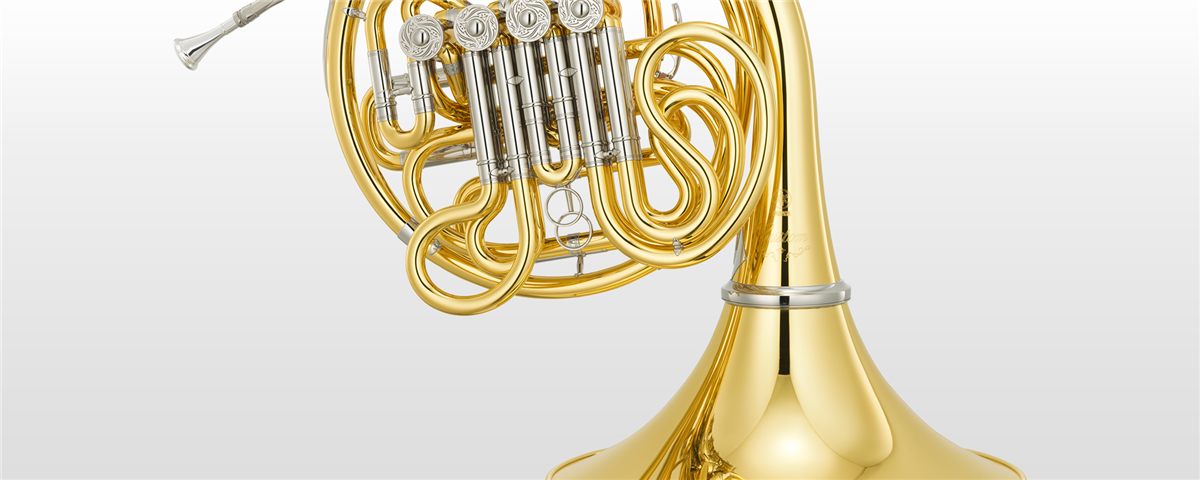 New Leadpipe Design
A new leadpipe design provides comfortably high resistance and well-balanced pitch that make playing legato easy. The expressive capabilities of the horn are significantly enhanced.
Heavy Valve Caps
Heavy valve caps contribute to rich timbre and resonance.
Hard German silver inner and outer tuning slide tubes
The use of hard German silver reduces decay while achieving fast response.
MS Size Bell
A narrow MS size bell plays an important role in producing this horn's lively sound.
Adjustable Pinky Hook
Can be adjusted to match the size of the player's hand for ideally positioned, fatigue-free holding.
Mechanical Action
High-precision bearings enhance the instrument's lever action response, while phosphor bronze bearings in the brass valve casing maximize overall durability.
Bb Tuning Slide
Full double horns usually have a main tube and F tuning slide. The addition of a Bb tuning slide in this model provides even finer pitch adjustment capability.
Mouthpiece (HR-34C)
A new mouthpiece designed specifically to elicit maximum performance from the YHR-869 is supplied. The new mouthpiece has a narrower rim than conventional types, for improved playability and versatility. Fine adjustments to the transition from cup to throat deliver richer harmonics as well as improved projection.
Case
The first backpack type semi-hard case (Gig Bag Light) for a Yamaha horn is included.
Size: 51.0 x 40.5 x 27.0 cm
Weight: 3.2 kg (approx. 5.8 kg with horn)
Color: Black
* Mute (straight or stopping) pouch included
* Fits the YHR-869D/GD only (will not fit other models).