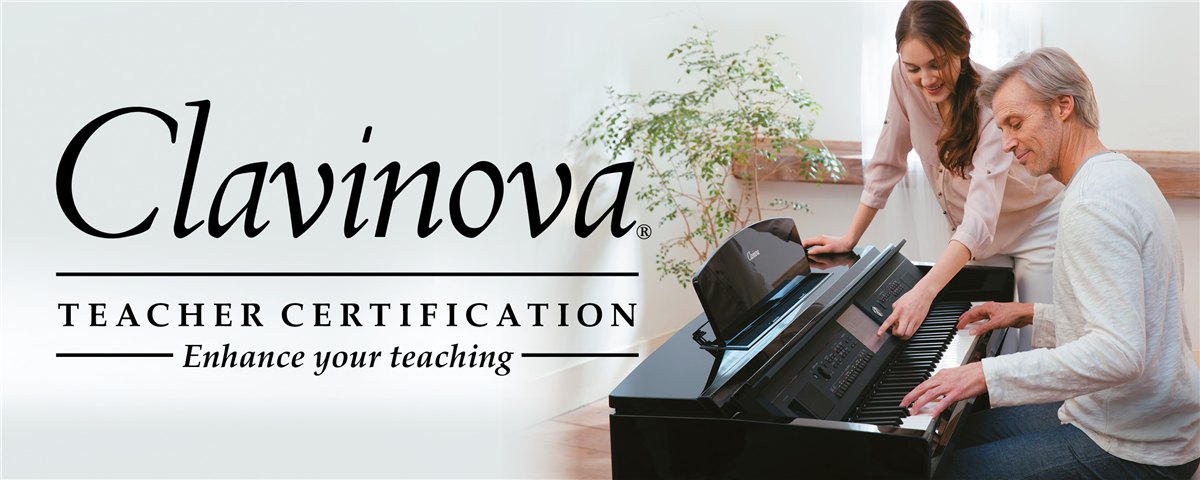 What is CTC?
What is CTC?
CTC is an initiative by Yamaha Music Australia to enhance your piano teaching by exploring CVP Clavinova versatile digital piano technology for today's new generation of students.
Many students are using instruments that contain the latest technology. Recording, arranging, scoring, and creating accompaniments are now some of the options available to today's students. Students are looking for teachers who can apply this technology to their piano teaching program.
The CTC program provides you with the understanding and the methodology to achieve this.
What are the benefits of completing the CTC program?
What are the benefits of completing the CTC program?
Enhance your current teaching program.
You are able to advertise your certification.
Be listed on the Yamaha Music Australia website as a Clavinova Certified Teacher.
Receive referrals of new students from the Yamaha Music website.
Enable you to prepare students for Yamaha Keyboard Festival performances.
Access VIP events and new releases.
Clavinova Certified Teacher Topics
Some of the features and functions you can expect to be covered while learning from a Clavinova Certified Teacher are as follows:
Selecting Voice

VOICE is the instrument sound e.g. Piano, Strings, Guitar, Trumpet etc.

Selecting Styles

'STYLES' are auto-accompaniments e.g. Pop, Rock, Jazz, Latin etc.

Selecting Songs

'SONGS' are songs created using 'VOICES' and 'STYLES'.

Fingering Mode

Setting the Fingering Mode determines how the auto-accompaniment 'STYLES' will interpret the chord inversions you play on the keyboard e.g. Multi Finger or AI Fingered (Artificial Intelligence Fingered).

Registration

'REGISTRATIONS' are your saved custom settings. You can save hundreds of 'REGISTRATIONS' in Banks of 8 internally and on USB. Create, save and load your custom settings and songs for instant recall.

Registration Sequence

How to create a 'REGISTRATION SEQUENCE', as well as assign and use the pedal to change the 'REGISTRATION SEQUENCE' and selection. 'REGISTRATION SEQUENCE' allows you to change your 'REGISTRATIONS' while freeing up your hands.

Music Finder

A database of 'REGISTRATION' settings for many popular songs, which can be used to set up your instrument.

Song Recording and Editing

How to record and edit your performance.

USB Memory

How to use a USB memory stick for audio (.WAV & .MP3) recording, 'SONG' and 'REGISTRATION' storage and recall.

Playing with Songs

How to set up and play along with pre-recorded 'SONGS'.

Score Function

How to use the 'SCORE' function to display standard music notation.
Requirements
Requirements
Access to an accredited Yamaha musical instrument in your music school or studio. Qualifying instruments are:
| Series | Models |
| --- | --- |
| CVP800 Series | CVP809 & CVP805 |
| CVP700 Series | CVP709, CVP705 & CVP701 |
| CVP600 Series | CVP609, CVP605 & CVP601 |
| CVP500 Series | CVP509, CVP507, CVP503 & CVP501 |
| GENOS Series | GENOS |
| Tyros Series | Tyros5 & Tyros4 |
| DGX Portable Grand Series | DGX660, DGX650, DGX640 & DGX630 |
| PSR-SX Series | SX900 & SX700 |
| PSR-S Series | S975, S775, S970, S950, S910, S770, S750, S710, S670 & S550 |
| PSR-A series | |
*If your model does not appear on this list, please check with your local Yamaha Keyboard Demonstrator.
Examination Requirements and Procedure
Examination Requirements and Procedure
This assessment is only on your understanding of Yamaha CVP Clavinova music technology features and not on your performance and / or teaching ability.
For consistency, a set song will be used for this assessment and is included later in the document.
- Assessment is competent / not competent based.
- All tasks must be successfully demonstrated and completed.
- You can enter the exam at any time throughout the year.
Procedure
Step 1
10min
Complete the online enquiry form and a Yamaha Keyboard Demonstrator will be in contact to inform you of our next CTC professional development session.
---
Step 2
60-90min
Complete the CTC professional development session.
Step 3
60min
Complete the CTC assessment. Assessment can be submitted via video or can be conducted with your local Yamaha Keyboard Demonstrator by appointment.
Step 4
10min
Upon successful completion of the assessment, you will receive a CTC certificate and you will be listed as a certified CTC teacher on the Yamaha Music Australia website.
Video Submission:
USB memory stick formatted on the Yamaha Device: recommend 4GB)
This is for Yamaha data created during the examination and a copy of the video
Video recording device (suggestion: mobile phone)
Ensure unobstructed visibility of your instrument, clearly explaining every step and button during the process
Clavinova Teacher Certification