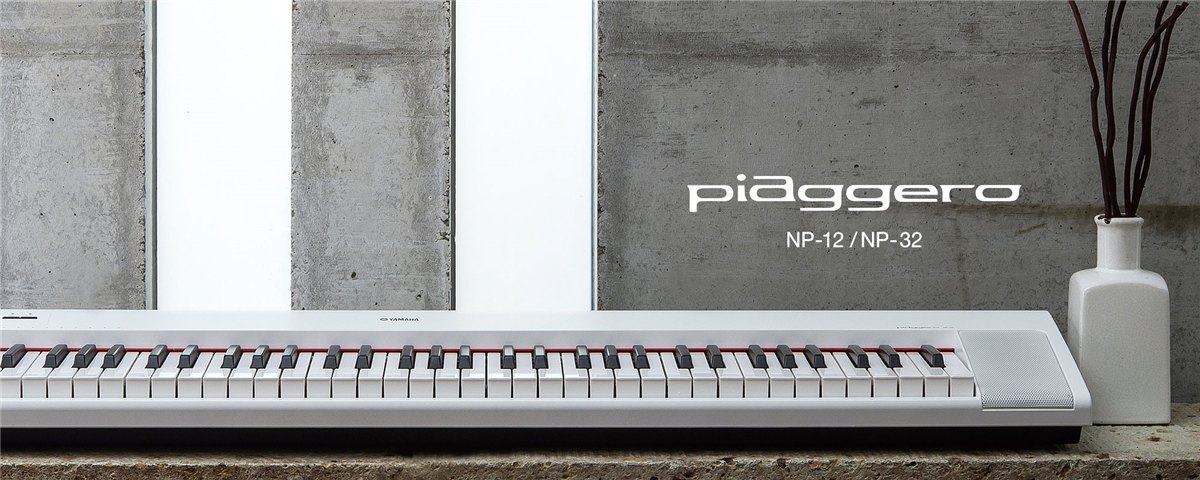 Piaggero: Sometimes less really is more
The compact, elegant silhouette of the Piaggero NP Series is certain to catch your eye and make a lasting impression. Featuring a simple, practical design with only a few buttons and your choice of 61 or 76 keys, these space-saving stylish instruments can be played right out of the box. You can even choose from a black or white finish to suit your taste and playing environment.
Maximum quality
From the first note, Piaggero will amaze you with its compact size and the high-quality voices it features, from the beautiful, rich tones sampled from one of Yamaha's finest concert grand pianos, to a sweet electric piano and other great-sounding voices that are fun to play.
The NP-32 features a "Graded Soft Touch keyboard" with keys in the bass register having a heavier feel while the high notes are lighter. It's amazingly natural and expressive, and you can take it anywhere to play.
Goes where you go, plays where you want to play
With Piaggero you can practice and play more—who knows, friends might even start asking you to play at their parties! Because it's light enough to be carried in one hand and works on battery power, you can take it anywhere you want, and setup is a breeze.
Connect to your iOS device for even more fun
Yamaha offers a range of apps such as Digital Piano Controller, Metronome, and NoteStar for use with the Piaggero series. You can easily connect your iOS device* to the USB TO HOST terminal** on your Piaggero instrument, or wirelessly with the optional UD-BT01***, for easy operation and added performance functions.
*iOS device not included.
**Requires Lightning Camera Adaptor (sold separately)
***Only available in some regions
Record and listen
The Record button offers you easy one-touch recording of your practice sessions, performances, or original compositions so you can listen back yourself or share with friends and family.