[Experiment 1] Sound hole size
The Structure of the Acoustic Guitar
Performing a sound experiment
Performing a sound experiment
What effect does the size of the sound hole have on the sound? We compared the sound as we changed the size of the hole.
1. Create a lidless wooden box.
2. Create a lid from a urethane board.
3. Use a circular cutter to cut duplicate holes, then glue to the wooden box.
4. Attach offcuts and fasteners and install a string.
5. Change the size of the hole and compare the sound of the string.
14 cm diameter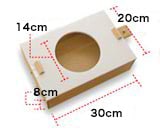 6 cm diameter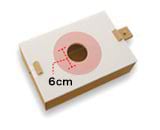 No hole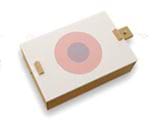 * As this was an experiment, the recorded pitches differed from the correct notes.
We used string 1 from a guitar. The larger the sound hole the louder the volume grew; conversely, the smaller the sound hole the quieter the volume became. However, smaller holes produced a mellower sound. With no hole you only hear the sound of the string itself, so the sound was weaker and quieter.