NS-BP301
Price: $599.00 RRP
High resolution, naturally.Clear, translucent sound that paints lush emotional colours on your heart.
High-resolution sound with spacious sound field, drawing out the full beauty of sound sources
NS-BP301 was crafted specifically to optimally draw out the beauty of musical sources. Utilising the same diaphragm material as Yamaha's high-end Soavo Series speakers, and fine-tuning that prioritises a luxurious three-dimensional sense of space, provides these speakers with superb stereoscopic feeling and sound localisation for optimum musical enjoyment—focused on high-resolution and densely textured midrange audio, accurately reproducing the sound field with amazing depth. It not only vividly plays back high-range sounds, but also the midrange, including vocals and stringed instruments, giving the utmost enjoyment of your high-resolution sound sources. Along with its beautiful design incorporating a black mirror surface finish, it further enhances the moments you spend with music.

Top-performance dome tweeter and A-PMD woofer deliver high-resolution sound sources with superb sound quality

Each of these speakers is equipped with a 3cm (1-1/4") soft dome tweeter, made by coating the diaphragm and applying unique molding technology. This achieves both exceptionally high-range reproduction capability and a rich breadth of sound. The woofer is equipped with Yamaha's original 13 cm (5-1/4") diameter A-PMD (Advanced Polymer Injected Mica Diaphragm) cones, which garnered high evaluation for their performance in the Soavo Series. This results in a powerful, natural sound with excellent midrange clarity and bass response, and also ensures reproduction of high-quality, high-resolution sound sources with rich expressiveness.
Exceptionally rigid cabinet delivers clear reverberation without muddiness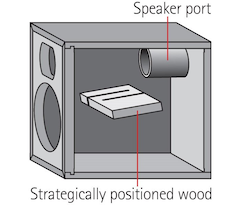 Unnecessary vibration of the cabinet is a cause of indistinct, muddy sound. These speakers feature VCCS (Vibration Control Cabinet Structure) technology that suppresses unnecessary vibration with special composite structures installed inside the cabinet. The result is a clear and natural sound that takes advantage of the rich reverberation naturally created in the speaker units.
The colours and finishes shown may vary from those on the actual products.