Music meets design... wirelessly.
Stylish design and premium audio quality meets wireless connectivity. Make a statement with the versatile ISX-B820 integrated Bluetooth audio system. The DTA Controller app provides the ability to control and stream music via Bluetooth without leaving the couch.
Enjoy a Musical Interior
Music meets design. The ISX-B820 was created by completely re-imagining the concept of music as part of the home. The minimalist design blends beautifully with the living space while effortlessly filling the room with music.

Flexible placement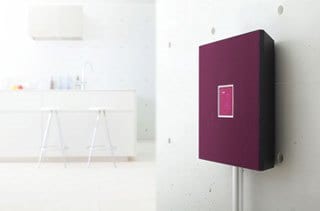 With a 9cm body and a half-moon shaped stand, you can position the ISX-800 right up against a wall. What's more, the standalone style doesn't require a shelf, so there are no restrictions on where you can put it. You can even remove the stand and hang it on a wall (requires an optional bracket AT-800). It's the perfect way to match your music source to any room's decor.
Freedom of Movement and Use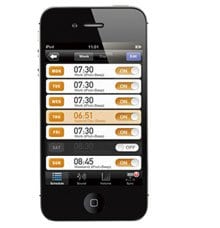 Built-in Bluetooth® means that you can enjoy all the music stored on your iPhone, Android and other smartphones wirelessly. Put your Restio wherever you want it, and use your smartphone as you usually do to operate the playback functions.With Yamaha's DTA Controller app, you can set the alarm time differently for each day of the week, as well as make detailed IntelliAlarm settings and transmit them wirelessly.
Music in the air... from everywhere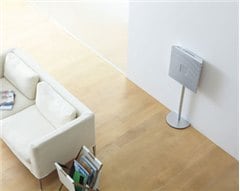 Dock an iPhone or iPod with a 30-pin connector directly into the top of the ISX-B820 for a high-quality digital connection. In addition to a CD player and radio (FM), USB and Aux-in terminals enable playback from USB memory devices and other sound sources respectively.
Trademark Yamaha sound quality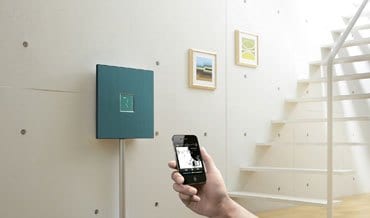 Using a two-way, four-speaker system finely tuned to HiFi audio standards, the ISX-800 is designed for premium quality sound.
Delivering powerful, expansive bass and crisp, precisely contoured treble, it ensures complete enjoyment of everything from the fast kick of a bass drum to gentle sounds and vocals that seem to be right in front of you.
It also includes a three-band equaliser, so you can adjust the sound to match the type of music and your own preferences.
Time - Artistically Displayed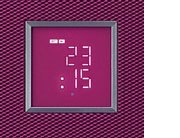 The avant-garde digital clock provides a choice of two patterns: a stacked number display and a unique display that combines numbers and an hour hand indicator. An auto dimmer function adjusts to match the brightness of the room. It also features IntelliAlarm which gently wakens its audience by first softly playing the music of your choice, then beeping to ensure you are fully awake.
The colours and finishes shown may vary from those on the actual products.