[ Video Features ] 4K pass-through for ultra high-definition images
The RX-V375 provides advanced HDMI features including 4K pass-through. 4K refers to four times the resolution of a Full HD 1080p display. While not yet available, 4K or Ultra HD content is sure to become popular in the future. This receiver is capable of passing the 4K data from the source to the display for image clarity far beyond today's standards.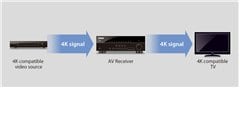 Support for HDMI 2.0 Specification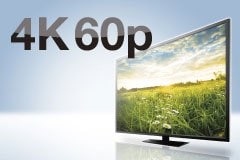 This model will support HDMI 2.0 connectivity*.
It will support 4K Ultra HD 50 Hz/60 Hz signal pass-through to output motion-smooth high definition videos.
*Firmware update to support this feature has been available since 2014 Jul.
HDMI with 3D and Audio Return Channel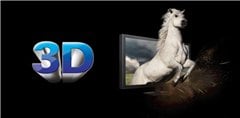 Literally add another dimension to movies with 3D signal data which is supported by this receiver. In addition, the Audio Return Channel function enables data to be sent and received via the same HDMI cable so you can hear the sound from the TV via a single HDMI cable without requiring an extra optical cable.
Audio Features
• 7-channel 805W = 115W x 7 (6 ohms, 1 kHz, 0.9 % THD, 1 ch driven)
560W = 80W x 7 (6 ohms, 20 Hz-20 kHz, 0.09 % THD, 2 ch driven)
945W = 135W x 7 (6 ohms, 1 kHz, 10 % THD, 1 ch driven, JEITA)
• HD Audio format decoding: Dolby TrueHD and DTS-HD Master Audio; Dolby Digital Plus and DTS-HD High Resolution Audio
• Discrete amp configuration
• Burr-Brown 192 kHz/24-bit DACs for all channels
• Direct Mode for high quality sound reproduction
• Low jitter PLL circuitry helps optimise sound imaging
• Assignable amplifiers for bi-amp connection
[ Audio Features ] Total Purity Concept for High-quality Sound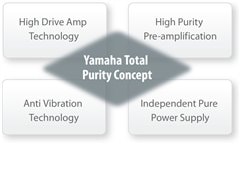 The AVENTAGE line of high-performance AV receivers is based on the audio design concept of providing a massive, full-bodied sound for movie sound effects and the accurate reproduction of music sources. By expertly harmonising traditional and advanced technologies, every factor that affects sound quality, from materials and parts to construction, layout, vibration damping (unique foot) and "fine-tuning" the sound, is handled with no other thought than to achieve the best possible audio quality. As a result, every AVENTAGE model has the ability to reproduce the most subtle details of high-definition sound, so that listeners can enjoy a truly high-class sound studio experience at home.
Discrete Amp Configuration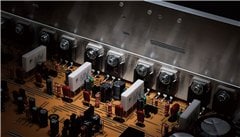 The RX-V375 was designed with a strong focus on achieving exceptional sound clarity. It employs a discrete amp configuration and a low jitter PLL circuit which contribute to its excellent audio performance.
Extensive Audio Codec and Format Support
The RX-V475 is compatible with a range of audio formats such as Dolby True HD and DTS-HD Master Audio. Compatible extends to FLAC/WAV 192 kHz playback as well. Enjoy excellent sound quality from Blu-ray Discs and other high-resolution sources.

Other Notable Audio Features
• 5 channel powerful surround sound
115W per channel (6 ohms, 1 kHz, 0.9% THD, 1 ch driven)
80W per channel (6 ohms, 20 Hz - 20 kHz, 0.09% THD, 2 ch driven)
135W per channel (6 ohms, 1 kHz, 10% THD, 1 ch driven, JEITA)
• Burr-Brown 192 kHz/24-bit DACs for all channels
• Direct Mode for high quality sound reproduction
• Low jitter PLL circuitry helps optimise sound imaging
Digital Radio (DAB+ Tuner)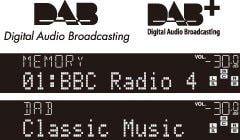 Digital Audio Broadcasting (DAB+ in Australia) offers a large selection of radio stations with premium sound quality. Other benefits include automatic tuning to available stations with a list to choose from and the ability display information such as station name and music genre. The RX-V500D lets you preset 40 DAB+ stations.
[ Advanced Features ] Network Functions
The RX-V475 provides a variety of network functions that enable you to access networked sources and also enhanced operation. Access music stores on the home computer or enjoy Internet radio. The AV Controller app (available from the App Store or Google play) lets you control various receiver functions from your iPod, iPhone, iPad or Android phone/tablet.

Other Notable Video Features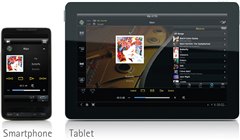 This AV receiver lets you use the Yamaha AV Controller app that is downloadable from the iTunes App Store or Google Play to control power on/off and volume, select input and DSP modes and operate other functions from an iPhone or Android devices. You can also use in as many as 23* different languages and customise the interface by hiding unused icons and renaming functions. A tablet version is also available.
*As of spring 2013
AirPlay wireless music streaming to the AV receiver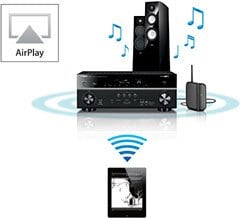 The RX-V475 supports AirPlay, which means it accepts wireless music streaming from an iPod touch, iPhone or iPad, as well as from iTunes on wither Mac or PC. This makes it easy to enjoy music from your mobile devices or computer on your home theater system. View metadata such as song title, artist name as well as album art* via the AV receiver's On Screen Display.
*Some models don't support album art display.
Stream Millions of Songs with Spotify Connect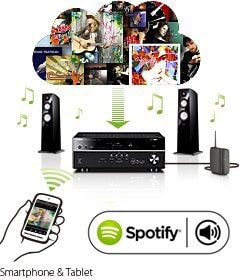 With the Spotify app on your smartphone, you've got instant access to millions of songs. And now you can stream those songs to your Yamaha system using Spotify Connect. Just hit play to start streaming music. What's more, when you've been listening on your smartphone outside and come inside, the song immediately streams to your AVR—like magic, you enjoy uninterrupted music. You can also personalise playlists and receive phone calls while listening to music.
*The Spotify app and premium account are required. Visit spotify.com for more details.
Try Spotify Premium for free on your Yamaha Home Entertainment System for 30 days.
http://spotify.com/yamaha
*Spotify service availability depends on regions.
USB Digital Connection for iPod, iPhone and iPad on the Front Panel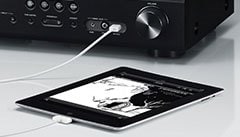 A USB port on the front panel allows convenient connection of an iPod/iPhone/iPad, which also charges when connected. Tthe digital signal from the iPod/iPhone/iPad is transmitted directly to the AV receiver ensuring there is no signal loss or interference, so you enjoy the best possible sound quality. In addition, you can use the receiver's remote control unit to operate the iPod/iPhone/iPad music playback functions.
MHL (Mobile High-Definition Link) Support for High-definition Video and Audio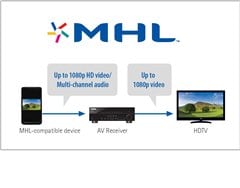 MHL provides easy, direct connection of compatible mobile phones and this AV receiver. Playback of up to 1080p video and multi-channel audio from the phones is supported. The receiver also charges the connected phone. Play, Stop and other basic operations can be controlled from the remote control.
[ Advanced Features ] YPAO automatic speaker setup for optimal sound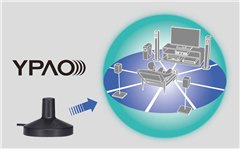 YPAO analyses the room acoustics and adjusts various audio parameters for optimum sound in just a few minutes. It's like having a professional installer calibrate your system.
SCENE for One-Touch Start

Pressing a SCENE button powers on the AV receiver and selects the input source and DSP mode. You can reset the buttons for different sources by selecting a source and DSP mode, then pressing a SCENE button for more than three seconds.
HDMI CEC for Easy Operation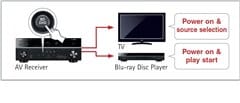 A benefit of HDMI is the availability of CEC functionality. When the unit is connected to a CEC compatible TV, it will turn on and off together with the TV, and you can use the TV remote to control the volume. CEC also provides advanced functionality with other components. For example, you can use the receiver's remote unit to control player functions like Skip and Stop.
Note: All connected devices must be HDMI CEC compatible. Some CEC compatible TVs/players may not be compatible.
Input Selection in HDMI Standby Through Mode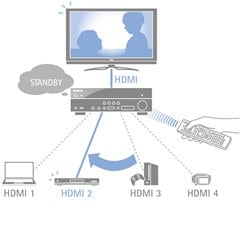 When the AV receiver is in HDMI Standby Through mode, the input source (Blu-ray player, game console, etc.) for viewing on the monitor can be changed via the remote control. There's no need to turn on the AV receiver in order to switch sources.
Connection for YWA-10 WiFi Adaptor
This AV receiver provide a DC-out connection for the YWA-10 WiFi Adapter. This lets you stream music wirelessly via a router from network components such as a PC or NAS.

Connection for YBA-11 Bluetooth Wireless Adaptor
The RX-V475 provides a DC-out connection for the YBA-11 Bluetooth Wireless Adaptor (optional accessory). You'll be able to stream music wirelessly from a Bluetooth-capable smartphone, tablet or PC, without the need for a wireless network.

Other Notable Advanced Features
• Charging of iPod, iPhone and iPad via USB when AV Receiver is off
• iPod/iPhone song titles displayed in English and Western European languages on the front panel
• Multi language colour OSD for improved visibility (English, German, French, Spanish, Russian, Italian, Japanese and Chinese)
• Audio input assign capability for HDMI and component video input
• Audio Delay for adjusting Lip-Sync (0-250 ms)
• 40-station preset tuning / Auto preset tuning
• Preset remote unit
• Background Video feature (for radio only)
HD Audio with CINEMA DSP 3D and Virtual Presence Speaker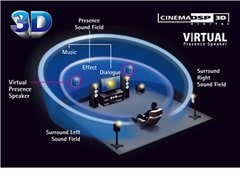 CINEMA DSP 3D provides a wide, high and dense sound field. HD Audio format decoding enables you to enjoy HD Audio sources. Virtual Presence Speakers deliver 3D sound without actual presence speakers.
Subwoofer Trim for Improved Sound Imaging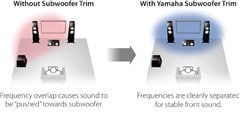 The Subwoofer Trim control enhances the low frequencies by avoiding overlap with the front speaker output. This will result in a cleaner, more focused sound stage while providing a seamless frequency response. When subwoofer frequency overlap occurs in conventional systems, the overall sound is "pushed" toward the subwoofer. Subwoofer Trim takes care of this by separating the low subwoofer frequencies cleanly, thus stabilising the front stage while providing a well-balanced enhanced bass.
Compressed Music Enhancer

When music is encoded into a digitally compressed format like MP3, the frequency response suffers. Yamaha's Compressed Music Enhancer employs sophisticated digital signal processing using exclusive algorithms to restore what was lost, so the music always sounds the way it was intended to be heard.
Adaptive DRC (Dynamic Range Control)
Adaptive DRC automatically adjusts the dynamic range of the sound according to the volume level. This ensures that you hear clear dialogue and vocals, and all sound effects at comfortable levels. There is no need to adjust the volume level as you listen; everything from whispers to big explosions will be heard clearly and comfortably at the same volume setting. It also tones down loud TV commercials, and is ideal for low-volume, late-night listening, when you do not want to disturb others.
Other Notable Advanced Features
• SILENT CINEMA and Virtual CINEMA DSP
[ Eco-Friendly Design ] ECO mode Reduces Power Consumption by 20%*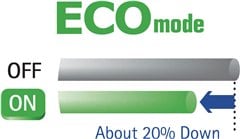 Yamaha's new ECO mode reduces power consumption by approximately 20%. It can be set from the GUI menu.
* Compared to power consumption when ECO mode is off (Yamaha measurement).
Selectable Auto Power Down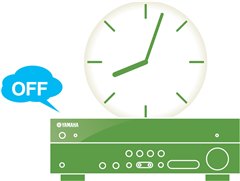 Auto Power Down lets you save energy by selecting to turn off the power after 2, 4, 8 or 12 hours.
Other Notable Audio Features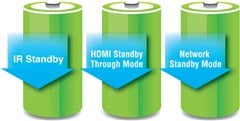 Yamaha receivers are eco-friendly with a low standby power consumption of 0.1W in IR Standby mode (1W in HDMI Standby Through mode, 2W in Network Standby mode).