Support for HDMI 2.0 Specification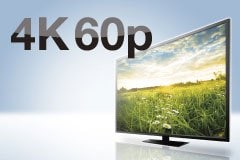 This model will support HDMI 2.0 connectivity*.
It will support 4K Ultra HD 50 Hz/60 Hz signal pass-through to output motion-smooth high definition videos.
*Firmware update to support this feature has been available since 2014 Jun.
*This model doesn't support HDCP2.2. HDCP2.2 compatible equipments are needed to see 4K contents which are encypted with HDCP2.2.
4K Ultra HD Pass-through and Upscaling
This AV receiver's HDMI input / output supports 4K video image pass-through. It also can perform 4K upscaling to boost a lower resolution image to super high-def resolution. This ensures compatibility with the latest super high resolution video formats.

State-of-the-Art Technologies Combine for Studio-Grade Preamp Quality Ensuring the Ultimate Sound Experience
The CX-A5000 utilises the most sophisticated engineering and technology, as well as traditional craftsmanship, for pure sound reproduction. Making full use of CINEMA DSP HD3, the pinnacle of 3-dimensional sound field reproduction, it realises detailed, accurate sound imaging. Combined with the MX-A5000 11.2-channel Power Amplifier, it achieves overwhelming silence and sound filled with dynamic feeling. It also offers advanced video processing technology, versatile network capability with a wide range of content access and app control, and flexible system configuration that benefits from advanced HDMI Zone switching.

AVENTAGE AV Receivers: Designed to Deliver the Highest Levels of Audio Performance
The AVENTAGE line of high-performance AV receivers is based on the audio design concept of providing a massive, full-bodied sound for movie sound effects and the accurate reproduction of music sources. By expertly harmonising traditional and advanced technologies, every factor that affects sound quality, from materials and parts to construction, layout, vibration damping (unique foot) and "fine-tuning" the sound, is handled with no other thought than to achieve the best possible audio quality. As a result, every AVENTAGE model has the ability to reproduce the most subtle details of high-definition sound, so that listeners can enjoy a truly high-class sound studio experience at home.
High Density Presence and Richly Detailed Sound Ensured by High Sound Quality Parts and Design
In the CX-A5000, all channels use ultra high performance ESS ES9016 DACs, which provide 192kHz/32-bit compatible high SN ratio and dynamic range, ensuring that it can faithfully reproduce audio signals from Blu-ray and other players, and high quality signals from high resolution sound sources input through networks. Matched to the design of the DAC circuit, which achieves stable ground potential (DAC on Pure Ground), they ensure high precision D/A conversion. The OP amp is a high grade type adopted only by flagship models, for maximum signal purity. It realises even more detailed sound by adopting a three-layer circuit board design that completely separates the digital, analogue video and analogue audio circuit boards, which have different noise levels and frequency bands, and by a design that provides the shortest possible circuit route. Further, by separating the power supplies to the analogue circuit boards, it eliminates high frequency noise interference from the digital circuits. The shielded power supply restricts noise radiation and the large power transformer minimises vibration.

Ultra-high Performance DACs for Superior Sound Quality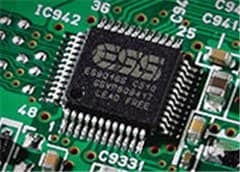 An ultra-high performance ESS Technology 192 kHz/32 bit ES9016 DAC produces an unsurpassed sound stage with up to 124 dB dynamic range, super low distortion and noise level. This top-end quality DACs are used even for front and rear presence speakers. This AV receiver's sound reproduction is for the most discriminating of listeners.
Noise Resistant, Highly Reliable Balanced Connection

Electrical noise may be generated due to connection with other AV components and even to the connection between the pre-amplifier and power amplifier, as well as from other sources of external noise. To ensure that the CX-A5000 and MX-A5000 are not affected by this distortion, they use balanced connections that are highly noise resistant—the same type generally used in pro audio equipment. Even the RCA unbalanced connection uses a ground sensing transmission method that achieves simple balanced transmission. And in cases such as that where each channel with the XLR is used selectively, the impact of noise flowing between the preamp and the chassis of the power amp is removed, minimising sound quality deterioration due to the connection. The CX-A5000 also allows balanced audio input connection to high grade source components such as CD players.
Specially Designed High Rigidity Chassis Eliminates the Effects of Vibration for Greater Sound Purity
As part of the no-compromise design policy, Yamaha created an advanced chassis with strong rigidity. Chassis stiffness is enhanced by an H-shaped cross frame that boosts mechanical strength, by adopting aluminium side panels that increase the stiffness of the housing, and by a three-ply structure with independent top cover and side panels. Any external vibration from the rack or other sources is damped by heavy insulators. The A.R.T (Anti-Resonance Technology) Wedge in the centre of the bottom cover acts as an additional vibration countermeasure and firmly supports the internal circuits and delicate parts. In addition, this model has a double bottom chassis and rigid bottom frame to further enhance chassis rigidity and reduce the transmission of vibration produced by the large power supply and other internal components.

CINEMA DSP HD3 Expands the Sound Field Vertically for More Thrilling and Realistic Surround Sound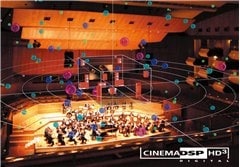 CINEMA DSP HD3 literally takes the surround sound experience to new heights. By using four CINEMA DSP engines with advanced 3D processing and four presence channels in an 11-channel configuration, it gives the sound an enhanced vertical dimension. You are enveloped in wide, high and dense sound fields that deliver excitingly realistic surround sound. In addition, a rear Virtual Presence Speaker has been added to the usual front Virtual Presence Speaker, so you can enjoy CINEMA DSP HD3 programmes using a 9-channel system (without rear presence speakers) with almost the same sensational sound as an 11-channel system.
33 DSP Programmes, Including 10 Introduced in the Flagship Z11 Receiver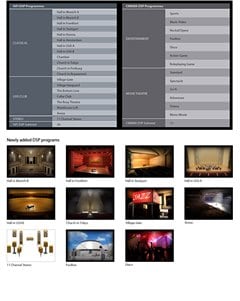 The broad array of surround sound programmes, including 10 featured in the flagship Z11 receiver, features six Movie choices, including Spectacle for movies with strong visual and audio impact, Sci-Fi for SFX movies, Adventure to emphasise the sound of action movies, and Drama. Seven Entertainment programmes match the audio characteristics of sources such as sports, music videos, action games and roleplaying games. Compatibility with the Dolby TrueHD and DTS-HD sound formats means you hear the full potential of every movie and music source.
[ Advanced Features ] Network Functions
This AV receiver provides a variety of network functions that enable you to access more sources and also enhance operation. You can connect the receiver to your network to stream music form your PC, enjoy Internet radio or Pandora® and operate the system via WebBrowser Control. The AV Controller App (from iTunes® App Store or Google Play) lets you control various functions from your iPod®, iPhone®, iPad® or Android™ phones/tablets.
*Music service availability varies by region.

AirPlay Allows Streaming Music to AV receiver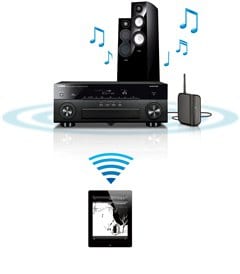 This AV receiver supports AirPlay, which means they can accept wireless music streaming from iPod touch, iPhone or iPad, as well as from iTunes on Macs or PCs. This makes it easy to enjoy music from your mobile devices or computer on your home theatre system. You can use view metadata such as song title, artist name as well as album art* via AV receiver's on-screen display.
Stream Millions of Songs with Spotify Connect (Coming Soon)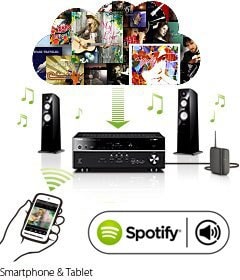 With the Spotify app on your smartphone, you've got instant access to millions of songs. And now you can stream those songs to your Yamaha system using Spotify Connect. Just hit play to start streaming music. What's more, when you've been listening on your smartphone outside and come inside, the song immediately streams to your AVR—like magic, you enjoy uninterrupted music. You can also personalise playlists and receive phone calls while listening to music.
*The Spotify app and premium account are required. Visit spotify.com for more details.
Try Spotify Premium for free on your Yamaha Home Entertainment System for 30 days.
http://spotify.com/yamaha
*Spotify service availability depends on regions.
Other Notable Video Features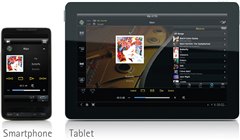 This AV receiver lets you use the Yamaha AV Controller app that is downloadable from the iTunes App Store or Google Play to control power on / off and volume, select input and DSP modes and operate other functions from an iPhone or Android devices. You can also use in as many as 23* different languages and customise the interface by hiding unused icons and renaming functions. A tablet version is also available.
*As of spring 2013
AV Controller App Provides Zone Control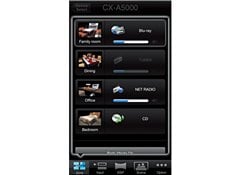 The AV Controller app is extremely useful for controlling various functions in multi-zone installations. Zone selection is easily done by choosing zone icons, which can be changed (bedroom, kitchen, etc.). You can control power on/off, input selection and the volume level in each zone, and also rename the zones. The app also shows when the Party mode is being used, and allows volume control of the Party function.
Advanced Multi-Language GUI On-Screen Display
Yamaha's latest Graphical User Interface has a high resolution display with clear, easy-to-use menus and also includes a selectable Status Bar that shows input source, volume level, DSP mode and audio format. The GUI provides a choice of seven languages: English, French, German, Japanese, Russian, Spanish, Italian and Chinese, and can be displayed over both normal and 3D pictures.

Extra-convenient SCENE PLUS
The SCENE PLUS function simplifies operation by providing one touch power-on along with selection of the desired source and the appropriate DSP programmes. SCENE PLUS offers a choice of 12 SCENE selections, four of which can be assigned to the second zone in a multi-zone system. SCENE PLUS can be selected from the front panel, remote control, GUI and even from the AV Controller app.
USB Digital Connection for iPod, iPhone and iPad on the Front Panel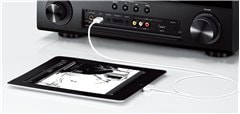 A USB port on the front panel allows convenient connection of an iPod / iPhone / iPad, which also charges when connected. Because the digital signal from the iPod / iPhone / iPad is transmitted directly to the AV receiver, there is no signal loss or interference, so you enjoy the best possible sound quality. In addition, you can use the receiver's remote control unit to operate the iPod / iPhone / iPad music playback functions.
Advanced HDMI Zone Switching Allows Unprecedented AV Switching to Multiple Zones
While standard HDMI zone switching can only send HD video programmes to the main and second zones, Yamaha's Advanced HDMI Zone Switching adds the capability to choose from all audio and video sources for playback in either zone. An on-screen graphical user interface makes it easy to browse and select content to enjoy from the second zone no matter what is being played in the main zone.

Yamaha Video Processing Optimises Video Content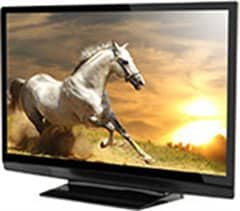 Yamaha's high-end video projector engineering expertise has produced various advanced processing techniques that are applied to this AV receiver. These include edge adaptive deinterlacing to smooth out jaggy noise, motion adaptive deinterlacing to detect moving or still images for precise pixel-by-pixel processing and multi-cadence detection including 3-2 pull-down. Proper processing makes viewing enjoyment complete no matter what video source or content.
MHL (Mobile High-Definition Link) Support for High-definition Video and Audio
MHL provides easy, direct connection of compatible mobile phones and this AV receiver. Playback of up to 1080p video and multi-channel audio from the phones is supported. The receiver also charges the connected phone. Play, Stop and other basic operations can be controlled from the remote control.

Network Functions
YPAO analyses room acoustics and performs speaker angle measurements, then calibrates audio parameters to achieve optimum sound at any of several listening positions. It employs Reflected Sound Control to correct early reflections for studio-quality sound. It also provides DSP Effect Normalisation, which varies the CINEMA DSP parameters according to the reflected sounds.

High-resolution Music Enhancer further Heightens Musicality from the Original Content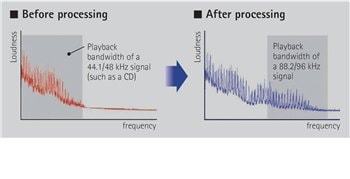 Hi-bit high-sampling extension up to 96 kHz / 24-bit can be applied to lossless 44.1 / 48 kHz content such as from a CD (2-channel PCM) or a FLAC file for further heightening of the musicality in the original content.
Compressed Music Enhancer

When music is encoded into a digitally compressed format like MP3, the frequency response suffers. Yamaha's Compressed Music Enhancer employs sophisticated digital signal processing using exclusive algorithms to restore what was lost, so the music always sounds the way it was intended to be heard.
Dialogue Lift and Dialogue Level Adjustment for natural dialogue and vocals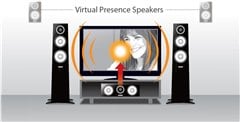 Dialogue Lift raises the sound of dialogue from the centre speaker to a position in the centre of the screen. Newly developed virtual dialogue lift achieves dialogue lift function even without the need for presence speakers. Dialogue Level Adjustment lets you control the volume of the vocal sound, so you hear movie dialogue and music vocals at the ideal level for clear, comfortable listening.
Handy Trigger Control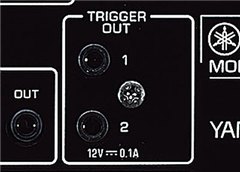 The CX-A5000 provides two Trigger Out jacks that enable control of connected component functions such as power on/off and input selection. The MX-A5000 or another amplifier or subwoofer with a Trigger In jack can be connected to allow use of the convenient Trigger function.
Selectable Auto Power Standby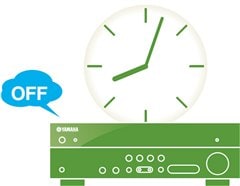 Auto Power Standby lets you save energy by selecting to turn off the power after 2, 4, 8 or 12 hours.
Other Notable Audio Features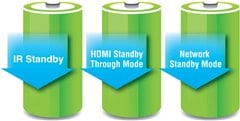 Yamaha makes its receivers eco-friendly with a low standby power consumption of 0.3W in IR Standby mode (5.0W in HDMI Standby Through mode, 2.2W in Network Standby mode).
Connection for YWA-10 WiFi Adaptor
This AV receiver provide a DC-out connection for the YWA-10 WiFi Adapter. This lets you stream music wirelessly via a router from network components such as a PC or NAS.

Connection for YBA-11 Bluetooth Wireless Adaptor
The RX-V475 provides a DC-out connection for the YBA-11 Bluetooth Wireless Adaptor (optional accessory). You'll be able to stream music wirelessly from a Bluetooth-capable smartphone, tablet or PC, without the need for a wireless network.

Other Notable Audio Features
• HD Audio format decoding: Dolby TrueHD and DTS-HD Master Audio; Dolby Digital Plus and
DTS-HD High Resolution Audio
• FLAC or WAV 192kHz/24-bit audio playback
• Ultra Low Jitter PLL circuitry helps optimise sound imaging
• Phono input for vinyl playback
Audio Features
• HDMI: 8 inputs (1 on front) and 2 outputs (assignable for zone) with 3D and Audio Return Channel
• Analogue to analogue video upconversion
Other Notable Advanced Features
• DLNA 1.5 certified
• HDMI front panel input for devices such as camcorders and digital cameras
• HDMI CEC with versatile control from AV Receiver remote control
• Ability to change HDMI input while in Standby Through mode
• Charging of iPod, iPhone and iPad via USB when AV Receiver is off
• Audio Delay for adjusting Lip-Sync (0-500 ms)
• Macro, Learning and preset capable remote unit
• Background Video feature (for tuner and Net)
Other Notable Advanced Features
• HD Audio decoding with CINEMA DSP HD3 (33 DSP programmes)
• Virtual dialogue lift even without use of presence speakers
• Subwoofer Trim for improved sound imaging
• Adaptive DRC (Dynamic Range Control)
• Adaptive DSP Level
Other Notable Advanced Zone Control Features
• Zone 2 / 3 / 4 on / off and control on front panel
• Zone GUI (song / station select, album cover art display, Zone tone controls / Zone balance, short message)
• Zone 2 / 3 video assign (Component, S-Video, Composite)
• System Backup / Recovery function
• Zone mono, Zone volume, tone controls and balance, etc.
• Party mode