Network AV Receiver / Blu-ray Player Control App
This AV Controller App will turn your smartphone or tablet into a Wi-Fi smart remote control for your Yamaha network products. This App provides the flexibility to control input, volume, DSP modes and multizone operations.
Music Play feature allows you to stream music directly from your smartphone or tablet to Yamaha network products to so you can enjoy high quality music through your AV system. This App not only controls Yamaha AV Receivers, it also controls Blu-ray Disc™ Players, supporting various functions including Play, Stop and Forward.
The App is available in multiple languages.
It's great to have all this control at your fingertips - and best of all it's FREE!
Device Select & Demo / AV Receiver Control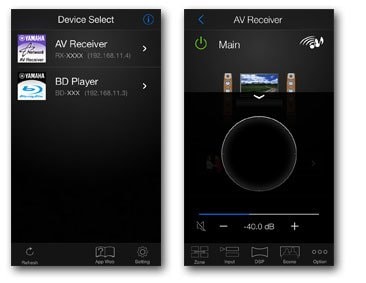 [Device Select & Demo]
Networked Yamaha devices are automatically displayed in the device menu. If your device is not recognized, please press i or menu button to check the settings.
[AV Receiver Control]
You can control Power on/off and volume up/down/mute. The App displays which input, DSP mode and zone are selected. Rotary volume ensures more convenient volume control.
Input Select / Music Play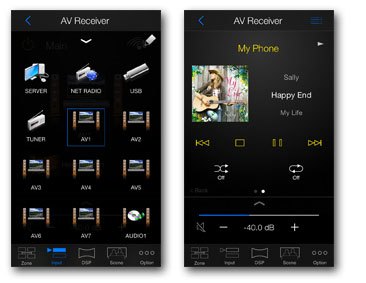 [Input Select]
Just by touching an icon, you can select the source unit or service you want to enjoy. You can also delete unused input icons or rename inputs.
[Music Play*]
Browse, search and play music stored on the device with full access to cover art and track information.
*This function is NOT supported by RX-V2065, RX-V3900, DSP-AX3900, RX-Z7, DSP-Z7, HTR-6295 AV receivers and Blu-ray players. Certain audio formats are not supported.
Cinema DSP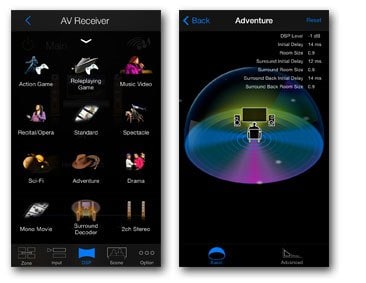 [DSP Mode Select]
Reproducing stereo or multichannel sounds with the sound fields like actual movie theaters and concert halls (CINEMA DSP).
[DSP Parameter Adjustment*]
It intuitively fine-adjusts DSP parameters to the best levels. In Basic Mode, pinch in and out actions adjust the sound field space. In Advanced Mode, you can make more accureate adjustments like DSP level, room size, liveness etc.
*This function is available from 2014 network AV receiver or later
SCENE Select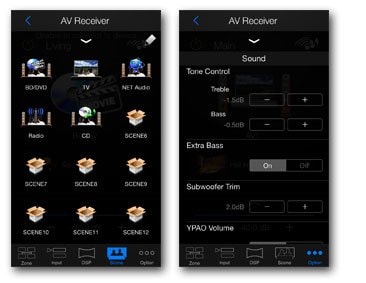 [SCENE Select]
SCENE function allows you to select the assigned input sources and sound program, etc. You can also delete unused SCENE icons or rename it.
[Option Menu]
Depending on the source, you can select and operate the tone control, dialogue level adjustment, etc.
Zone Control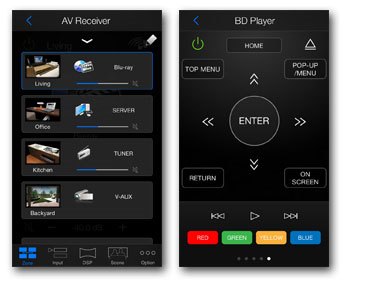 [Zone Control]
You can control power on/off, source selection, volume and other functions of each zones. Customization such as changing zone icon and renaming zone is also supported.
[Blu-ray Disc™ Player Control]
You can control the basic functions of Yamaha Blu-ray Disc™ players such as Play, Pause, Skip, Power and cursor navigations.
Designed for Tablet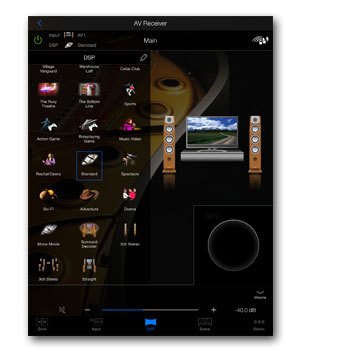 This design is optimized for tablet size. Larger display size allows following improvements.
- Single window operation without switching layers
- Supports Landscape or portrait mode
- Replaceable Wallpaper
- Single page control operations of BD remote
- Designed for iPad
- Designed for Android 3.0 or higher Tablet
--- Supports 10 inch (1280 x 768) and above screens
--- Switchable layout for 7 inch tablets
portrait mode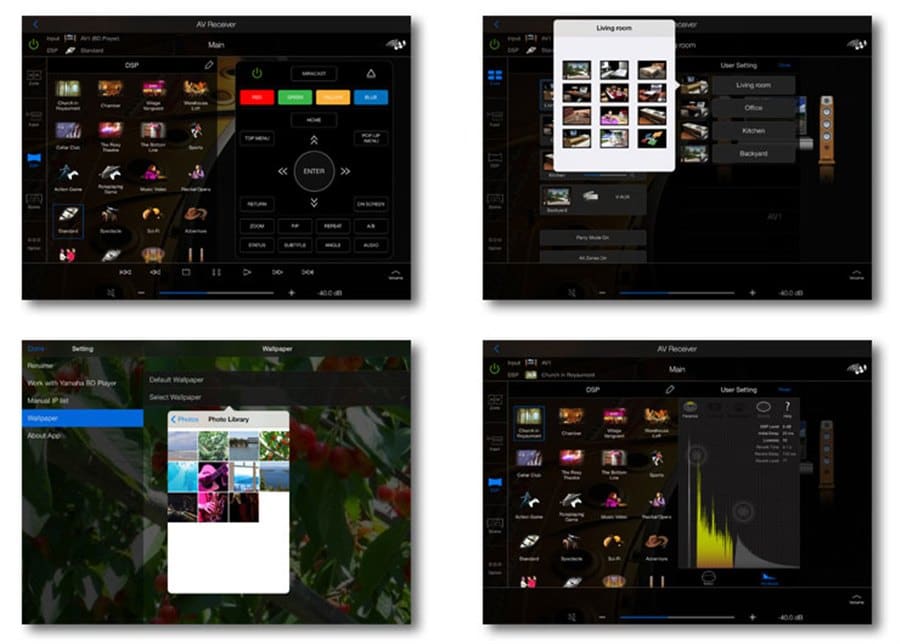 1. Integrated Blu-ray Disc Player control
2. Customizable zone control
3. Replaceable wallpaper
4. DSP parameter Adjustment*
*This function is available from 2014 network AV receiver or later.
Multi-Language Support (AV Receivers only)
English, French, German, Spanish, Italian, Portuguese, Swedish, Danish, Finnish, Norwegian, Dutch, Polish, Russian, Japanese, Chinese-Simplified, Chinese-Traditional, Korean, Thai, Hebrew, Ukrainian, Vietnamese, Indonesian, Malaysian and Turkish
*Some models don't support all of these features.
Images may look differently depending on app platforms.
AV Receivers / AV Pre-Amplifiers
AVENTAGE AV Receivers and Pre-amplifiers
Network-enabled RX-V Series models
Network-enabled Slim AV Receiver models
Network-enabled HTR Series models
TSR-5830, TSR-7810, TSR-5810, TSR-5790, TSR-6750
Blu-ray Disc™ Players
BD-A1060, BD-A1040, BD-A1020, BD-A1010, BD-A1000, BD-S1067
BD-S681, BD-S677, BD-S477, BD-S673, BD-S473, BD-S671
*Some models are not available in some regions.
iOS version 9.0 or higher.
Android version 4.0.3 or higher.
* A wireless Local Area Network (LAN) and a compatible Yamaha Network AV Receiver residing within the same LAN.
* Network Standby set to ON in Yamaha network products.
* This application will never collect nor externally transfer personal data stored in your smartphone / tablet.
* This application performs following functions for purposes described below.
Making a connection under WiFi-enabled environment
The application uses WiFi function on your mobile terminal for the purpose of operating network-enabled devices.
Accessing to music information stored in your smartphone / tablet
This application accesses to music information stored in your smartphone / tablet for the purpose of displaying, playing and editing the music information and/or playlist.
The colours and finishes shown may vary from those on the actual products.