Yamaha and Brass Music Specialists Help Regional Students Attend the QBA Youth Band Development Camp
Yamaha and Brass Music Specialists Help Regional Students Attend the QBA Youth Band Development Camp
At the beginning of each year, the Queensland Band Association (QBA) holds their anticipated Youth Band Development Camp, and 2023 was no exception. Held at QCCC Brookfield on the outskirts of Brisbane, over 45 students came together from all over Queensland to learn, share, and play music with one another.
Yamaha was privileged to partner with Brass Music Specialists enabling them to offer subsidies for all 17 regional students travelling to Brisbane for the weekend, as well as one of the Leonie Marshall Youth Scholarships for an outstanding student that demonstrated a high level of commitment to their school or community band.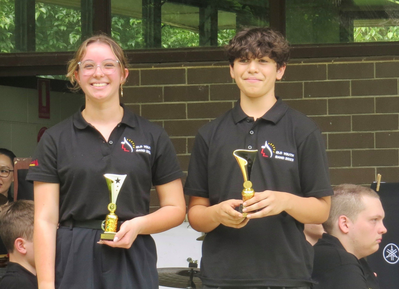 In 2023, the Leonie Marshall Youth Scholarship was awarded to Megan Barber (Narangba SHS Band/Brisbane Brass) and Jack Saltmere (Cairns Brass). Both these fantastic, young musicians demonstrated their passion, dedication, and contribution for their school and community band programs. We can't wait to see their performances for years to come!
The camp culminated in an exhilarating concert at the Mt Coot-tha Botanic Gardens under the baton of Artistic Director, David Bremner. The event couldn't have gone ahead without the dedication from the QBA team and Brass Music Specialists who partnered with Yamaha to assist with the regional subsidies and the scholarship.
Yamaha and Brass Music Specialists Help Regional Students Attend the QBA Youth Band Development Camp