Women in Music Production: Working to close the gender gap
Women in Music Production: Working to close the gender gap
Women and non-binary producers and audio engineers are vastly underrepresented in popular music. According to a study (2022) from the USC Annenberg Inclusion Initiative, women lag behind men as artists, but the problem is particularly severe when it comes to fields such as songwriting, producing and engineering.
The study, which was funded by Spotify, examined the artists, songwriters and producers credited on songs that appeared on the Billboard Hot 100 Year-End Chart since 2012, and according to their count, women only make up 12.7% of songwriters. The study also counted producers of select years, and found that only 2.8% were women.
Several initiatives have popped up in the last few years working to resolve this issue and create a more gender-balanced music production industry. One of them is Music Production For Women (MPW), an education organisation that offers courses and free events for women and non-binary people throughout the year, and since founding in 2019 has delivered classes to over 6,000 students from over 120 countries across the globe.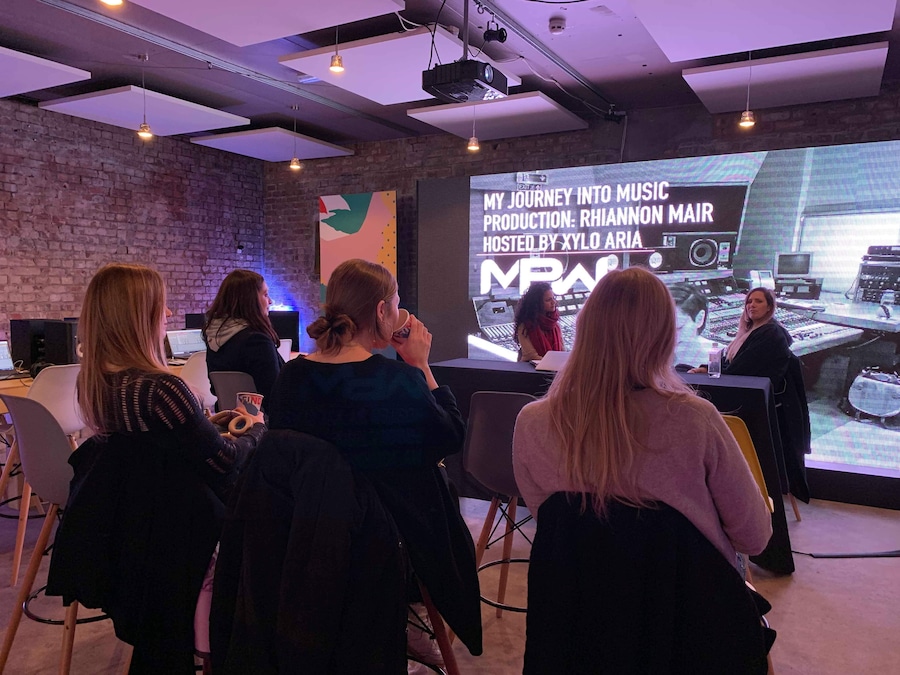 MPW also offers scholarships for 'Master Your Music', a year-long online program of weekly masterclasses taught by industry professionals, as well as multiple mentoring and feedback sessions. MPW's founder, Xylo Aria, started offering scholarships for the program in partnership with other businesses. Yamaha Music Australia (YMA) is excited to have partnered with MPW this year, offering a YMA scholarship for a student in Queensland, that wouldn't be able to afford such a comprehensive course on the topic otherwise.
We spoke with Xylo Aria, founder of MPW, to learn about her experience as a woman in the music industry and how this led her to establish MPW.
How did you get into music and production?
I started singing when I was really young and got into it through my grandmother's influence; she's a singer. I started with traditional Indian music and eventually started writing my own music when I was about 12 years old, then worked with friends to produce that and eventually started getting my music out there and playing gigs.
As I was doing that, I got to a point where the results I was getting with the producers I was working with, and the situations I found myself in, were less than ideal. I was tired of being treated in a way that I felt I didn't deserve, and the only way out of that seemed to be to learn to produce music. So, I started producing because of that; because of not finding the right people to work with and feeling consistently like I was put in a position where the power was taken out of my hands.
How has your experience been as a woman in the music industry?
There'd be situations where you might be called 'babe' throughout the whole session or something like that and feel very uncomfortable, or you might be treated in a way that you feel you don't deserve, but feel like you have to put up with it because the other alternative is you not making music at all, because this person has the power or ability to finish that song and get it to a point that you can release it, and without them you can't get there. It's not an ideal situation.
I think one of the issues is the position of power that producers from a similar demographic are in. They're the majority of the options to choose from for an artist and sometimes feel like it's okay to take advantage of that. So the thing for me was either put up with this situation, not make music, or just take it into my own hands and learn to produce.
---
"That first step always seems to be the hardest and things get easier from there"
---
When did you decide to create MPW and why?
Being able to produce my own music gave me so much freedom and increased creativity because I was like, "Wow, I can do this and actually develop the skills to bring my own image to life exactly how I hear it". Having that skill earlier on would have avoided so many situations that I didn't have to be in. And I thought, if this skill has helped me so much, and other women haven't discovered it yet, perhaps it could help them as well.
So I was reflecting on my journey and it came down to three things that would've really helped me to get into it more easily and make the process more enjoyable. One big part of that was having community and a safe space to learn in; not one where you always felt like the odd person out and felt too scared to ask questions because you didn't want to be seen as the silly girl who doesn't know what's going on.
The second one was having content created with women in mind as a consumer of it. A lot of the production related content is created by men and in a way, therefore, for men. The language that's used can be a bit 'bro-heavy', which can potentially make some people feel like it's not really content created for them.
The last thing was having role models that women could see themselves in in this space that are doing great things. A big part of what held me back was not being able to see anyone that looked like me in this space and immediately then disregarding it as a potential future for me. I think that really had a huge impact, and the saying that "you can't be what you can't see" is very true.
So I decided to start MPW in 2019. It's basically a learning platform based around these three areas – around community, content created with women in mind, and highlighting role models that women can see themselves in.
How is Music Production For Women helping women and non-binary people around the world?
AI'm hoping that by addressing those three things, we can help women that might have felt alienated by the world of production to feel encouraged and think, "Oh wow, there is this community I can learn in and it's a positive space as well, and I'm happy to give it a try", even if they weren't looking to do that before.
We run a 1-year program called Master Your Music which aims to give independent artists all the skills they need, not only to produce and mix good quality music, but also find ways to treat their music as a business, which is very important as well. As musicians, we can get really excited about creating and making good music, then not really thinking about what our aim is and working towards that. This program runs from February to February every year.
Outside of that, we run lots of free events throughout the year, and these are designed for anyone that maybe doesn't have the funds to join our program. All of our teachers that run our 1-year program come to these and they are just phenomenal, inspiring people, and give some really tailored sessions throughout those free days.
It's great that it's accessible to people, not just in one country, but internationally - really helping to build that community.
Yeah. Actually, in the free days that we do, we've started incorporating breakout rooms for people to network and that's been really positive. People have found accountability buddies from other parts of the world, or collaborations that have crossed borders, which has been really fun. A big part of our focus is not just our relationship with our students, but also their own relationships with each other. We do some in-person meetups, then we do monthly sessions as well, which is with everyone. As much as we can, we try to facilitate these networks, but it's not completely in our hands; it depends on the students to nurture them further.
Could you explain how the scholarship works and what the winner gets for the year in the course?
Every year for our 1-year Master Your Music program, we have 5 scholarship places, and these go to students that would not be able to afford the course otherwise, and those that seem very keen to put all of the knowledge that we have to give into practice to further their music career.
They get full access to our 1-year program which includes monthly mentoring sessions, the community aspect, and the weekly masterclasses that cover lots of different topics around production, sound design, mixing, music marketing, and some music theory.
The feedback from last year's scholarship winners has been incredible and they've really appreciated the opportunity to be part of the program. I'm excited to keep rolling out that program year-on-year, and it's great to have a place from Yamaha this year.
Do you work with, or know of, any other businesses and initiatives that support women and non-binary people in the music industry?
Yes, definitely. There's Women In Music Australia. I've just joined their national community, which is really lovely to be a part of. There is WOMPP (Women of Music Production Perth) based out of Perth, The F-List in the UK, We Are Moving The Needle from the US, She Said So from the US, and there's Women In Music.
There are loads of people in this space and I think it's really great that everyone is tackling this issue in a slightly different way, because it's such a multifaceted issue that needs a lot of different solutions, which I think would be too hard for one organisation to tackle. We do tend to, from time to time, work together on some different events as well.
What advice would you give to women and non-binary people who are looking to make their start into music production?
I would say just start somewhere, anywhere. Find a free software, whatever you have access to. Find some YouTube videos. If you want our help, reach out and we'd love to help you.
I think that first step always seems to be the hardest and things do get easier from there. Often, people in that starting phase will think, "I don't have the right equipment, I need to go out and spend a bunch of money on gear", but I would say just start with the basics. Have a laptop, some headphones to hear back and a production software; you can add things from there as you go. You might get tired of using headphones, so then you might want to go out and get some monitors, and if you are recording something, you'll need a microphone and interface. But don't let not having all of the equipment at the start hold you back.
Register for a free Intro to Music Production Class with MPW:
Women in Music Production: Working to close the gender gap