Yamaha TW-E7B True Wireless Earbuds Selected for Red Dot Design Award
Yamaha TW-E7B True Wireless Earbuds Selected for Red Dot Design Award
Yamaha Corporation announces that the design for its TW-E7B True Wireless Bluetooth® Earbuds was selected to receive the Red Dot Award: Product Design 2023.
The Red Dot Design Award is a German design award hosted by the Design Zentrum Nordrhein Westfalen that is highly respected around the world and comprises three categories: Product Design, Brands & Communication Design, and Design Concept. This year, entries for the Red Dot Award: Product Design were received from 60 countries and regions around the world and the winners were selected by a jury of 43 international experts.
This latest win brings Yamaha's total number of Red Dot Design Awards to 30 since it began submitting entries in 1997, with awards being won annually for 13 years in a row, beginning in 2011.
TW-E7B True Wireless Bluetooth® Earbuds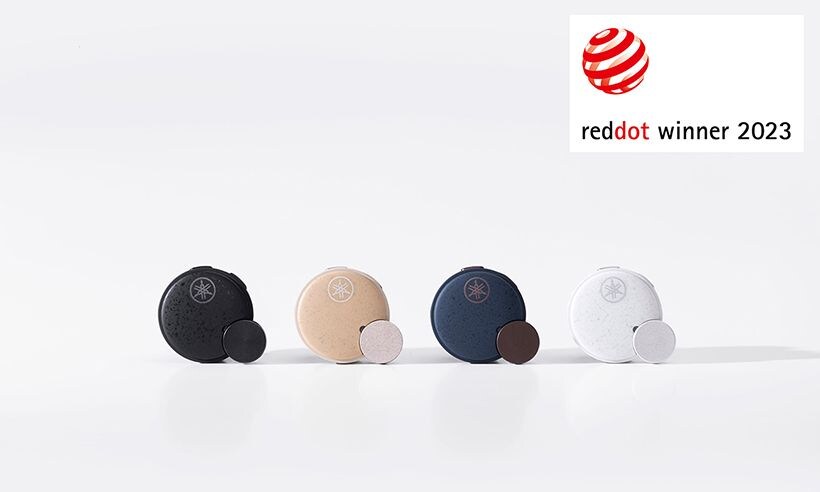 These flagship wireless earbuds combine Yamaha acoustic and electronic technologies to achieve an unparalleled level of sound and comfort. Features include Advanced ANC noise-cancelling technology, Ambient Sound to help maintain awareness of your surroundings while listening to music, Advanced Listening Care to dynamically optimize loudness based on analysis of audio content and environmental noise, and much more. The distinctive design features two perfect circles that are not only visually iconic, but functional as well. The smaller circle serves as a tactile indicator that helps the user position the earbud inside the ear without needing to see it, using only the fingertips to easily adjust the angle for a perfect fit.
Yamaha Design Official Website:
Red Dot Design Award Official Website:
*Product names and company names in this text are trademarks or registered trademarks of Yamaha or other companies.
*All information current as of the date of release. Please be aware that information may change after this release date.
Yamaha TW-E7B True Wireless Earbuds Selected for Red Dot Design Award