Australian Flute Festival 2023
Australian Flute Festival 2023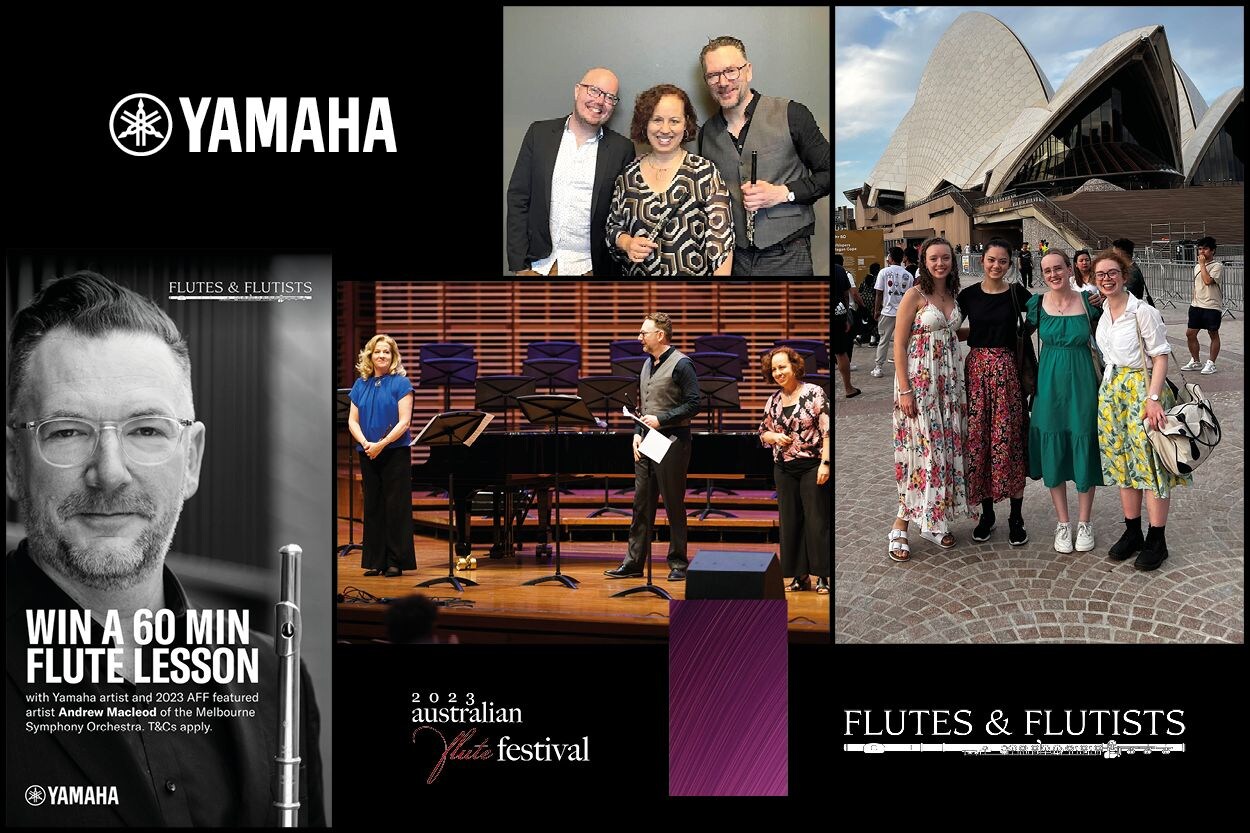 Australian Flute Festival 2023
Principal Piccolo with the Melbourne Symphony Orchestra and Yamaha artist Andrew Macleod recently shared his talents with young piccolo players and flautists at the return of the Australian Flute Festival in Sydney. Amongst a wealth of talent, Andrew performed a piccolo trio with Paula Rae and Julia Grenfell in the closing concert (pictured on stage), adjudicated the piccolo competition, won by Adrienne Hanslow, and collaborated with pianist Leigh Harrold, piano (pictured top left).
Congratulations also to Yamaha competition winner Jen Pittock. Jen attended AFF 2023 with students and graduates of Queensland Conservatorium (Pictured in front of the Opera House L-R Neve Randall, Elinor Hillock, Jen Pittock, Issie Brown) and will soon be reaping the benefits of her prize: a 60-minute lesson with Andrew Macleod. Both advocates for musician's health, Jen and Andrew are sure to learn from each other and find common Queensland connections!
Andrew Macleod shared the following insights: "The 2023 Australian Flute Festival was a wonderful celebration of Australian flute playing and teaching. The theme of this year's Festival was 'making connections', and the atmosphere of collegiality, support and friendship over the weekend helped strengthen old connections, make new ones and led to a truly memorable experience."
Andrew is also Co-Director of The Complete Flute which offers comprehensive courses for performers and teachers. Next year's Complete Flute Residential Master Course runs from 23-27 September 2024 in the beautiful Macedon Ranges, Victoria. Open to performers and to observers, the Complete Flute is delighted to welcome back Emerita Professor Leone Buyse formerly a principal flute with the Boston Symphony Orchestra, and recently retired as Mullen Professor of Flute at prestigious Rice University in the USA. Over five incredible days of masterclasses and workshops, Leone will be joined by a raft of stellar Australian playing and teaching artists, including James Kortum (Sydney Conservatorium of Music), Emma Sholl (Sydney Symphony Orchestra), the entire MSO flute section, Prudence Davis, Wendy Clarke and Sarah Beggs, and other leading Australian pedagogues.
Our enormous thanks to Mark Xiao, Managing Director of AFF2023 and retail partner Flutes and Flutists, for representing Yamaha Music and successfully bringing together this huge range of workshops, panels, performances, and most importantly; people. Learn more about Yamaha Flutes here.
Yamaha Custom Alto/Tenor Saxophone YAS/YTS-82ZA
The Custom 82Z saxophone is known for giving players the expression needed to play a variety of musical genres. It has been added for the first time in 18 years as a new color, amber lacquer finish. The beautiful vintage apperance combined with Yamaha's legendary sound and playability gives saxophonists an instrument that can perfectly reflect their musical personality.
Australian Flute Festival 2023