Yamaha DM7 Series Wins Best of Show Awards at InfoComm 2023
Yamaha DM7 Series Wins Best of Show Awards at InfoComm 2023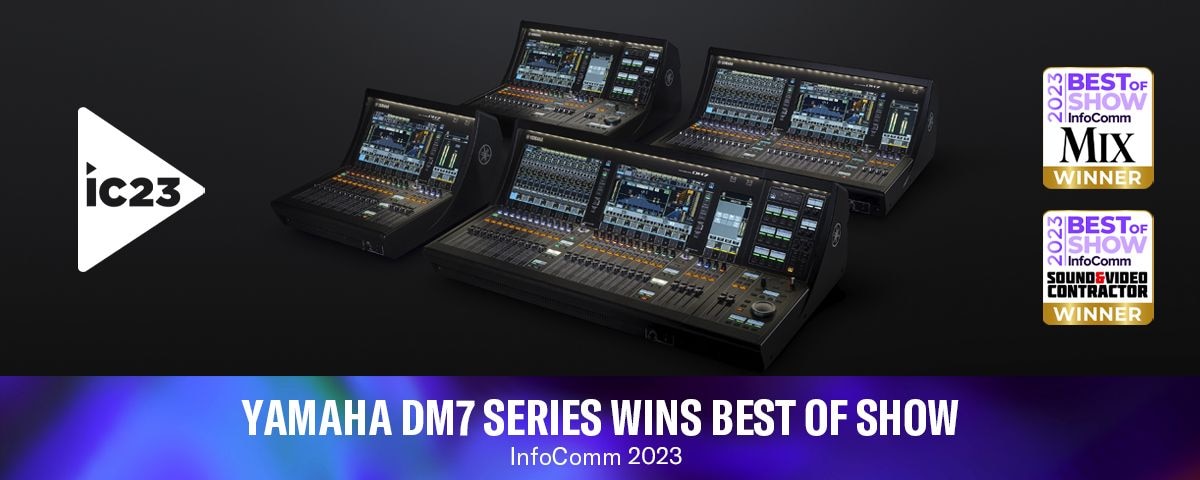 Yamaha is pleased to have won two Best of Show Awards at this year's InfoComm 2023 for its new DM7 Series of professional mixers.
InfoComm is the world's largest professional audiovisual trade show in North America, showcasing the latest in audio solutions and innovative technologies. For this year's Best of Show Awards, a panel of AV experts and editors from Sound & Video Contractor, AV Technology, Digital Signage, Installation, Mix, and Tech & Learning evaluated products based on innovation, ease of use, product feature set, perceived value and more. The Yamaha DM7 Series was selected as a winner by Sound & Video Contractor and Mix.
"Winning two Best of Show Awards reinforces the dedication Yamaha gives to meticulously designing advanced audio systems that provide sound engineers the tools and technologies to take sound to the next-level and achieve their highest potential – whether broadcasting, streaming or recording," said Preston Gray, director of marketing, professional audio, Yamaha Corporation of America. "We are honoured that the DM7 was recognised by some of the most esteemed professionals in our industry as a standout among thousands of products featured at InfoComm 2023."
As the newest release in professional audio for Yamaha, the DM7 Series delivers next-level efficiency and agility for the most creative sound engineers. It was designed to achieve maximum performance, combining the most significant elements of leading digital mixing systems with innovative new features in a powerful, ergonomic, flexible, and expandable package.
Yamaha has intricately woven its renowned musical heritage and most advanced technology into the DM7 Series to amplify the essence of every performance with this high-powered audio system.
Yamaha DM7 Series Wins Best of Show Awards at InfoComm 2023