Come See us at InfoComm 2023
Come See us at InfoComm 2023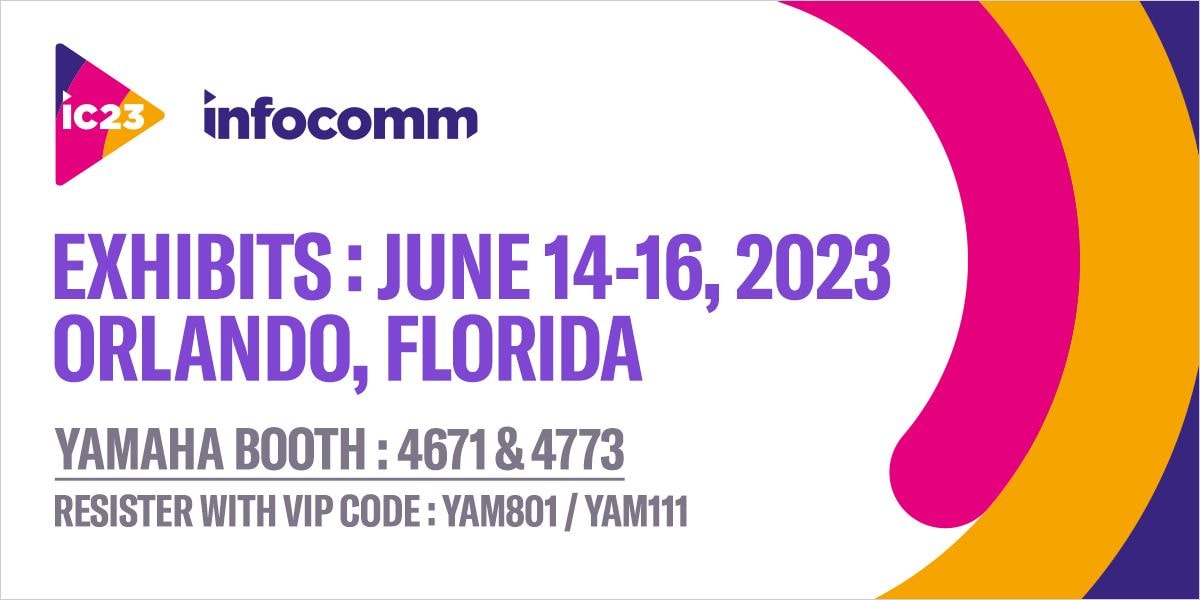 Come See us at InfoComm, June 14-16, 2023 - Showcasing the latest in audio solutions and innovative technologies -
Yamaha announced our 2023 return to InfoComm the world's largest professional audiovisual trade show in North America. Yamaha Corporation of America and Yamaha Unified Communications will be displayed side-by-side, showcasing solutions designed to connect the world through sound & music. Whether amplifying a musical performance live on-stage, through installed solutions, or connecting people through conferencing; when it comes to sound, it just makes sense to trust a company that lives and breathes music.
Attendees can stop by and check out the latest audio solution lines and technologies, such as the Yamaha award-winning conference audio solution, ADECIA, the revolutionary VSP-2 Speech Privacy System, the newest compact digital mixing console, DM3, which launched at The NAMM Show to great review, RIVAGE PM Digital Mixing Systems, NEXO solutions, and more exciting announcements closer to the show!
"The teams at Yamaha have taken advantage of the time over the past several years to work behind the scenes on new solutions and innovations that are purpose built for those that have turned a love for music into a career amplifying music." Says Preston Gray, Marketing Director, Professional Audio. "We are excited to share what we've been working on at InfoComm 23. Yamaha connects people with music in ways no manufacturer can, and what we plan to share this year ensures every transient and nuance is heard the way it was intended!"
"For the first time in five years, we're proud to announce that Yamaha UC and Yamaha Pro Audio will be together again at InfoComm. We have many new technologies to showcase including our recently updated ADECIA audio solution, our VSP-2 Speech Privacy system, and so much more. Our meticulous attention to detail in every aspect of product design and manufacturing, as well as our thorough testing and commitment to innovation will be clearly displayed in every one of our unique products on the show floor," said Tatsuya Umeo, CEO of Yamaha Unified Communications. "This year I'm especially proud of the numerous educational sessions and presentations YUC has been chosen to lead in order to showcase what makes Yamaha the leader in audio.".
Yamaha will hold five speaking engagements as below.
[AVIXA seminar/Technology Innovation Stage program]
Timothy Mackie, MCSA, MCSE, CTS, Main Stage Panel on "Trend Forecasting: Learning Spaces"
Wednesday, 14 June from 4:00 PM – 4:45 PM
LOCATION: Booth #2260
[InfoComm 2023 education program]
Timothy Mackie, MCSA, MCSE, CTS, Deciphering the Technology Differences in Beamforming Microphone Solutions
Tuesday June 13, 2023, 10:00 AM – 10:30 AM
LOCATION: W311EF
Balasz Boldog, CTS, Resolving the Audio Challenges of the Open Meeting Space
Tuesday June 13, 2023, 3:00 PM – 3:30 PM
LOCATION: W311EF
Timothy Mackie, MCSA, MCSE, CTS, Implementing AI Algorithms with Audio and Video
Thursday June 15, 2023, 1:30 PM – 2:30 PM
LOCATION: W314AB
Jeremy Satchell, R&D Manager, Live Event Audio for Beginners
Thursday June 15, 2023, 11:00 AM – 12:00 PM
LOCATION: W312ABC
Yamaha invites you to attend InfoComm 2023.
To see Yamaha at InfoComm, please visit Orange County Convention Center, Orlando, Florida June 13-16, 2023. Yamaha #4671 (VIP code YAM801) or #4773 (VIP code YAM111). Don't miss out! Register for the event today, use the VIP code.
* InfoComm is owned and produced by AVIXA, the Audiovisual and Integrated Experience Association and Yamaha is an AVIXA Global Partner.
Come See us at InfoComm 2023