Just speak your natural self, ADECIA will take care of the rest to your far-end team.
Just speak your natural self, ADECIA will take care of the rest to your far-end team.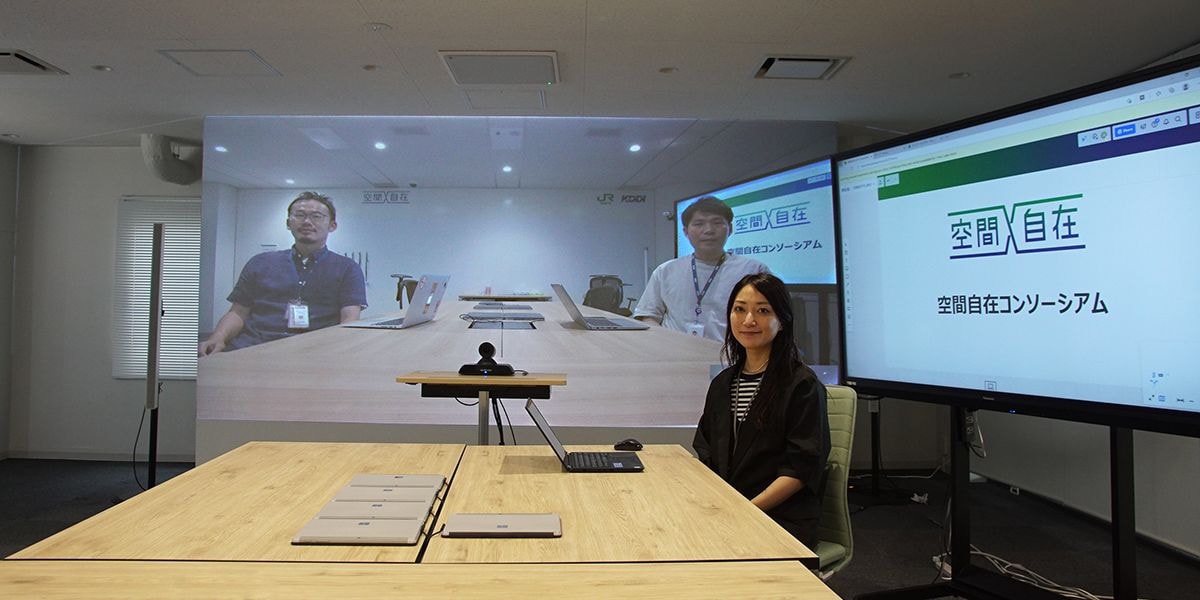 Since 2020, East Japan Railway Company (JR East) and KDDI Corporation (KDDI) have been working on "Flexible Life Design Project", a new decentralized city planning project to create diverse work/life-styles that are not limited by location or time. As the first step, this project has launched activities for the workplace community that aim to solve problems related to how we work. In the time from May 17 to June 18, 2021, a proof-of-concept (PoC) experiment was implemented in a total of 5 locations for a Flexible Life Design workplace designed to foster teamwork despite people being in remote locations.
In the PoC experiment, Yamaha's one-stop sound solution for teleconferencing, called ADECIA were introduced. To learn more, we interviewed Aki Hayakawa ,Shinagawa Life style Promotion Unit , New Business Creation Division of JR East, and Shinsuke Matsumoto, Manager at the Project Management Group, Product and Technology Strategy Department Product Development and Management Division of KDDI.
* "ADECIA" is a solution composed of a PoE-compatible L2 switch "SWR2311P-10G" and Dante/PoE-compatible line array speaker "VXL1-16P." It is built around a ceiling array microphone "RM-CG" and a remote conferencing processor "RM-CR" and acts as an acoustic system equipped with all the devices required for remote conferencing.
"Flexible Life Design workplace" where you can communicate as if you are in the same room with others despite being far away
Would you describe the goals for the Flexible Life Design project?
Ms. Hayakawa: In anticipation of post-COVID-19 society, the Flexible Life Design project aims to create a new decentralized city centered on people by moving away from the traditional base-intensive urban growth where people and functions are concentrated in a city center, and by fusing the traffic developed by JR East with communication that has been developed by KDDI.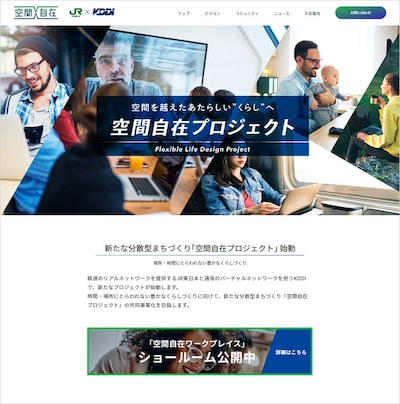 Would you describe the details of a PoC experiment you implemented this time?
Mr. Matsumoto: We conducted a PoC experiment by creating an actual physical location to validate the decentralized workplace services in the Flexible Life Design project. The need for people to work remotely has increased rapidly because of the worldwide coronavirus pandemic. However, one aspect that has become notably important because people have been forced to work away from their offices is the need for people to be able to work in close proximity with your colleagues. Therefore, we created a workplace where people can work as though they are in the same space, in a decentralized place. To demonstrate its efficacy, we conducted a PoC experiment to show that teamwork can be fostered and productivity could be improved.
How many locations are there (for the PoC experiment)?
Ms. Hayakawa: We setup in 5 locations, Takanawa, Toranomon, and Kanda in Tokyo, also Yokohama and Kita-Yono. In the PoC experiment, users will select 2 of the 5 sites. Simultaneous to their entering the conference room, the 4K video of the connecting location is projected onto the wall. This provides a realistic sensation that cannot be experienced simply using a PC monitor, and an environment for communication that allows people to chat.
ADECIA picks up your normal conversing voice, even if you don't speak loudly.
You selected Yamaha's ADECIA as a remote conferencing system for the PoC experiment. Can you offer us the reasons behind your selection?
Mr. Matsumoto: When we thought about attaining a realistic sensation for the workplace, we recognized that not only the audio, but also the video is extremely important. Furthermore, when we saw a demonstration of ADECIA, we chose ADECIA because we felt that it can pick up audio allowing us to communicate smoothly.
Would you describe what exactly you like about ADECIA?
Mr. Yasuda: Firstly, it picks up voices very well, even at normal volume. In an ordinary remote meeting, participants are aware of the microphone and raise their voices to be heard when speaking, but by using ADECIA, there is no such stress. I liked the fact in communicating remotely even if we speak normally like when talking to someone sitting next to us.
Mr. Matsumoto: Also, with conventional remote conferencing systems, if several people speak at the same time, their overlapping voices may not be picked up completely and therefore will not be heard. Therefore, when someone is speaking, you have to wait. That makes communicating slightly stressful. However, the ADECIA system reliably communicates audio clearly, even if peoples' voices are overlapping, so we really appreciated that fact that it was able to communicate freely even during brainstorming sessions.
Ms. Hayakawa: In ordinary remote conferencing systems, it is difficult to react with laughter or to offer other responses. Often times, we just have to sit and listen in silence. We considered that to be an issue to overcome. However, when using ADECIA, you can often hear what is being said in secret to someone sitting next to you remotely during the meeting (laughter).
ADECIA is highly valued because there is no trouble in setting up the microphones, the audio offers a realistic sense, and because several people could talk at the same time.
Can you describe for us your impressions after using ADECIA in your workplace?
Ms. Hayakawa: It is convenient that you do not need to prepare microphones in advance. Remote conferencing systems that are used in different conference rooms in the company require microphones to be set up every time. However, it is not always very easy to prepare the microphones, and when the meeting is over, you have to spend a lot of time to put everything back where it was. In regard to that point, the microphone is installed in the ceiling for the ADECIA system. For that reason, there is no need to connect the microphone or to consider the location to setup the microphone for where participants are sitting. This makes it possible for you to start a remote meeting immediately without any extra trouble.
Mr. Yasuda: Because the microphone unit is mounted to the ceiling, there aren't any cables laying on the floor or draped across your table. This makes it easier to move seats freely without having to consider where the microphone is located.
One more important point is that the five workplaces where we conducted our PoC experiment have different acoustic conditions. The sound in each room is different because each room has a different size and shape. Subtle adjustments are required to fit the space where the system is to be installed. In regard to that point, Yamaha is a sound professional with decades of knowledge gained from their building of musical instruments, sound equipment, and conference systems. For that reason, we relied on them with complete confidence for the system's installation.
Mr. Matsumoto: Various companies participated in the PoC experiment. The feedback we received was that the realistic sense was good because of the synergistic effect of the large-screen video and high-quality audio, and also, it reliably delivered audio to each remote location, moreover, multiple people were able to speak at the same time beyond the space, so the system offered a very good, realistic sensation, like being in the same place together.
We want to provide decentralized living from a wide range of perspectives, including living
Can you describe what kind of developments you want to attain for "Flexible Life Design workplace" in the future?
Ms. Hayakawa: This PoC experiment focused on working. However, we want to commercialize the system for various other purposes in the future without focusing only on the workplace. I think that if we can offer communication with a realistic sense while connected to remote locations, we can create value that exceeds that of TV phones. In this way, our goal is to create new value in decentralized living. We want to develop the project with a wide perspective.
Mr. Yasuda: This time, we call it a workplace, but to begin with, the starting point is to realize high-quality communication with a remote location through high-quality audio and video communication. By applying this, we can connect a central location with regional offices, and local offices together where people can conduct business remotely. It can also be used during a so-called workcation, so we think that this system will contribute to revamping local ways of working and living.
In addition, this time we conducted a PoC experiment in the metropolitan area, but we assume we will also implement experiments throughout Japan and even overseas in the future. The demand to connect with offices overseas is very high because of the coronavirus pandemic. We hope that if we connect overseas bases and domestic bases regularly with ADECIA, communication will become even closer.
Mr. Matsumoto: To add another point, we plan further to develop the Shinagawa and Takanawa areas in the future, although that is still quite a long way in the future. We aim to apply the knowledge and experience we obtained here at the Shinagawa Development Project*, which is also the starting point of "Flexible Life Design workplace" , to bring an even more highly polished workplace to Takanawa again.
* Shinagawa Development Project
Approximately 13 hectares of development land were created by organizing and consolidating the functions of the vast railyard between Shinagawa station and Tamachi station. At JR East, we planned to build a new city there that is positioned as global gateway Shinagawa where new businesses and cultures can arise, through the gathering of leading companies from around the world, and human resources.
Of the six parcels of development land on the Yamanote Line, where access will be improved with a new station, Takanawa Gateway Station, the first in almost half a century, the big project to build a complex of facilities in blocks 1 to 4, covering a total area of about 850,000 square meters, on approximately 9.5 hectares, in phase I, is underway with a goal of being completed by 2024.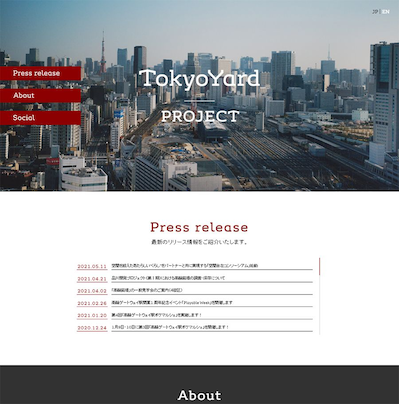 We very much look forward to all future developments in the Flexible Life Design project. Thank you all very much for your taking time today to speak with us despite your busy schedules.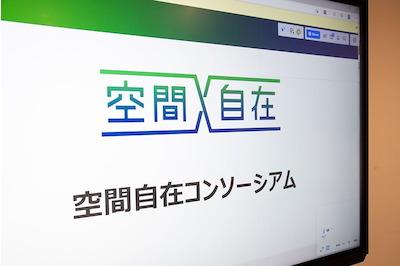 Just speak your natural self, ADECIA will take care of the rest to your far-end team.