Playing in a Horn Section — Webinar with Chris Bullock and Justin Stanton of Snarky Puppy
Playing in a Horn Section — Webinar with Chris Bullock and Justin Stanton of Snarky Puppy
Yamaha Music Australia is proud to present Playing in a Horn Section with Chris Bullock and Justin Stanton of Snarky Puppy. This webinar will focus on some of the skills required for playing in a section or combo from the perspective of two of the most in demand horn players on the planet.
Event has ended registration closed watch it below.
DATE: Saturday 20 February
TIME: 11:00am AEDT / 10:30am AECT / 10:00am AEST / 8:00am AWST
PLATFORM: YouTube Live (details will be sent upon registration, no login required)
About Justin Stanton
Justin is a keyboardist and trumpet player based in New York, but, since the pandemic, has been living in Lisbon with his girlfriend Gisela and her two cats, Rosinha and Feijāo. During the quarantine, Justin recorded and released his second album, Flor Peeters: 35 Miniatures, adapting the collection of short organ works written by the Belgian composer for a variety of vintage and modern synthesizers. A year prior, Justin released a collection of original compositions on his debut solo album, Secret Place. Influences range from Miles's albums from the late '60s to Wendy Carlos's Switched on Bach to Michael Jackson's collaborative efforts with Quincy Jones. Justin also plays in a bunch of other groups, most notably Snarky Puppy, with whom he has travelled in crowded vans and slept on questionable floors since 2006.
About Chris Bullock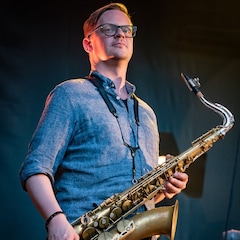 Chris Bullock is a saxophonist, multi-instrumentalist, and composer living in Brooklyn, NY. The Snarky Puppy member maintains an active schedule recording and performing in a large variety of musical settings around the world. As a longtime member and composer for Snarky Puppy, he has received three Grammy awards.
As a composer and band leader, he recently released his debut album, Boomtown. With his Boomtown band, Chris has brought a synth-heavy environment on live tours across the US and Canada. When not on tour, Chris is often found writing and arranging for various artists and recently began his first commissioned film score.
Originally from Asheville, NC, Chris' musical obsession began as a child with early interests in the Beach Boys, '90s hip-hop cassettes, and learning the clarinet and electric guitar. Over time the saxophone became central to his music making. As a multi-instrumentalist, Chris has performed and/or recorded with a variety of artists including David Crosby, Michael McDonald, Lalah Hathaway, the Los Angeles Philharmonic, Charlie Hunter, Chris Thile, Eric Harland, Phish, and Soulive. In addition to his work as a live musician, Chris is also an educator and clinician. He received music degrees from East Carolina University, Michigan State University, and studied at the University of North Texas. Chris Bullock plays Yamaha Saxophones.
Playing in a Horn Section — Webinar with Chris Bullock and Justin Stanton of Snarky Puppy