Celebrate Piano Day with Yamaha and Nat Bartsch
Celebrate Piano Day with Yamaha and Nat Bartsch
Piano Day, an annual worldwide event founded by a group of like-minded people, takes place on the 88th day of the year – in 2021 it's the 29th March – because of the number of keys on the instrument being celebrated.
Nat Bartsch, Australian Pianist/composer joins us at Yamaha to celebrate everything that is the Piano on the 88th day of the year – a day that welcomes all kinds of piano lovers: young and old, amateur and professional, of any musical direction – to join in.
DATE: Monday 29 March
TIME: 11:00am (VIC, NSW, TAS - AEDT) / 10:30am (SA, NT - AECT) / 10:00am (QLD - AEST) / 8:00am (WA - AWST)
PLATFORM: Facebook Live (join event below)
"To me, Piano Day is about nurturing and celebrating everyone's relationship with the piano - not just those of us who are lucky to play it for a living. The person who plays after a long day at work. The person resuming lessons in retirement. The child who just mastered their first song with two hands The student who just wrote their first composition. I love that the piano is so accessible for people across the lifespan - from the smallest hands to the oldest hands" - Nat Bartsch
Melbourne pianist/composer Nat Bartsch creates ethereal, lyrical music that blends post-classical sensibilities with jazz improvisation. On Piano Day 2021, Yamaha Music Australia will present a solo online performance and interview with Nat about her forthcoming album Hope. As part of the event, Nat will premiere a special teacher-student duet version of her piece 'Brightness in the Hills', written in memory of her childhood piano teacher. This sheet music will be available as a free download for a limited time after the performance, with donations encouraged in exchange to Piano Project, who provide free piano lessons to children who have recently migrated to Melbourne.
Facebook Event
About Nat Bartsch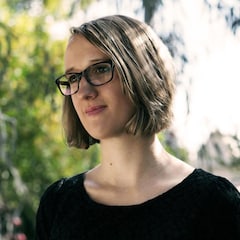 Nat Bartsch is an ARIA-nominated, multi-award-winning Australian pianist and composer who creates lyrical, ethereal work that explores the space between classical and jazz genres. Her sound is influenced by Australian piano luminaries Luke Howard and Andrea Keller, studies with ECM pianists Tord Gustavsen and Nik Bärtsch, and the indie heroes of her upbringing: Sufjan Stevens, Elbow and Radiohead. She has released seven recordings of original music, toured domestically and internationally, and collaborated with some of Melbourne's finest artists.
Celebrate Piano Day with Yamaha and Nat Bartsch