Weekly Warm-Ups with Josh Rogan
Weekly Warm-Ups with Josh Rogan
Yamaha Music Australia welcomes you to this free 8-week warm-up course for trumpet, designed and delivered by Josh Rogan (Auckland Philharmonia Orchestra, Adelaide Symphony Orchestra.)
Join Josh as he takes us through 24 different warm-up exercises, with over an hour worth of lessons delivered directly to your inbox once a week.
Simply sign-up below to take part.
About Josh Rogan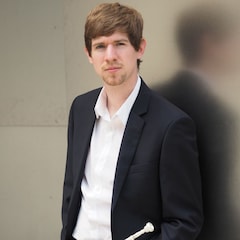 Australian trumpeter Josh Rogan is the Sub-Principal Trumpet of the Auckland Philharmonia Orchestra, a position he has held since 2018. He has performed in venues around the world including the Sydney Opera House, Australia; Royal Albert Hall, United Kingdom; Walt Disney Concert Hall, United States of America; Royal Concertgebouw, Netherlands; Shanghai Concert Hall, China; and the Berlin Konzerthaus, Germany.
He has performed with a number of highly renowned ensembles, including the Los Angeles Philharmonic, Sydney Symphony Orchestra, and the New World Symphony. As an orchestral player he has worked with many distinguished conductors including Plácido Domingo, Christoph Eschenbach, and Vladimir Ashkenazy. He has also performed with internationally recognised artists from Joshua Bell to Kristin Chenoweth, and recorded albums with popular singers Anthony Callea and Josh Pyke. As well as this, he is a published composer, and the author of 3 trumpet method books.
Josh is a graduate of the University of Melbourne, the Australian National Academy of Music, and the Colburn School. For the first half of 2021, Josh will be performing as guest principal trumpet with the Adelaide Symphony Orchestra.
Weekly Warm-Ups with Josh Rogan