"Wow, I've never heard a piano sound like that before"
"Wow, I've never heard a piano sound like that before"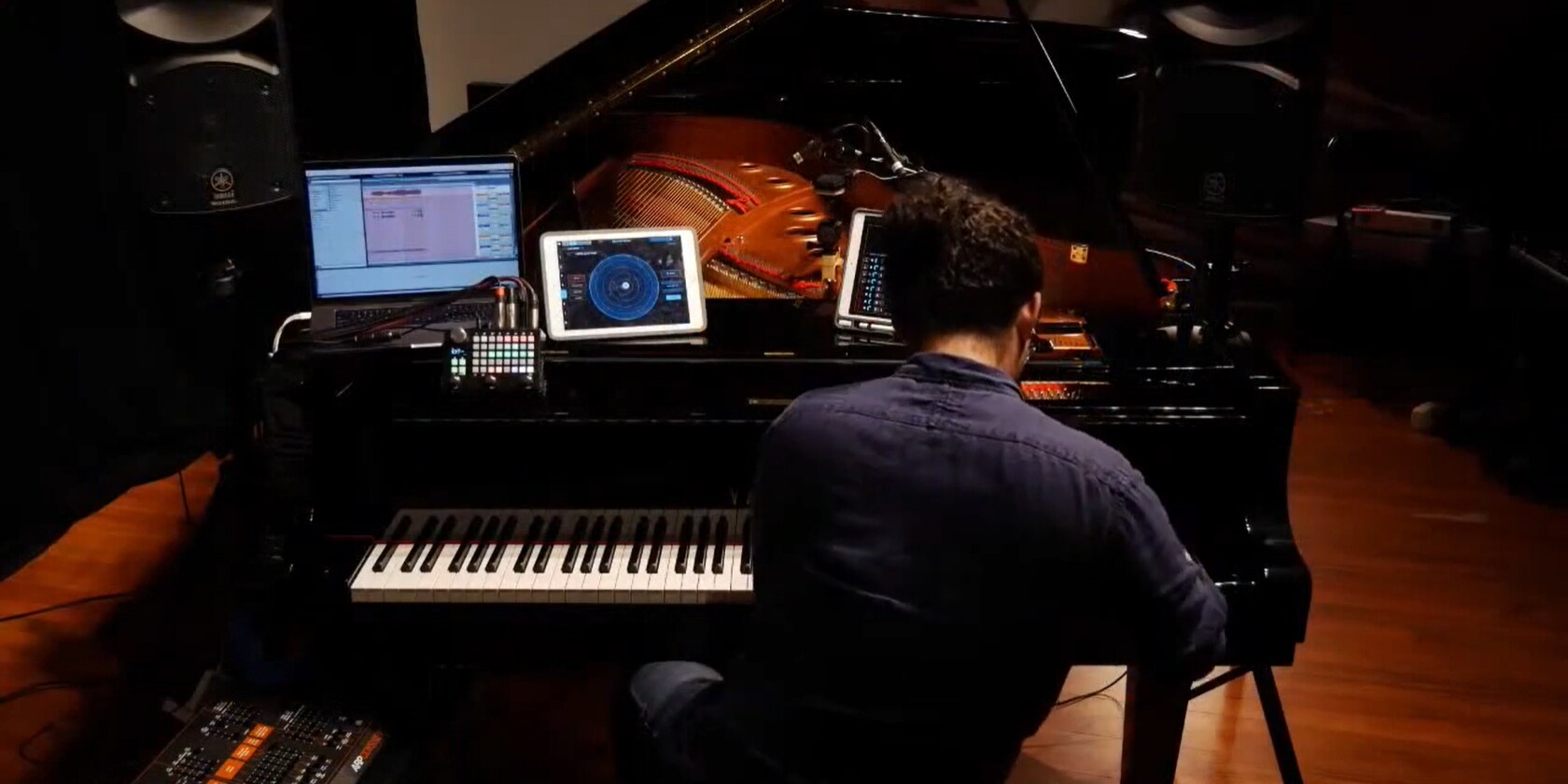 I've grown accustomed to hearing this from sound engineers throughout the world as I carefully set up my shiny electronics around their acoustic grand pianos. An engineer's job is to capture the sound of a piano and amplify it back to the audience with the highest fidelity possible. It is by no means an easy task, which is why I'm rarely surprised when I occasionally get "the talk": This concert grand is exquisite, why mess up such a pristine tone? You should just play a synthesizer if you don't want a piano to sound like a piano.
The simplest answer I have is that I am a pianist, through and through. I love the piano. I love feeling the almost imperceptible difference in weight from hammer to hammer as each one pushes back ever so slightly when I play pianissimo. I love hearing the distinctly quiet, haunting sound made when all 230 strings resonate from the lifting of the dampers as I step down on the sustain pedal with my foot. Most of all, I revere the sound, knowing that within the soundboard lives a tree, immortalized in sound as the voice of the piano. It's all pure magic to me. And it is precisely that magic that I am trying to condense and consequently expand when I hybridise any acoustic piano with electronics.
Over the last 15 years or so, I have tried many different methods to streamline the set up. Ranging from contact microphones and piano pickups to more congruent options such as the Yamaha Silent Piano system (more information below), I have experimented so much from gig to gig that the road manager simply gave up with the band rider.
"I am a pianist, through and through. I love the piano. I love feeling the almost imperceptible difference in weight from hammer to hammer as each one pushes back ever so slightly when I play pianissimo"
As an improviser, I live by the motto that every musician is supposed to "tell their story" on the bandstand. The goal to me is clear: put it all out there, spill your guts out and let the sounds vibrate so that someone in the audience (and/or me) may have that cathartic experience they so badly yearn for. In my humble opinion, if the purest goal of the artist is to translate our collective, abstract emotions into sound for the good of society, then I don't know how I can possibly resist adding electricity into the mix, especially in the year 2021.
It doesn't feel great to be met with scepticism, especially when I've spent hours tweaking my shiny electronics before a gig. Not that I need their approval but witnessing the sound engineer's shift in tone as I pack up after each show certainly feels good. I never get tired of hearing "wow, I've never heard a piano sound like that before, that was awesome". It drives me to do it all again the following night.
How does a Yamaha Silent Piano work?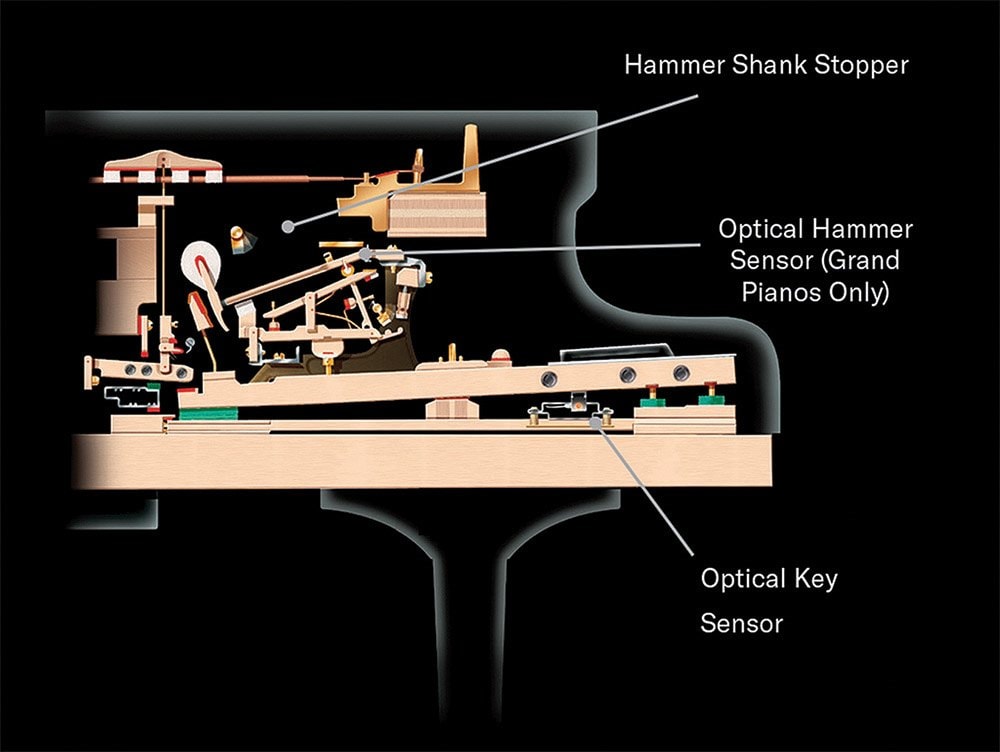 In 1993, Yamaha was the first piano manufacturer to make an acoustic piano with silencing capabilities. When the silent function is activated, the hammers no longer hit the strings (Figure 1); instead, a highly sophisticated sensor-technology captures all movements of the keys and sends them to the digital tone module.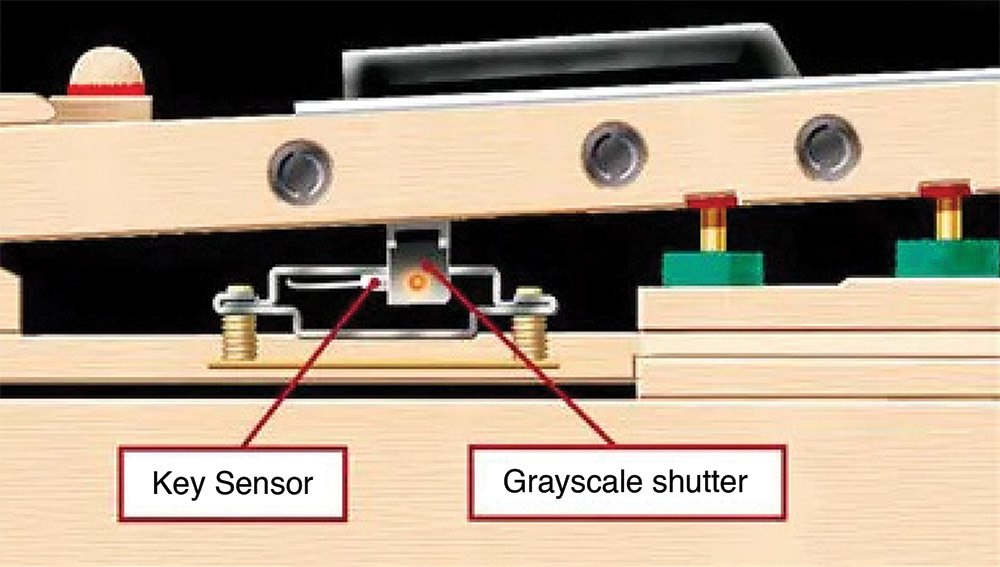 Under each of the 88 keys is a Yamaha-unique key sensor. These non-contact, optical scale sensors (Figure 2) faithfully detect subtle movement of the keys without affecting their touch. The optical sensors precisely measure keystroke information, enabling the player to perform with rich nuance and precise expression. Since they do not come into contact with the keys, these sensors do not affect the feel of the keyboard in any way – hence there is no change in key depth and action.
With MIDI/Audio/USB connectivity, this acoustic piano is essentially digital, allowing performers/artists/educators to achieve so much more in their artistry. Nearly all Yamaha piano models (upright and grand) are available in Silent.
Biography
Perth-based, Cuban-born pianist/composer (and environmentalist), Fabian Almazan found his musical roots as a child in Havana where he first became involved in the classical piano tradition.
Fabian continues to thank Conchita Betancourt, for when his parents could not afford to pay for private piano lessons, having fled from the communist island to the United States, pianist Mrs. Betancourt took note of Fabian's passion for music and generously gave him classical piano lessons for free for over three years. In 2003, Fabian moved to New York City to study with Kenny Barron, Garry Dial and Jason Moran at the Manhattan School of Music. By 2007, New Orleans trumpeter and composer Terence Blanchard had caught wind of Fabian Almazan and invited him to join his band, with whom he has been performing and recording ever since.
As a performer and band leader (Fabian Almazan Trio & Rhizome, a string quartet-centric octet), Almazan has developed a personal voice through the electric manipulation of the acoustic piano, particularly using Yamaha Silent Pianos in live and studio settings. He has toured his music extensively throughout the world as well as accompanied artists such as Linda May Han Oh, Joel Ross, Avishai Cohen, Gretchen Parlato, Justin Brown, John Hollenbeck, Walter Smith, Mark Guiliana, Dave Douglass, and Ambrose Akinmusire among others.
Fabian can also be heard playing in many films including Spike Lee's "Miracle at St. Anna" and "Chiraq". Most recently, Fabian's electro-acoustic piano approach is featured in director Kasi Lemmon's latest film "Harriet".
Awards include a Grammy nomination for his work on Terence Blanchard's E-Collective album, "Breathless", the SWR New Jazz Meeting commission, the Copland Fund, the Jerome Fund for Emerging Composers Award, the Jazz Gallery Residency, Rockerfeller Brothers Residency, Cintas Foundation Award in Composition and the Sundance Composers' Lab.
As an environmentalist and naturalist, Almazan travelled back to his birthplace where he made field recordings of endemic Cuban birds which were then incorporated into "This Land Abounds With Life", Almazan's most recent and 5th album as a leader. He is the founder and director of Biophilia Records and has worked diligently towards ensuring a continued dialogue of awareness concerning music and environmental justice.
"Wow, I've never heard a piano sound like that before"