Jazz pianist, improviser and composer, Andrea Keller records latest album on the Yamaha S7X Grand piano
Jazz pianist, improviser and composer, Andrea Keller records latest album on the Yamaha S7X Grand piano
Prolific composer/pianist and Yamaha Artist, Andrea Keller released four albums during lockdown in 2020. Whilst the pandemic had most Melbournians locked in their homes, this was obviously a creative haven for the multi-award winning artist.
Even though Keller's performance calendar was at times obliterated by the devastation of Covid cancellations and border closures, 2021 has certainly not slowed down for her. Residency at The Jazzlab continued with features at the 2021 Brunswick and Canberra International Music Festivals and Tassie's Dark Mofo to name a few. 2022 is certainly not slowing down for one of Australia's most consistently interesting musical minds.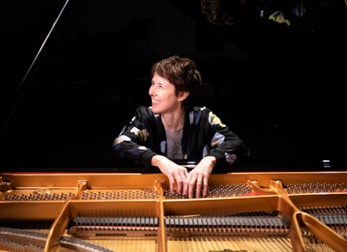 For me, the experience of playing the SX falls into the category of "rewardingly effortless and limitless", inviting my imagination to dream big and delivering on its promise at every step – SX is simply sublime!
Systems Over-Ride
Systems Over-Ride is the new album from Andrea Keller, featuring her latest musical venture, WAVE RIDERS. The quintet performs Andrea's music with exceptional flare; bringing together her somewhat disparate fascinations of free jazz and doom metal, combined with potent harmonies and yearning melodies. Dichotomous relationships abound as she grapples to reconcile the brutal and the beautiful, all the while focussed on stripping back, and connecting, within acts of kindness, and solidarity.
Recorded between lockdowns 4 & 5 in Melbourne (2021), Andrea reflects; "The last two days of June were spent at Head Gap Studio in Preston, recording my new free-jazz-meets-doom-metal band Wave Riders, with brilliant engineer Lachlan Carrick and a sublime S7X piano generously loaned by Yamaha. Feeling satisfyingly exhausted today presumably means we put down something worth sharing with the world. Musicians Scott McConnachie (saxophones), Jack Richardson (guitar), Mick Meagher (electric bass) & Rama Parwata (drum set) were phenomenal!!"
In addition to Andrea's compositions, the album features a set of remixes that Andrea commissioned from five of her favourite musicians/composers. Using improvised fragments from the studio session, Nicole Lizée (CAN), Bree van Reyk (SYD), Joe Talia, Philip Rex, and Theo Carbo (MEL) contribute an exhilarating series of pieces that draw threads from WAVE RIDERS and weave them into new territory and sound worlds.
Keller on the SX Piano
"Having a connection with an instrument is such an enormous part of life as a musician. As an improviser, I feel this is especially so, because what I choose to play in each moment is a direct result of the relationship I have with the instrument and what my skills able me to draw from it. Depending on the quality of the instrument, these relationships can either be utterly gruelling and restrictive, or they can be rewardingly effortless and limitless. For me, the experience of playing the SX falls into the latter category, inviting my imagination to dream big and delivering on its promise at every step – SX is simply sublime!"
You can stream Andrea's music here.
SX Series Pianos
The 'S series' by Yamaha was first introduced to the world in 1981. Nearly entirely crafted by hand, the latest addition to the series, the 'SX' was introduced to Australian shores in 2018, being placed in concert venues, institutions and peoples home the country over.
SX pianos feature Yamaha's patented Acoustic Resonance Enhancement process to precisely control the aging of wood in the rims for a warm, elegant tone. A completely redesigned hammer helps produce a wide palette of colours with an intimate sound and depth rarely found in a concert grand. Each SX Series piano is meticulously voiced, regulated and tuned in Yamaha's Concert Piano Workshop to bring out the nuanced colours, harmonics and resonance from these superb instruments.
About Andrea Keller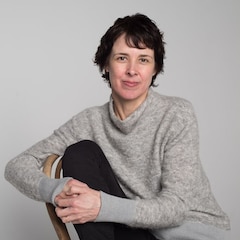 Andrea Keller is an Australian improvising pianist and composer, dedicated to the performance and creation of contemporary jazz and improvised music. She has devised and produced a multitude of projects, ranging from solo to large ensembles steeped in both jazz and Western art music traditions. Her projects focus on the creation of new music with an emphasis on improvisation, collaboration, and an expanding skill set (often including electronics, preparations, photographic images, poetry, film, and collaborations with musicians entrenched in varying musical traditions).
Lauded for her music, Keller has received three ARIA Awards, seven Australian Jazz 'Bell' Awards, two Art Music Awards, an APRA Professional Development Award, the Merlyn Myer Composing Women's Commission, a Music Victoria Award, the Melbourne Music Prize (Beleura Emerging Composers Award), and fellowships from the Australia Council, and the inaugural MCA/Freedman Foundation Jazz Fellowship.
Keller holds a Bachelor of Music in Improvisation (Honours) from the Victorian College of the Arts (2001), a Master of Arts (Research) from Queensland University of Technology (2011), and is a PhD candidate at the Sydney Conservatorium of Music, University of Sydney. She is a part-time Lecturer in Music (Jazz & Improvisation - Piano) at the Faculty of Fine Arts and Music, University of Melbourne.
Jazz pianist, improviser and composer, Andrea Keller records latest album on the Yamaha S7X Grand piano