The Clarinet Forum - Free Virtual Event
The Clarinet Forum - Free Virtual Event
Yamaha Music Australia are excited to present The Clarinet Forum featuring Yamaha Artists Brian Catchlove (Queensland Symphony Orchestra), Richard Rourke (Opera Australia Orchestra), Paul Champion (Orchestra Victoria), and Dean Newcomb (Adelaide Symphony Orchestra) moderated by Mark Walton (OAM). Event has ended and RSVP has closed. Ypu can view the event below.
DATE: Saturday 28 November
TIME: 10:30am AEST/11:30am AEDT/11:00am ACDT/8:30am AWST
PLATFORM: Youtube Live (details will be sent upon registration, no login required)
Each artist has prepared a short presentation on a topic of their choice, which will then be open for discussion. These topics include:
The First Notes of the Day
The Operatic Clarinet
Performance Psychology
Practice Tactics
Biography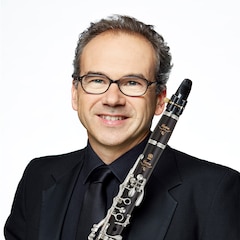 Richard Rourke graduated with merit from the Sydney Conservatorium in 1988, having studied clarinet with Gabor Reeves and John St George.
He spent two years freelancing in London, studying under Margaret Archibald and John McCaw
Since 1992 he has been a permanent member of the Opera Australia Orchestra, performing at the Sydney Opera House with Opera Australia and The Australian Ballet. He has worked under many international conductors such as Richard Bonynge, Simone Young and Richard Hickox, and with singers such as Luciano Pavarotti and Brynn Terfel.
Richard has recorded and performed widely as a soloist and chamber musician, and is a member of the contemporary ensemble "The Gallery Players", under the directorship of Sydney composer Alan Holley, with whom he has had a close association for 20 years.
He has also worked with the Sydney Symphony and the Australia Ensemble. In 2010 he played with the Australian Chamber Orchestra on their trans-Atlantic tour, performing at Tangelwood Festival in USA, and major European summer festivals.
In October 2014 Richard received grants from the George and Nerissa Johnson memorial scholarship fund and the PPCA performers trust in order to undertake professional development in New York with past and present clarinettists of the Metropolitan Opera Orchestra.
Biography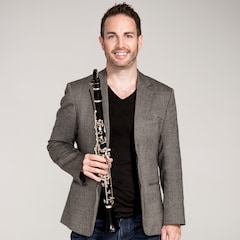 Paul has been Principal clarinettist with Orchestra Victoria since 2004. During this time he has appeared as a soloist with OV in Mozart's Clarinet Concerto, Rossini's Introduction, Theme and Variations and Weber's Concertino. He has been Guest Principal Clarinet with the Australian World Orchestra, Melbourne Symphony Orchestra, the Australian Opera and Ballet Orchestra, the Queensland Symphony Orchestra, the Tasmanian Symphony Orchestra, and the Canberra Symphony Orchestra. Paul currently teaches at the University of Melbourne, Monash University, and in his private studio.
Paul was born in Sydney and studied with Mark Walton, Head of Woodwind Sydney Conservatorium. After leaving school Paul began studying Commerce at the University of New South Wales and began learning from Frank Celata, Associate Principal of the Sydney Symphony. In 1997 he gained his Licentiate of Music (LMus) Diploma through the AMEB, a year later the Fellowship of Music (FMus) Diploma, and during this time recorded a CD of Australian clarinet music by composers including Dulcie Holland and Eric Gross.
He has studied in London with teachers including Andrew Marriner, Anthony Pike and Julian Farrell and with French virtuoso Paul Meyer. In 1998 and 1999 played in the Sydney Symphony's Sinfonia program and from 1999 as a casual player with the Sydney Symphony Orchestra, as well as the Australian Opera and Ballet Orchestra (AOBO), Sydney Philharmonia, Sydney Opera House Orchestra, Sydney Concert Orchestra, and in many recording sessions for movie soundtracks and TV and radio advertisements.
Biography
Dean Newcomb is currently the Principal Clarinettist with the Adelaide Symphony Orchestra, a position he has held since 2008. Dean has performed as guest Principal Clarinet with various orchestras in Australia and overseas including the Australia World Orchestra, Australian Chamber Orchestra, Sydney Symphony Orchestra, Queensland Symphony Orchestra, Auckland Philharmonia and was offered the Principal Clarinet position with The Macau Orchestra before deciding to settle in Adelaide.
His solo concerto performances have been met with critical acclaim, with reviewers praising his "musical gifts, technical finesse and outstanding ability" (The Advertiser). Dean regularly performs as a recital and chamber musician with Australia's leading ensembles including the Australian String Quartet, The Australia Ensemble, Southern Cross Soloists, the Hamer String Quartet for the opening of the Melbourne Recital Centre and the world premiere of Arthur Benjamin's century-old Clarinet Quintet with the Goldner String Quartet. His active involvement in music education includes giving masterclasses, lecturing and tutoring at the Elder Conservatorium of Music, tutoring for the Australian Youth Orchestra's orchestral and chamber music seasons and adjudicating at the Lisbon International Clarinet Competition in Portugal.
Biography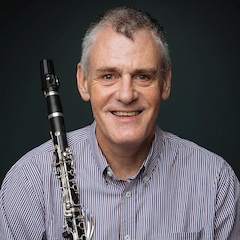 Brian's undergraduate clarinet study at the Elder Conservatorium of Music in Adelaide was shared between David Shephard and Gregory Blackman. Following a year in the World Expo 88 Marching Band in Brisbane Brian completed a graduate diploma at the Queensland Conservatorium of Music with Floyd Williams. Further postgraduate study was undertaken with Reinier Hogerheijde in Holland, where he performed in contemporary music festivals, with chamber ensembles and as a recitalist.
In 1993 Brian took up the position of 2nd clarinet with the Queensland Symphony Orchestra and since 2002 has been Acting Associate Principal Clarinet. Brian has performed as soloist with the QSO in Crusell's Concerto in Fminor op.5, Spohr's Concerto in Cminor op.26, Mozart's Clarinet Concerto and the Strauss Duo Concertino.
Brian has performed with The Adelaide and Melbourne Symphony Orchestras, the Queensland Philharmonic Orchestra, the Australian and Queensland Pops Orchestras and the Southern Cross Soloists. Musical theatre performances include 'Les Miserables', 'The King and I' and 'Phantom of the Opera'. He has also performed and recorded with Elision Ensemble, the Queensland Wind Soloists and Topology and performed at the Townsville Chamber Music Festival. In 1997 he performed at the Australasian Clarinet Conference held in Brisbane. His performances have been broadcast nationally on ABC classic FM and locally on 4MBS FM. Brian is also an examiner for the Australian Music Examinations Board.
Brian enjoys passing on his musical knowledge and has taught at the Queensland Conservatorium Griffith University (1994 – 2017), the University of Queensland and regularly works as a tutor and adjudicator for the Queensland Youth Orchestra and the Queensland Department of Education. As coordinator and Industry Liaison Officer for the Queensland Symphony Orchestra's Industry Internship program for over two decades Brian aided many young musicians transition to the profession.
Brian completed a Master of Music in 2002 and is currently working towards a DMA focusing on Australian music for clarinet and piano.
Biography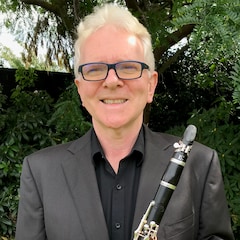 Mark Walton is highly respected in the Australian music scene, and is known as a leading clarinet and saxophone performer, teacher and music advocate.
Mark has been Chair of Woodwind and a lecturer in clarinet and saxophone at the Sydney Conservatorium of Music for several years. He has written, compiled or edited over one hundred music publications, many of which have become standard woodwind teaching repertoire.
In more recent years, Mark, in conjunction with Yamaha Music Australia, has spearheaded a music outreach program, Yamaha Music Connect. This unique program provides the opportunity for people in remote areas to connect through music, and to become more actively involved in music within their community.
Yamaha's YCLCX Custom Clarinet was designed in collaboration with Mark on a trip to Japan some years ago, and it remains his instrument of choice today. He also plays the Yamaha YAS875EX Custom Saxophone.
The Clarinet Forum - Free Virtual Event