2Saxy Free Online Seminar
2Saxy Free Online Seminar
Yamaha Music Australia are excited to present a free online seminar with 2Saxy (Grace Kelly and Leo P). The event has already occurred you can watch the recording below
DATE: Sunday 23 August
TIME: 11:00am AEST
PLATFORM: Youtube Live (details will be sent upon registration, no login required)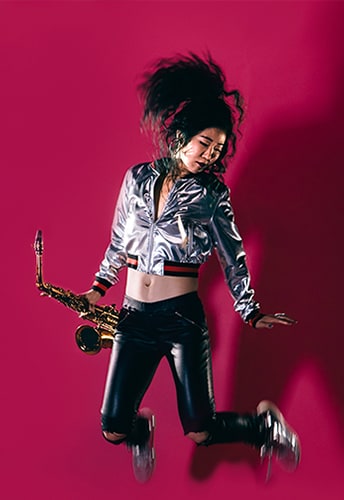 Millennial singer/saxophonist/songwriter prodigy Grace Kelly has played over 900 shows as bandleader across the world and won Song of the Year for the ballad " Feels Like Home " in the 2018 John Lennon Songwriting Contest. Her latest album GO TiME: Live in LA highlights the state-of-the-art brand of electro jazz-pop and inventive digital content that plants her at the forefront of the fusion scene.
This album builds upon the acclaimed technological and musical artistry of her 2018 record GO TiME: Brooklyn -- including imaginative "Graceified" arrangements of jazz standards and popular songs, new original music played by a world-class band, and choreography performed by improvisational tap dancer Sarah Reich -- while tackling the challenge of producing the most authentic and engaging multi-sensory music experience possible for fans all over the globe. Kelly's virtuosic talent, playful stylings, and infectious positivity create an exuberant musical journey for audiences, both at live shows and as a featured performer in film & TV works like lauded documentary Sound of Redemption: The Frank Morgan Story, Amazon's Emmy-nominated original series "Bosch" and the 2017 Emmy-winning Yamaha production "The Right Note". She has been profiled by CNN.com, Glamour, and Vanity Fair as a "Millennial Shaking up the Jazz World" and collaborates with artists across the musical spectrum, including Lin-Manuel Miranda, Jon Batiste, Questlove, Gloria Estefan, Wynton Marsalis, Too Many Zooz, and more. Kelly's "Pop-Up " short video series featuring saxophone performances and special guests in exotic locales has attracted millions of views on YouTube and many new fans, who can find her at gracekellymusic.com.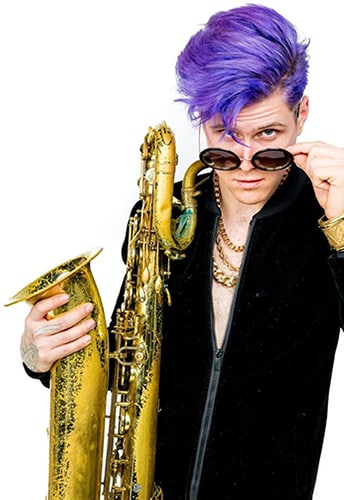 Leo Pellegrino, popularly known as Leo P, is an American saxophone player from Pittsburgh, Pennsylvania. His chops on the baritone sax and unique dance moves alongside his ever-changing hair color and matching outfits have taken him from the subways of NYC to featured status at Royal Albert Hall and international prominence.
Leo moved to New York in 2010 to attend the Manhattan School of music. His unique performance style created friction with his professors. Some loved him and believed in his alternative style while others claimed he would never be able to produce a good sound while moving around so much. Nevertheless, his fashion and personality lead to him being on the cover of the yearly calendar that everyone in the school received a copy of during his senior year.
Leo began playing in the subways in 2014 and found that was a great way to get fans and support. Soon after graduating Leo was in viral videos that have millions of views with both Lucky Chops and Too Many Zooz. Leo also did some TV work during that time appearing on an MTV show with Lucky Chops and with Beyonce and Too Many Zooz on the CMAs. Eventually, Leo left Lucky Chops and focused on Too Many Zooz.
Since that time the band had their song Warriors featured in an international commercial for the Google Pixel 2 (alongside a visual including a TMZ performance) and has been named Song of the Week by the BBC. In 2017 Leo was chosen to perform as a featured artist at the BBC Proms Tribute to Charles Mingus at Royal Albert Hall. According to SeenandheardInternational.com "possibly the true highlight of the evening were the outstanding solos of fushia-haired New York-based saxophonist Leo Pellegrino, choreographed to a teein zebra-striped shoes, in Moanin'. His sheer physical agility while playing his instrument virtuosically was simply unlike anything I have experienced before. Unsurprisingly, he brought the house down."
2Saxy Free Online Seminar